News
A victory preordained? Tseng up three
CARLSBAD, Calif. -- Once Yani Tseng took a share of the lead after the first round, the LPGA Tour's Kia Classic took on an aura of finality, that the only uncertainty was the margin of victory. Tseng is on the kind of roll that few ever have the opportunity to experience, where victory at the outset of a tournament is, if not imminent, then likely. An accomplished billiards player, Tseng looks to be, in that game's vernacular, running the table. "I feel pretty relaxed," she said. "I'm very looking forward to tomorrow."
No kidding. On Sunday, Tseng will seek her second straight victory and third in four starts this year, and sixth in her last 12 starts dating to last year. She shot a three-under par 69 on Saturday at La Costa Resort to take a three-stroke lead over Jiyai Shin. This despite a round with which she was dissatisfied. "Overall, I wasn't happy," she said, lamenting the number of short putts she missed. "It was so-so. I felt it should have been so much better than three-under." That doesn't bode well for those in pursuit. Even luck is on her side. She hit a poor drive right of the fairway at 18, destined to meet its demise in a creek. Instead, the ball bounced across a narrow bridge and continued a fortuitous and long trip down the cart path. She saved par and completed a bogey-free round.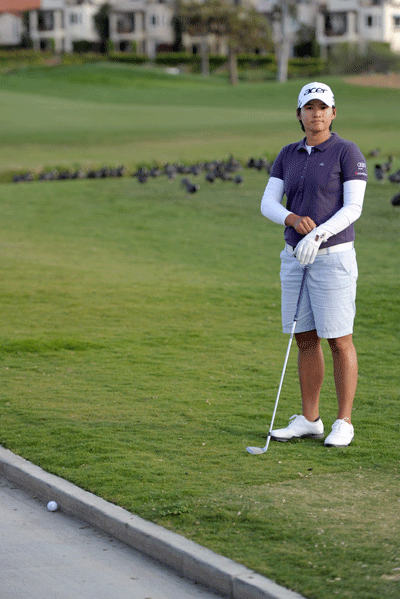 A similar day on Sunday will move her within four points of the number required to qualify for the LPGA Hall of Fame (and by extension the World Golf Hall of Fame; victories are worth a point, major victories worth two). At this point, the most formidable obstacle will be the wait. She is 23 and in only her fifth year on the LPGA; 10 years are required for Hall of Fame enshrinement.