The Loop
A Masters veteran on his annual pilgrimage
When I think about the Masters, it reminds of childhood vacations to the beach. On the drive there, I couldn't wait until we got close enough for that first glimpse of the Atlantic Ocean. It didn't matter that I had seen it before and knew what it looked like -- the anticipation turned into excitement that an allowance couldn't buy. Over time, the memories grew like sand castles, and there wasn't a high tide to wash them away.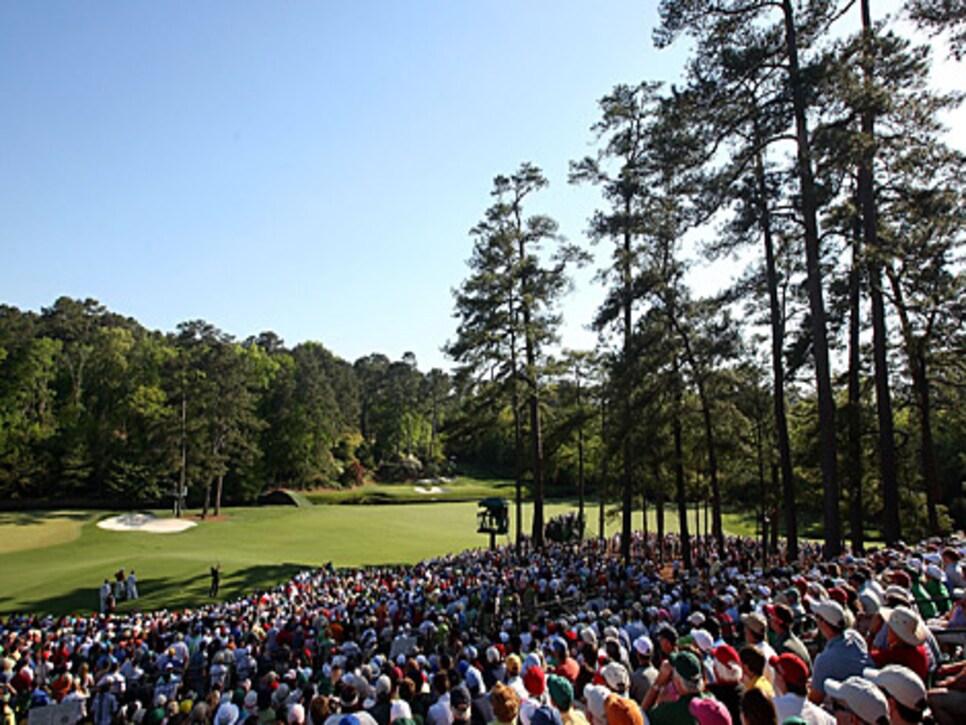 A return to Augusta National always stirs memories. Photo by Streeter Lecka/Getty Images
After about a quarter-century of covering the Masters, for about a decade as a photographer then as a reporter, getting ready to go to Augusta another time, I think about a lot of things, some big, some small.
Driving through South Carolina, hoping I remembered where all the speed traps were. Long mornings stationed behind the second green, sun at my back and 400-mm lens in my hands, hoping someone hit it in the front bunker. Shooting stock photos during the Par-3 Contest. In 1986 T.M. Chen and T.C. Chen played. When T.C. won a tournament about a year later, T.M. got the cover of Golf World.
How good a cold beer tasted after a long, hot Sunday shooting. Having a couple with a group of caddies, including Bruce Edwards, in a shopping center bar across the street from the course.
Wondering if your film would contain what you hoped it would after getting it processed, and in the case of Larry Mize's stunner in 1987, being so relieved when it did. Not feeling so good when you saw the golf-ball sized grain in the playoff victory photos of Nick Faldo winning in the dark in 1989.
Staying for several years in chain motel whose color scheme made me dub it the "Purple Palace" and whose rate, the time I had to stay an extra day after the tournament was over, plunged from $169.95 to $39.95.
The delight at discovering you didn't draw the child-sized bed with a mobile of butterflies hanging above it at a rental house. The discomfort if you did.
The eerie mood in 1996, when Greg Norman had his monumental meltdown and Nick Faldo was there to pounce.
Wondering what it would have been like to be in Billy Joe Patton's gallery in 1954, Arnold Palmer's in 1960 or Ben Hogan's on Saturday in 1967. Getting to see Byron Nelson, Sam Snead and Gene Sarazen strike ceremonial shots, the ultimate old-timer's game. The great mood Chris Schenkel's and Pat Summerall's voices injected into the old highlight films.
Seeing the Greens of Charlotte, Ron and Ron Jr., talented writers both, in the press room typing shoulder to shoulder. Absent friends who were there every spring with me, such as British photographer Phil Sheldon. Wishing my Dad, lover of azaleas and, in his last years, golf, would have gotten to see the place just once.
Scraping frost off the rental-car's windshield and wearing gloves and a ski cap in 2007. The awful smell of whatever-that-was the year it rained so much.
Sitting once not too far from Herbert Warren Wind in the observation stand at the 12th hole in one of his last trips to the Masters, thinking about all the golf he had seen and how much he cared about his craft.
A photo assistant I had a couple of years who loved, absolutely loved, to call a certain champion from Spain, "Joe Mary I Lost My Ball."
Standing beside Lee Elder when he hugged Tiger Woods on Sunday evening in 1997. The roar at the seventh green on Sunday in 1998, when Nicklaus teased everyone one more time.
The familiar drawl of the Yates brothers moderating in the interview room. Never failing to smile at reporter Mark Whicker's impersonation of them.
Remembering when a colleague, soaking up her first Masters, took a few pimento-cheese sandwiches back home. They didn't travel well.
Worrying that the old photographers' tower behind No. 10 wasn't going to stand the weight of all of us up there during playoffs in 1987, '89, or '90. Wishing I had been positioned at the 15th green for Nicklaus' eagle on Sunday in 1986.
Running into folks you haven't seen in months - or more - and catching up behind the clubhouse.
Watching Jeff Julian, courageous ALS victim, accepting the Ben Hogan Award at the annual Golf Writers Association of America dinner in 2003. Hoping, hard, Seve Ballesteros will be able to return to the Masters some time, because it will mean he's better.
On the 25th anniversary of Jack's magic, the chills of that back nine on Sunday, knowing it had been a privilege.