The Loop
A trophy presentation blunder, hazardous pre-British Open activities, and some Turnberry tour sauce
Welcome to another edition of The Grind, where we are so excited for the Open Championship we got to the airport more than three hours before our flight to Scotland. Or, perhaps, my traveling paranoia has reached a new high/low. Either way, THE BRITISH IS COMING! Let's discuss the year's third men's major and everything else before it's time to get ready for my return flight.
Brittany Lang: Forget about the penalty (more on that later), Lang won the U.S. Open and captured her first major with steady Sunday play. Impressive stuff for a 30-year-old with just one previous LPGA Tour title under her belt.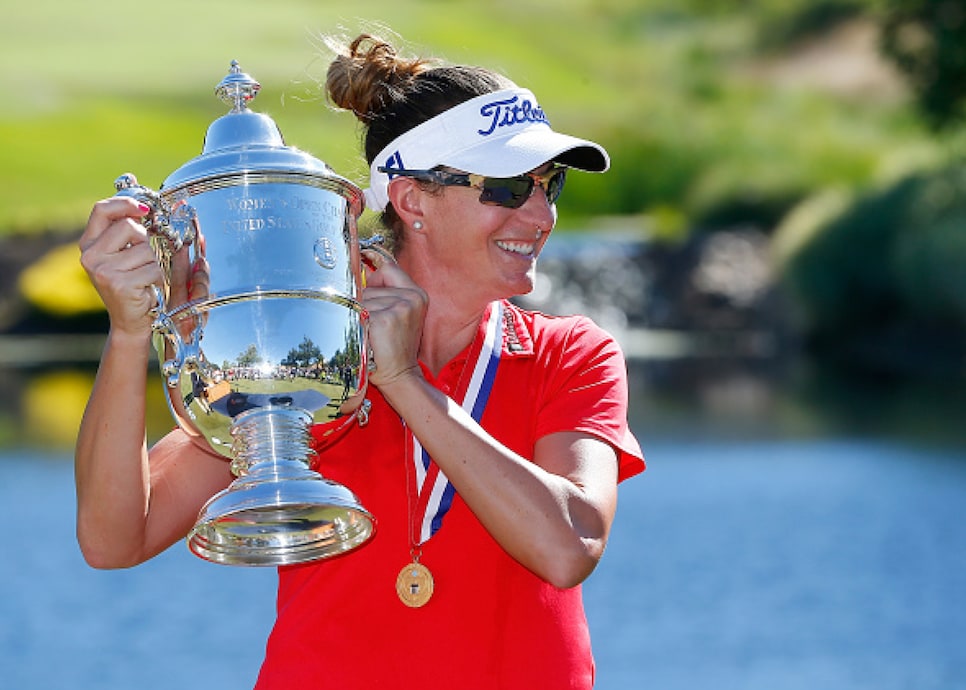 Rick Lamb: As great as Lang's story at CordeValle was, Lamb was the week's most stunning winner. After Monday qualifying for the Web.com Tour's LECOM Health Challenge, the 25-year-old won in a four-man playoff with a walk-off chip-in for birdie. In addition to securing status on the Web.com Tour (and possibly a PGA Tour card), Lamb got to cancel a flight to his next Monday qualifier and drive home with his dad instead.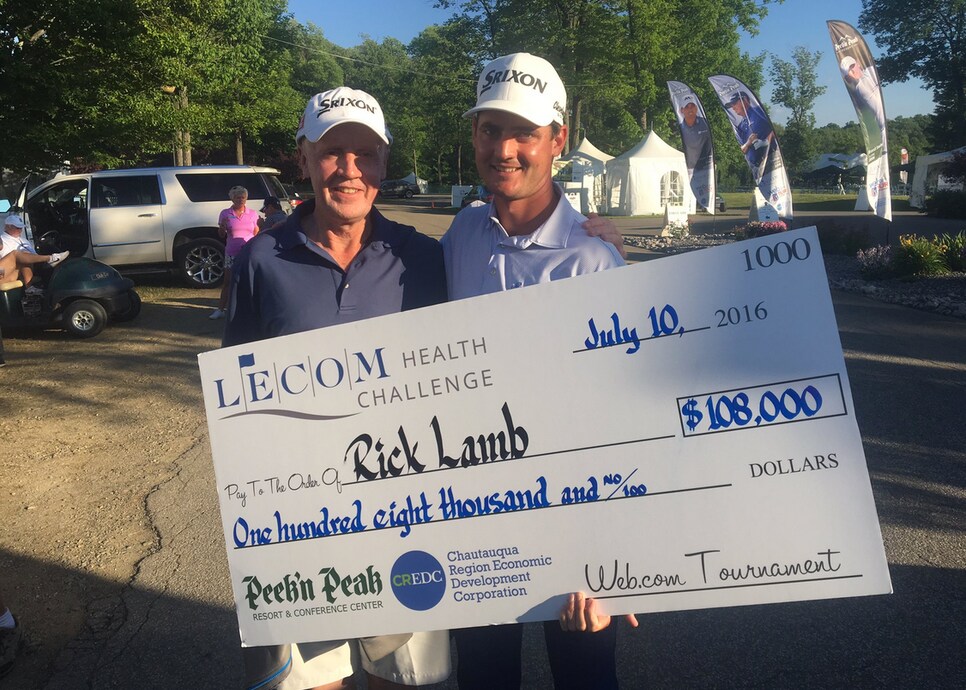 More incredibly, his twin brother, Scott, Monday qualified for the Lincoln Land Charity Championship this week, so both will be in the field.
Trump Turnberry: It pains me to say it, but Donald Trump has a pretty awesome golf course – and he (and his staff) have made it even better. I was fortunate enough to play this gem just a few weeks removed from its grand re-opening and I can confirm the rave reviews are justified. It's a shame its owner's controversial comments currently has the course in the R&A's penalty box. On a related note, here's a little #TourSauce from yours truly with the famed Turnberry Lighthouse in the background:
I deserved a double bogey for that.
Slow play: The final group of the U.S. Women's Open on Sunday (Lydia Ko, Eun Hee Ji, and Sung Hyun Park) played their round in five hours and 43 minutes. That's FIVE HOURS AND 43 MINUTES! And it would have taken even longer if the group wasn't put on the clock at the turn. I think John Huggan summed it up best:
Slow penalties: This time, there was clearly a penalty. Anna Nordqvist tapped the sand before hitting a shot on the second hole. Unfortunately, no one informed her of this until after she had hit her third shot on the following hole. Nordqvist made a mistake, but she handled it like a champ.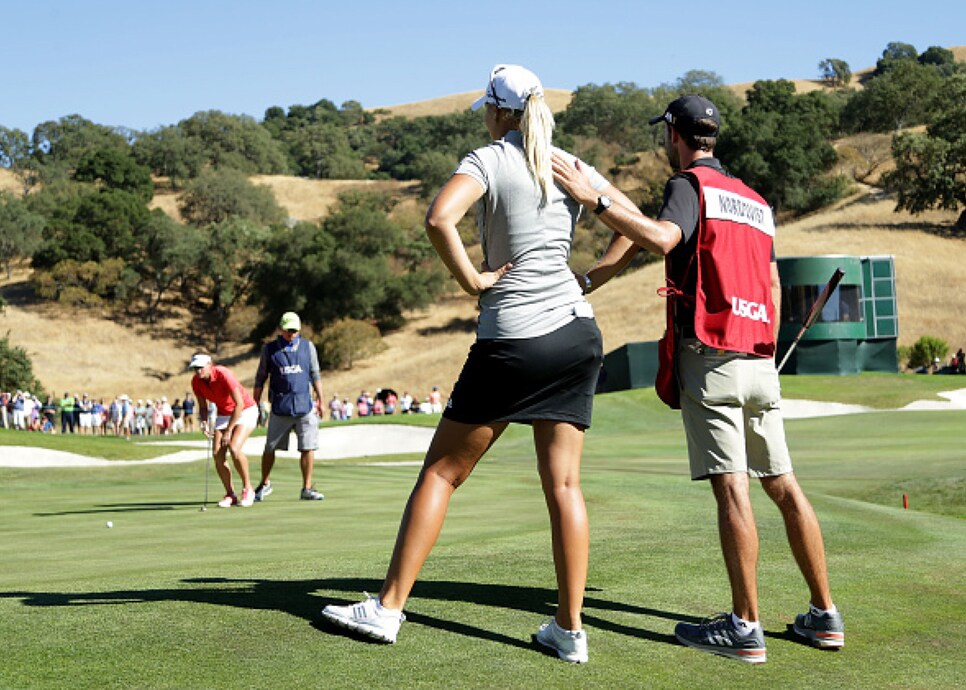 Then there was how the USGA handled the situation. Like with the infamous Dustin Johnson ruling at the U.S. Open a few weeks back, the USGA has to be better/quicker at handling rules violations. And golf's governing body also needs to do a better job at trophy ceremonies. . .
Diana Murphy: More brutal than watching really slow golf or seeing a big tournament marred by a rules violation was seeing the USGA President butchering the trophy presentation. Yes, public speaking – especially on live TV – is hard, but the ONE thing you have to get right is the winner's name.
Across the Atlantic, there's the Open Championship/British Open at Royal Troon. And in Alabama, there's the Barbasol Championship. I'll be watching the Open, but scouting the Barbasol, since the Robert Trent Jones Golf Trail is being considered for a future HGGA Championship (my annual golf trip).
Random tournament fact: American golfers have won the past six Opens at Royal Troon. Expect to be reminded of that a few times this week.
RANDOM PROP BETS OF THE WEEK
-- Danny Lee will finish in the top seven at the Open: 25-to-1 odds (actual LEGAL bet I made)
-- Sergio Garcia will win the Open: 25-to-1 odds (another actual LEGAL bet I made)
-- My Danny Lee bet has a much better chance of happening: LOCK
THIS WEEK IN DUSTIN JOHNSON-PAULINA GRETZKY JIMMY WALKER-ERIN WALKER PUBLIC DISPLAYS OF AFFECTION
The family that paddle boards together. . .
And how about a little cliff jumping?
On a related note, Jimmy Walker is still IN the field at Royal Troon. Rory McIlroy should take notes on how to participate in off-course activities the week before the British Open without getting injured.
Zach Johnson – and his family – bid a tearful goodbye (for now) to the claret jug:
The European Tour's latest clever video involved pros playing the 200-yard 17th hole at Castle Stuart Golf Links – using just their putters off the tee. Here's what happened:
And in the latest reminder that these guys are way, WAY better than you at golf, Russell Knox hit his attempt to nine feet.
QUOTE OF THE WEEK "I go partying -- partying all night and come straight to the course." – Lydia Ko on how she prepares for final rounds. Perfect.
THIS WEEK IN PAIGE SPIRANAC BEING PAIGE SPIRANAC
Is it cool to wear bucket hats again? Might be time to go rummaging through my closet. . .
THIS WEEK IN JOHN DALY BEING JOHN DALY
At some point during his final round at the Dick's Sporting Goods Open, John Daly decided to putt one-handed:
We'll have to see if Daly, who finished T-11 despite struggling on the greens, keeps up this method at Royal Troon. On the PGA Tour, there's What will Phil do next? On the PGA Tour Champions, it's What will JD do next?
Alex Noren won his fifth career European Tour title at the Scottish Open. Love seeing another Alex playing well. . . . Jordan Spieth added his name to the long list of golfers withdrawing from the Olympics. Sadly, this event has turned into a limited-field version of the Valspar Championship. . . . And finally, I'm not the biggest fan of the food in the UK, but I did stumble on these double chocolate chip milkshakes in a Prestwick restaurant:
Not a bad Frosty substitute during a Wendy's-free week. That should put any questions about my survival skills to rest.
RANDOM QUESTIONS TO PONDER
Why do Americans fare so well at Royal Troon?
Where do I rank among golfers named Alex?
What will John Daly do next?