The Loop
A trip to Hawaii still feels like start of a new season, even if it isn't
KAPALUA, Hawaii -- A new year brings with it new hopes, new goals, a new outlook . . . the very things a golfer would want as he embarks on a new PGA Tour season.
Well, nothing has changed, except for one tiny detail: when the Hyundai Tournament of Champions begins Friday at Kapalua Resort here in Maui, the tour will be conducting it's seventh event of its first split-calendar season. If that seems a bit confusing, don't worry. The players are still getting their minds around it, too.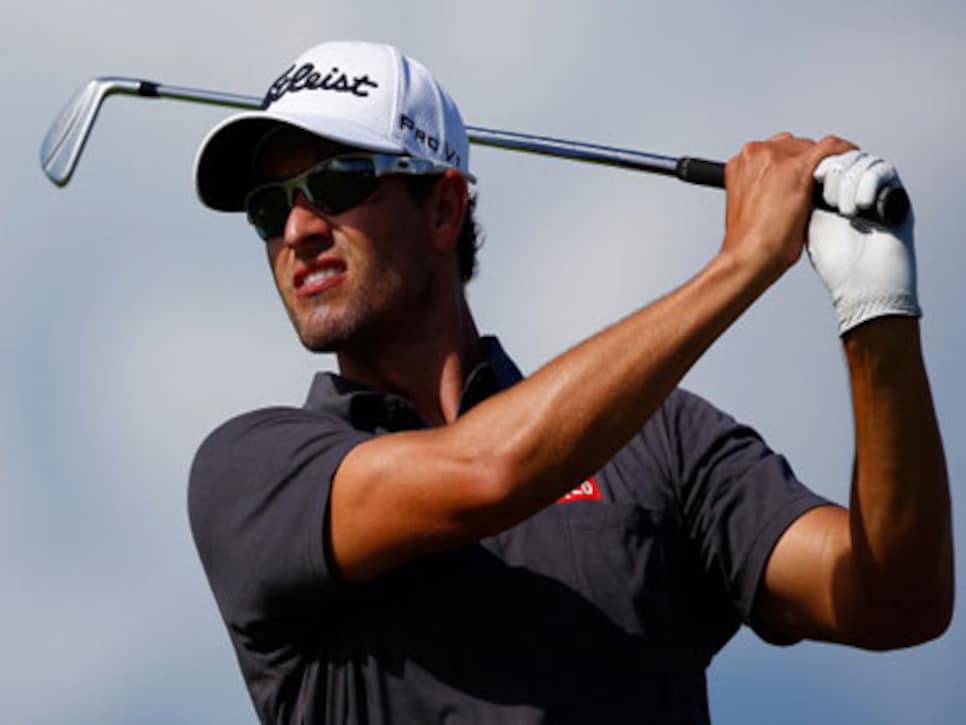 Adam Scott plans to take an extended break after playing the two events in Hawaii.
"What I feel isn't exactly real, which is fine, I guess," said Zach Johnson, who is coming off a banner, um, year, one that ended with a rare come-from-behind victory over Tiger Woods in the Northwestern Mutual World Challenge that elevated the intensely competitive Iowan to No. 9 in the world. "This is the Tournament of Champions. This starts the year. The season is now something else. But to me, this feels like a new season."
Interestingly, Jimmy Walker agrees, and he might be the most logical candidate to disagree. The journeyman Texan broke through for his first tour victory at the Fry's.com Open, the opening tournament of the new wrap-around season, and his three top-12 finishes in four fall starts makes him the FedExCup leader when the season resumes at Kapalua's Plantation Course.
"I've always looked at Hawaii as the start of the season, and I guess that's how I still feel deep down," said Walker, who makes his first start at Kapalua but has often entered the Sony Open in Hawaii, which features the year's first full field. "I haven't played in a month and a half, so it feels like starting over. We're used to everything resetting, so this feels a little weird."
As for being the FedExCup leader, Walker grinned but then demurred on saying much about his present status. "I'd like it better if this were September," he shrugged.
There are 30 men entered in this event comprised solely of winners from 2013 -- and that's winners from two seasons, of course. Some won in the 2013 season. Others are winners of the new 2013-14 campaign. Only one guy, interestingly, qualified by winning once in each -- defending champion Dustin Johnson, who also captured the WGC-HSBC Champions in November in China.
And how's this for weird: Johnson and Walker both qualified by winning season-opening events.
But a season is in the eye of the club holder.
Because professional golf has become a year-long global endeavor, players have initiated their own off-seasons and built their own schedules that hardly conform to any single tour.
Case in point is Adam Scott, who had a monster 2013 that included the Masters and four other worldwide wins. His season didn't end in October or December; it ends after next week's Sony Open. He's pondering a return to his native Australia for an extended break, and doesn't plan to compete again until the Honda Classic in late February.
"It's an interesting question, because I think the answer is different depending on who you ask," said Scott, No. 2 in the world behind Tiger Woods, who is not in attendance this week in Maui. "For me, the season is still going. This is just a continuation of what I've been doing. For other guys it might feel quite different.
"For me, I'm just trying to finish off this stretch strong and then step back. I don't feel like I've had any kind of a break yet. It will probably feel like a new season to me when I come back in Florida."