The Loop
A swing GIF of the last five British Open champions at Muirfield
The British Open is literally just days away and, like us, you're probably excited and busy researching for your upcoming fantasy draft (ours is Tuesday, by the way, so make sure to tune in). To make the wait a little more bearable, we put together this mesmerizing swing GIF of Muirfield's past five winners, and a little refresher on how they got there.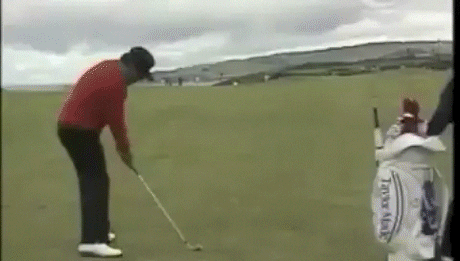 __1980: Tom Watson, 271 (-13)__Watson held off Trevino to win his third British Open, and the fourth of his eventual eight major championships.
__1987: Nick Faldo, 279 (-5)__Faldo won his first major championship making 18 pars the final day in a snazzy yellow pringle jumper.
__1992: Nick Faldo, 272 (-12)__The '87 champ repeated five years later, holding off challenges from John Cook and Jose Maria Olazabal.
2002: Ernie Els, 278 (-6)*Tiger Woods may have shot 81, but Els came made it through a four-man playoff to win the first of his two Claret Jugs.