The Loop
A surprise trip to Pebble Beach goes horribly and expensively wrong…until the 18th tee on Sunday
Roll with the punches, travel experts say, but what if the punches are coming in a flurry and with a fury that threatens to turn the trip of a lifetime into a weekend at the Bates Motel?
Morgan Bell is the person to ask. A former professional golfer and now the media relations coordinator for Hockey Canada, Bell was at her desk last Thursday when her boyfriend, Dustin Yeager, showed up and told her she had an hour to pack, meanwhile withholding their destination. She guessed Banff and packed accordingly, with winter clothes.
She guessed wrong. They changed planes in Vancouver, at which point she learned she was going to San Francisco. When they arrived there, her bag turned up, but luggage that Yeager had surreptitiously checked earlier on Thursday was missing.
Rather than heading off to their destination, they chose to stay at a cheap hotel near the airport in San Francisco, hoping to claim the missing luggage in the morning. "Screaming babies and the worst hotel experience ever," Morgan said. They checked out at 3 a.m. on Friday.
"At that point, he had to tell me where we were going," she said. They were going to Pebble Beach. "I'd wanted to go to Pebble Beach all my life," she said. The missing luggage was their golf clubs, and they had a tee time at Spanish Bay later that morning and another at Pebble Beach on Saturday, each round prepaid and nonrefundable.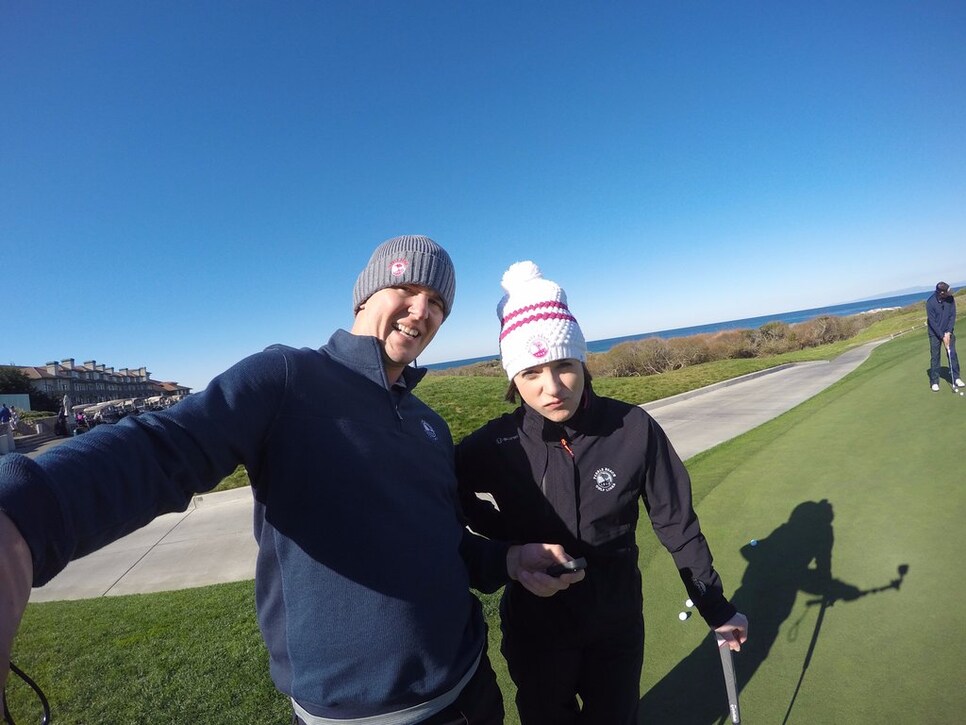 Their luggage still hadn't arrived, "clubs, balls, shoes, shirts, pants, rain gear, coats, socks, rangefinder & tees…we have absolutely nothing," she Tweeted. So they went into the golf shop at Spanish Bay, "the most expensive pro shop in the country," she said, and secured rental clubs, warm weather gear (including a rain suit that cost $650), balls, shoes. Nearly $3,000 later, they were ready to go.
In the course of their round, she spent about 45 minutes on the phone with the airlines and was told they'd deliver the clubs that evening. They didn't. Nor did they call. On Saturday morning, still no clubs.
They played Pebble Beach with rental sets. Meanwhile, Yeager was getting fidgety, "acting like a crazy person," Bell said. At the end of their round, he asked her if she'd like to play Pebble Beach again on Sunday, assuming their clubs had arrived by then.
Bell argued on behalf of playing Spyglass Hill, but eventually she relented and agreed to a second round at Pebble Beach. Their clubs finally arrived at 9 on Saturday night. "I didn't even want them anymore," she said. "They've ruined the trip."
Nonetheless, they made their tee time on a beautiful Sunday. They were playing a match and the outcome was still in doubt when they reached the 18th tee. Yeager had informed her that she had to play the tips at 18, much to her dismay. Yeager teed off first and hit a perfect drive, a little cut that carried past the cypress tree in the fairway.
Morgan teed her ball and went through her pre-shot routine, when Yeager called her off the ball. "What are you doing?" she asked. Yeager then handed her a golf ball on which it said, "After you hit it in the water, will u marry me?" He got down on a knee and handed her an engagement ring, the ring that he had hidden in his golf bag that had gone missing for two days.
"It was perfect," Bell said. "Everybody on the tee was crying."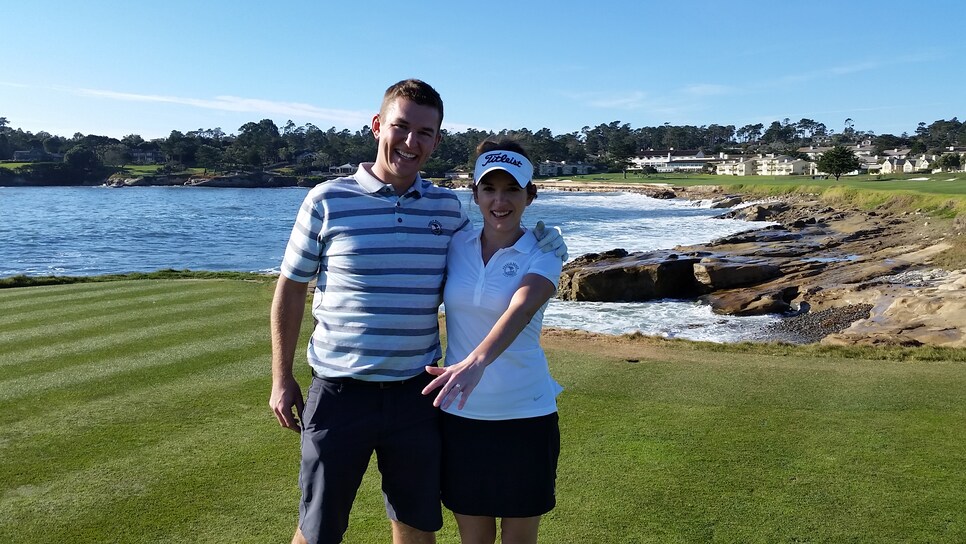 She then hit "the best drive I've ever hit in my life," ended up making six and winning the match, the perfect ending to an imperfect weekend.
"Everything went wrong until the final moment at Pebble," she said. "They can't take that moment away and it will always be special. I'm such an avid golfer, I can't imagine a better proposal than that."