The Loop
A Stanford standout's unusually busy U.S. Open debut
SAN FRANCISCO -- The U.S. Open is a hectic week for every player in the field, but Cameron Wilson's schedule is busier than most.
On Wednesday, the Stanford sophomore has to move out of his dorm room down the road in Palo Alto. And on Tuesday night, he turned in a term paper on Islamic modernism in the 20th century.
"I'm interested in the topic," Wilson said. "But not at this moment."
Understandably so. There's enough to occupy his mind as it is. On Tuesday, Wilson played a practice round at Olympic Club with Tiger Woods and another former Cardinal Casey Martin, an experience that helped him get ready for his U.S. Open debut.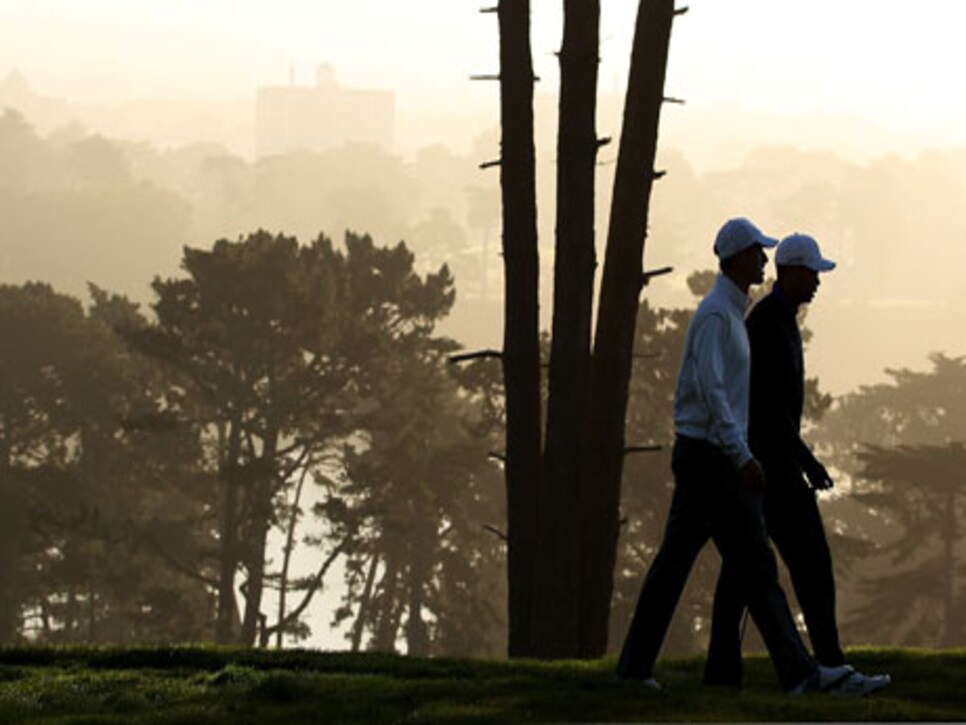 Cameron walked alongside Woods on Tuesday. (Photo by Getty Images)
"We didn't talk about Stanford a whole ton," said Wilson, who will be paired with Martin on Thursday and Friday. "We talked more about the golf course and preparing for the Open.
"I'd never played with Casey but I've seen him a lot on the road, since he's the Oregon coach. I'm excited to play with him in the tournament. And Tiger had some good advice for playing this golf course. He was awesome and answered some of my questions and could not have been better."
The 19-year-old from Rowayton, Conn., earned his way into the Open by shooting 71-65 during his sectional qualifier at Canoe Brook Country Club. His mom, Myra Gelband, is a longtime journalist (and former researcher for Golf Digest's Dan Jenkins) who currently works on the communications committee for the USGA.
"I'm going to try and watch him play," said Gelband. "It's wonderful to see him do something he loves in such a great setting. It's his first Open and it's new territory for me, because usually when I watch him play I'm just his mom, not someone who works at the USGA."
Wilson, who started playing golf when he was two years old, has already built up an impressive resume. The lefty has played the U.S. Junior four times (2007-'10) and the U.S. Amateur three times (2009-'11), and he was named the 2009 Met Golf Association Player of the Year.
"Playing in the Open is kind of like the next step for Cameron," says Gelband. "It's very gratifying for him."
Golf isn't the only sport that claims Wilson's time. From November through the middle of March, he competes for the Stanford squash team, a sport that helps him stay well rounded and hones his already-keen sense of competition. His twin sister, McKenzie, is a sailor for Stanford.
So how will Gelband feel on Thursday, watching her son play in his first U.S. Open?
"It's new territory for me," she said, while smiling. "Ask me Thursday night."