The Loop
A speed read of Grantland's fascinating article: 'Dr. V's Magical Putter'
Bill Simmons' website Grantland published a fascinating in-depth feature story on Wednesday about what was -- supposedly -- a revolutionary new putter, designed by a mysterious scientist who goes by "Dr. V."
We'll stop here and give you a chance to read the full article, which really is worth your time. But it is long (nearly 8,000 words), so if you don't have the time or effort to spare, we've put together an abridged version below. Spoiler alert: there's lots of spoilers beginning after the picture.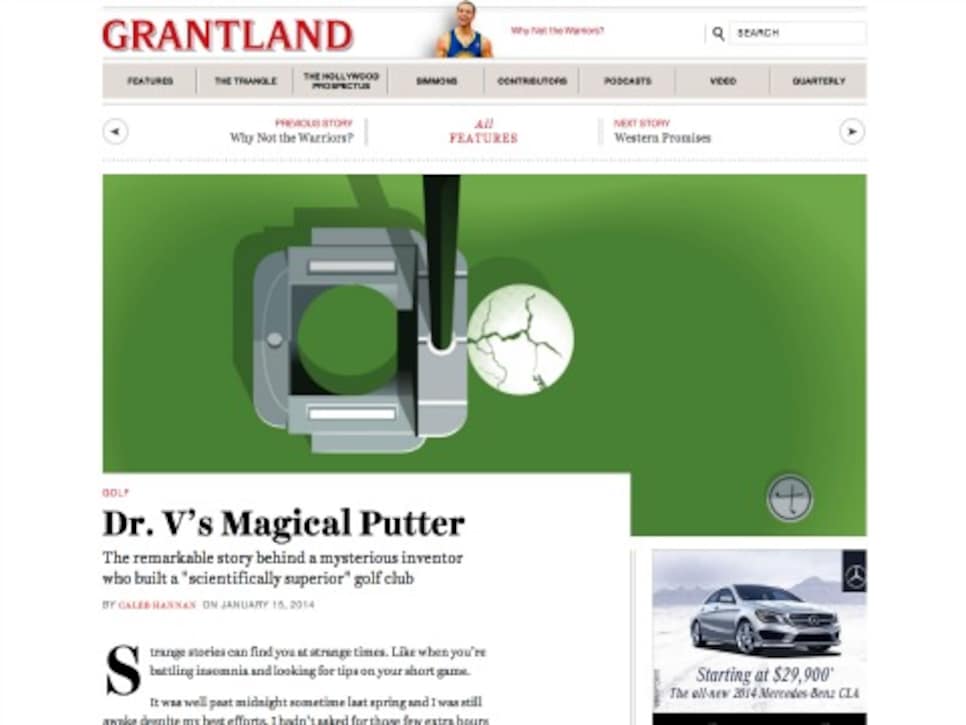 Dr. V didn't appear in the video but seemed to have a fascinating background; an aeronautical physicist from MIT who knows nothing about golf but has the technology to change everything about it. That peaked Hannan's interest, so he reached out to her.
I wanted to know more about Dr. V, so I sent her an email and received one in return that confused the hell out of me. It was early April, and I was trying to set up an appointment to speak with her on the phone. First, however, she insisted that our discussion and any subsequent article about her putter focus on the science and not the scientist.
Dr. V would only speak over the phone or through email, and mostly in jargon-filled sentences -- but the science seemed for real; Dr. V had created a putter with zero MOI to help golfers make an ultra-stable stroke. Aaron Baddeley was even using the putter, and people were flocking to buy it. "I was ready to proclaim her an unknown genius with an idea that could revolutionize golf," Hannan writes. All that was left was to make sure her background checked out, something the writer thought would be a "formality."
It didn't take long to uncover some serious discrepancies in her story. I contacted the registrar's office at MIT. It had no record of anyone named Essay Anne Vanderbilt attending. The registrar at the University of Pennsylvania confirmed the same thing. Whatever Dr. V's actual credentials, they didn't include a business degree from Wharton, where she had supposedly gotten her MBA. This was significant but inconclusive. After all, Dr. V could have attended the schools under a different name. But why wouldn't she have mentioned that?
It turned out that Essay Anne Vanderbilt was actually born Stephen Krol -- a man -- twice married before changing her name and sex. Rather than an MIT-educated government scientist, she was a troubled former car mechanic who had tried to commit suicide and had once declared bankruptcy. But the science of her putter, nevertheless, seemed to check out. The story even notes how David Frost once had an hour-long lesson with Dr. V, and in his next tournament less than a week a week later, set a tournament record for lowest score.
But as the scope of the article changed, and the author confronted Dr. V with the truth he had discovered, Vanderbilt got defensive. She tried bargaining with him, threatening him, pleading with him, but ultimately, there was no changing the past. And the burden of her past would, ultimately, have a devastating effect on her future.
Around 11 a.m. on October 18, Jordan walked into the home office she shared with Dr. V and found pieces from her business partner's jewelry collection laid out on a desk next to some handwritten letters...When Jordan arrived and reached her bedroom, she found Dr. V lying on the floor curled in a fetal position with a white plastic bag over her head; an empty bottle of pills sat on the kitchen counter.