The Loop
A sneak peek at Gleneagles reveals an American golf course that happens to be in Scotland
PERTHSHIRE, Scotland -- With 10 days still to go before the first shot is struck in Ryder anger, all the things that sit alongside a major event are already well underway at Gleneagles.
Security is tight (your intrepid correspondent was escorted to the European Tour office before being allowed entry).
Watched by a squad from the local constabulary who had just concluded its daily search of every grandstand, former European Tour pro Mark Roe of Sky Sports was taping an explanation of the intricacies found on the new 18th green. It's nine yards "wide" at its narrowest point apparently and runs off sharply on both sides.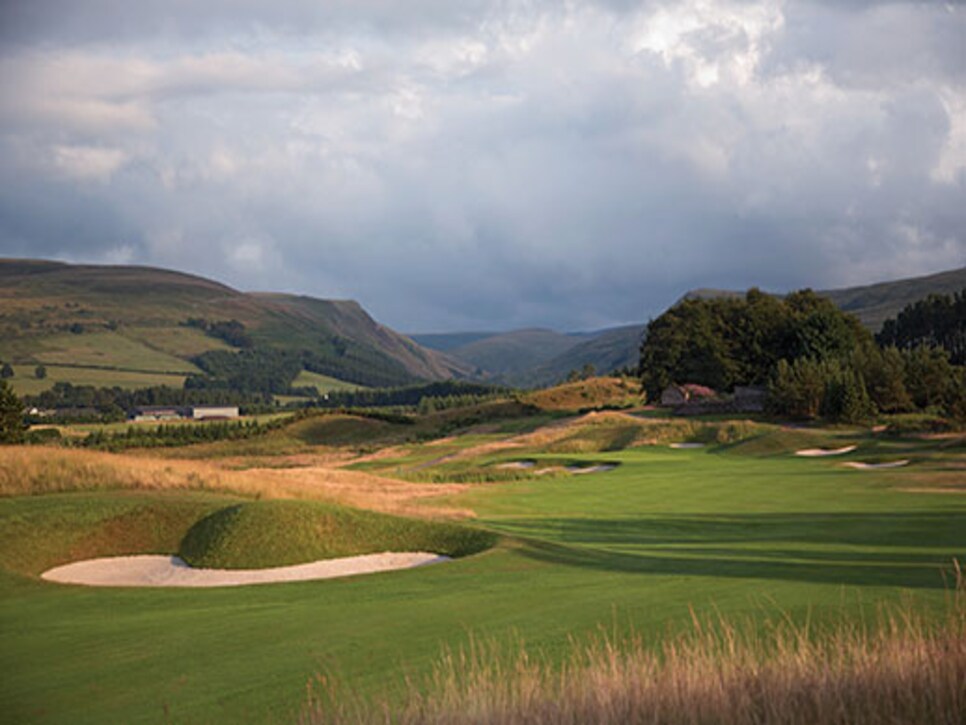 Gleneagles will be in immaculate, but soft conditions. (Photo by Stephen Szurlej)
And the PGA Centenary course is looking very green and feeling very soft. Despite a recent and glorious run of "Indian Summer" weather in sunny Caledonia, one day of rain was seemingly enough to eliminate any semblance of fast running conditions.
Not that any golfers will have experienced that fact. The course has been closed since the first of the month and is, as you'd expect, in pristine condition. Which has both good and bad implications. While the exotic and expensive Perthshire resort no doubt wishes its third-best course to be presented to the world in a fashion that will encourage future visitors -- mission accomplished -- a closer inspection provoked one or two misgivings in this observer.
For one thing, the fairways are immaculate, not a divot hole in sight. For another, the gradual lengthening of the grass on either side of the "cut and prepared" is exact almost to the inch. A few feet of short semi-rough (six lengths of a size-11 shoe in width) is bordered on the outside by the same stretch of what might be termed intermediate rough. Then comes the real tough stuff.
That all sounds fine and dandy -- and has obviously been done at the instigation of European skipper Paul McGinley -- but what all of the above does is eliminate any sense of randomness. In other words, it's all very predictable and scientific, rather than arbitrary and artistic -- two features you would expect at a more traditional venue in the Home of Golf. We certainly won't be watching any of the 24 players hitting from anything other than a perfect fairway lie, something we already know they can do with monotonous aplomb.
This isn't really a "Scottish" track, of course. Designed (and re-worked) by Jack Nicklaus, this is PGA Tour golf with only a vague tartan hue. The first hint of that came in the ET office, where could be found a sign headlined "Buggy Instruction." But on the course is just as "American." Long grass, for example, all but surrounds almost every bunker. And, just as inexplicably, more long grass can be found between greenside bunkers and putting surfaces. This Ryder Cup, it would appear, is going to be played through the air -- not on the ground.
Perhaps most egregious, however, is the deliberate dampening of adventure on more than one hole. By its very nature, match play encourages the bold and the brave rather than the merely prosaic. But any incentive to "go for it" over the corner at, say, the par-5 second has been all but eliminated. There, very thick rough has been allowed to grow just over the bunker situated on the left side of the slight right-to-left dogleg. Long hitters with a sense of enterprise are thus rendered all but impotent. Bubba Watson and Jim Furyk will likely play this hole in very similar fashions.
Happily, a bit more imagination has been applied to the par-5 ninth. Measuring 618 yards and playing slightly uphill, this hole has the potential to be a rather boring 90-yard par 3 if no one can possibly reach the green in two. But that possibility has clearly occurred to Mister McGinley. A forward tee, maybe 50 yards ahead will surely make for more excitement.
So, all in all, despite the geographic location of the biennial bun-fight between Old and New Worlds, it would be folly to expect anything like an Open Championship next week.
Golf in Scotland? Yes. Scottish golf? Not so much.