The Loop
It's one of the all-time golf and real estate stories. Playing the 18th hole on the Old Course at St. Andrews in 1983, George Peper sliced his tee shot so badly it crossed the road adjoining the fairway. If you have never played the Old Course, take my word for it: This is a severe slice. Peper, who was then the editor of Golf magazine, never found the ball. But while rooting around for it, he noticed a two-bedroom flat overlooking the course that was for sale.
George Peper's home in St. Andrews, now on the market, sits just off the 18th hole of the Old Course. (Photo courtesy of Savills)
Legend has it Peper circled back after his round and stuffed the for-sale sign into the trunk of his rental car, so no one might beat him to it. ("Absolutely not," he answers, when asked about this. "But I wish I'd thought of it!") Peper was soon the proud owner of 9A Gibson Place, a charming and impossibly well-situated two-floor apartment overlooking the most famous course and clubhouse in golf.  He paid £42,000, or roughly $65,000 at the time.
Now Peper's place can be yours. After owning it for 29 years, he and his wife, Libby, have decided to sell. It officially goes on the market Sept. 1 but you can have a look at the listing details here.
The probable asking price is £1.5 million, or about $2.35 million. On top of that you'll have annual taxes of roughly $4,800. Consider this, though: Establish St. Andrews as your home and you can buy a "full resident ticket" that will allow you to play all seven of its courses, including the Old, for around $270 a year.  You didn't misread that. Two hundred seventy dollars for the whole year.
"St. Andrews is the absolute hottest spot of all the markets I cover," says listing agent Jamie Macnab of Savills Edinburgh. He notes that in 2010, a 3,700-square-foot home just up the street from Peper's flat sold for £4 million. It was the year's most expensive home sale in all of Scotland. Macnab's firm is also marketing units in Hamilton Grand, a former university dormitory behind the Old Course 18th green and 1st tee. They will start at £1.3 million and (it is hoped) reach £6.8 million.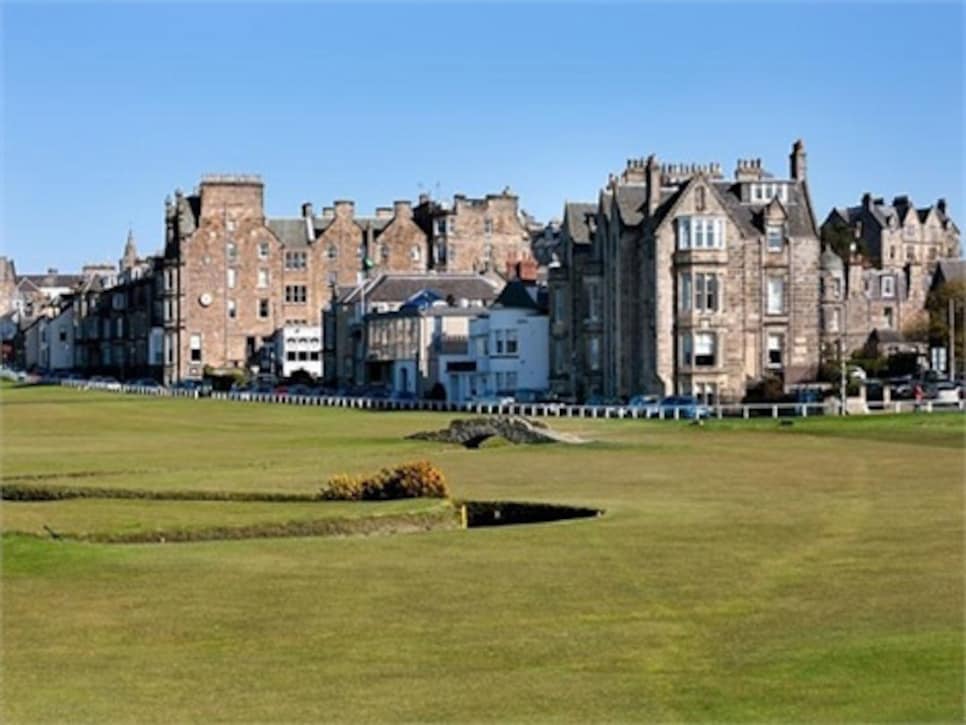 (Photo courtesy of Savills)
George and Libby Peper lived at 9A Gibson Place full-time for much of the 2000s, a period when he wrote the book "Two Years in St. Andrews: My Home on the 18th Hole." The decision to sell was "painful," says Peper, now the editor of Links magazine. "I wish we could afford to keep the place. But this is the economic reality." The Pepers will split their time between homes in Rhode Island and Florida.
Was Peper's purchase of 9A Gibson -- as some of his peers have wondered -- the greatest investment ever made by a golf writer? Assuming it sells for $2.35 million, that would equal 36 times what he paid for it, without adjusting for inflation. It's not the fairest comparison, but as a point of reference, consider that an investment in the S&P 500 stock index in 1983 would have increased 18-fold over the same period, including dividends. So yeah, it was a pretty good investment by George.