News
A Scottish journeyman, Jimmy Gunn, takes another step toward his dream in the Bahamas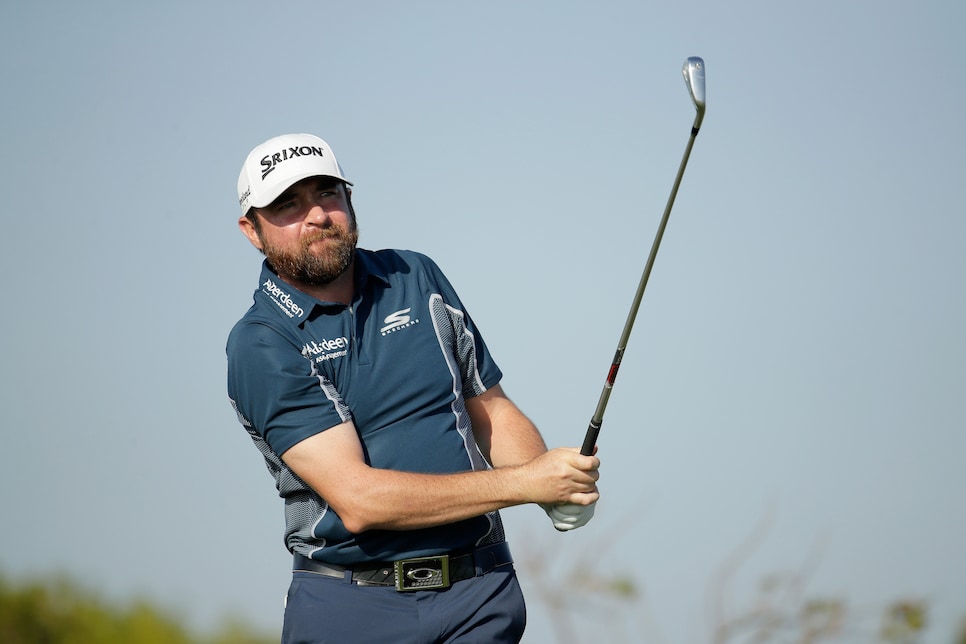 Jimmy Gunn was a long way from the Dornoch Firth last Wednesday. The bearded 36-year-old from the Scottish Highlands found himself in the middle of the Carribean with a chance to win the Web.com Tour's Bahamas Great Abaco Classic.
Whom did he think of most in the balmy breezes? His late grandfather, Donald Urquhart, an 11-time club champion at Golspie Golf Club, a tumbling little gem of a links a few miles up the coast from Royal Dornoch. Gunn was 5 when he started following Urquhart, a three-time winner of the Sutherland County Championship Cup, around Golspie.
But leading the Web.com event was a new experience, and the pressure of 10 years in professional golf without a breakthrough started hitting Gunn on the final nine of the third round. His 40 turned a five-stroke lead into a two-stroke deficit to Andrew Landry, the Cinderella of last year's U.S. Open, going into the final round.
"First of all, never give up," Gunn told me he reminded himself before the most important round of his life. "That's one of the things my grandfather always said to me." So armed, Gunn shot a 68 to finish second behind Landry.
Where Gunn is from in Scotland, few go on to success playing golf at the highest level. "You can't go through the school system playing golf," Gunn said. Because of the weather, "it's only a half season. It's a very hard road to become a professional golfer, especially a tour player."
As a teenager, Gunn worked on an oil rig. In his early 20s, he caddied at Royal Dornoch for £40 a loop, supplementing that income working as his father's apprentice in the carpentry business.
Like his grandfather, who died in 2011 at 84, Gunn excelled as a player at Dornoch, winning the club championship four times, as well as the Sutherland County Cup and the club's open tournament, the Carnegie Shield.
But it was through caddieing that Gunn met Todd Warnock, eventual owner of the Links House Hotel in Dornoch and partner of Bandon Dunes founder Mike Keiser in the Coul Links project in the Highlands. On his first trip to Dornoch, Warnock got Gunn, a character dressed in all black and smoking self-rolled cigarettes. As they walked to Warnock's shot in the third fairway, Todd asked Jimmy if he was a golfer.
"I'm the club champion," was the response.
The Chicago investor then took a ball from his bag, handed Gunn a 4-iron and asked him to hit a shot. After the sound and ball flight unmistakably identified him as a top player, Gunn tossed the club back to Warnock and said, "A four-time club champion."
Gunn's self-belief gave Warnock an idea. As the two got closer over the next few days, Warnock asked if Gunn was familiar with the Scottish alternative-rock band, Del Amitri and its song "Move Away Jimmy Blue," about a young Scottish boy who gets trapped in his gritty hometown. On their final day together, Warnock said to Gunn, "You're not going to be on the PGA Tour being the club champ at Dornoch."
With Warnock as his first sponsor, Gunn turned pro, moved to the United States and based himself in Scottsdale, playing state opens and the Gateway Tour until qualifying for the Web.com Tour in 2014. He missed keeping his card by a stroke but got through two stages of qualifying and a playoff to make the field in the 2015 U.S. Open.
At linksy Chambers Bay, Gunn felt comfortable, finishing 27th, ranking T-5 in putting and tying winner Jordan Spieth, Dustin Johnson and Jason Day for most birdies with 18. As Gunn told Scottish reporters, "Coming from a small town like Dornoch, you have to follow your dreams."
Dreams that are alive after the Bahamas.