The Loop
A sand wedge away, the quiet West Sands
ST. ANDREWS, Scotland - A woman was reading by the dunes.  A man was jogging on the wide expanse created by low tide. No one was swimming in the chilly waters of the North Sea.
Midday Thursday at The West Sands, where the British Olympic team trained in the movie, "Chariots of Fire," lifeguards Rachael Birtley and Owen Linney came out of their hut to survey what wasn't going on.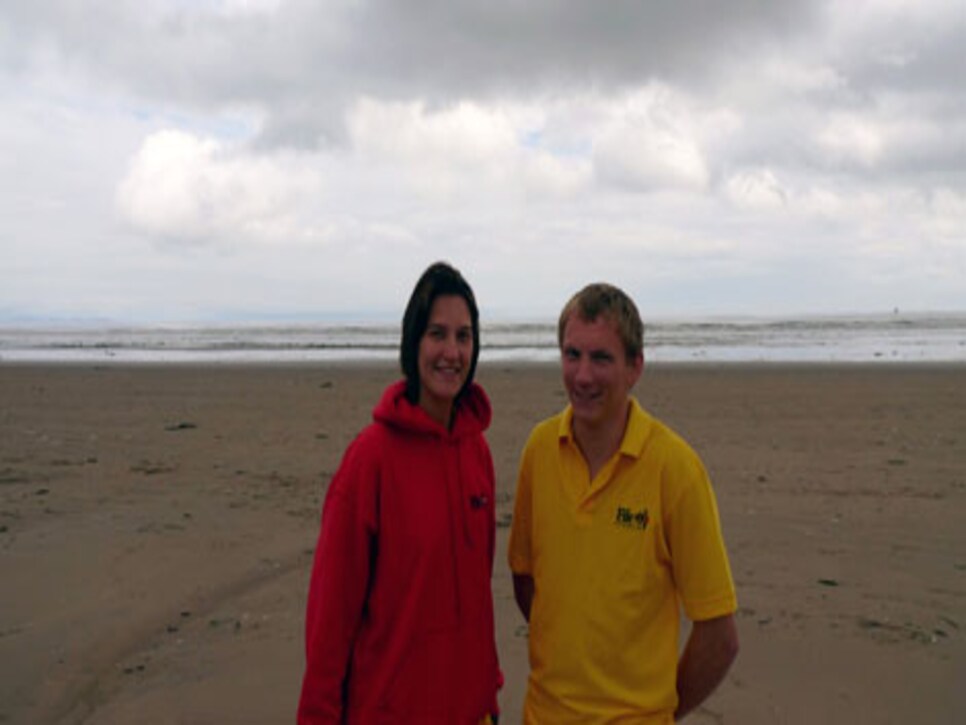 *(photo identification:  Lifeguards Rachael Birtley (left) and Owen Linney on The West Sands, photo by Bill Fields)
*Several hundred yards away, Rory McIlroy was putting the finishes on a record-tying 63 in the British Open. At the beach, the only sounds were the surf and some gulls.
"On a bank holiday, on a sunny day, there can be 6,000 people down here," Linney said. "Normal days, there are usually a few hundred people. This is a quiet day."
Most of the lifeguards' work comes when beachgoers try to walk from the far end of the The West Sands to an adjacent beach and they get stranded on a sandbar. The water is only for hardy swimmers. Birtley and Linney recently had a training exercise at 5:30 a.m. "If we're lucky, it gets to 10 or 15 degrees [about 50 to 55 degrees Fahrenheit]" Birtley said. "It's cold!"*