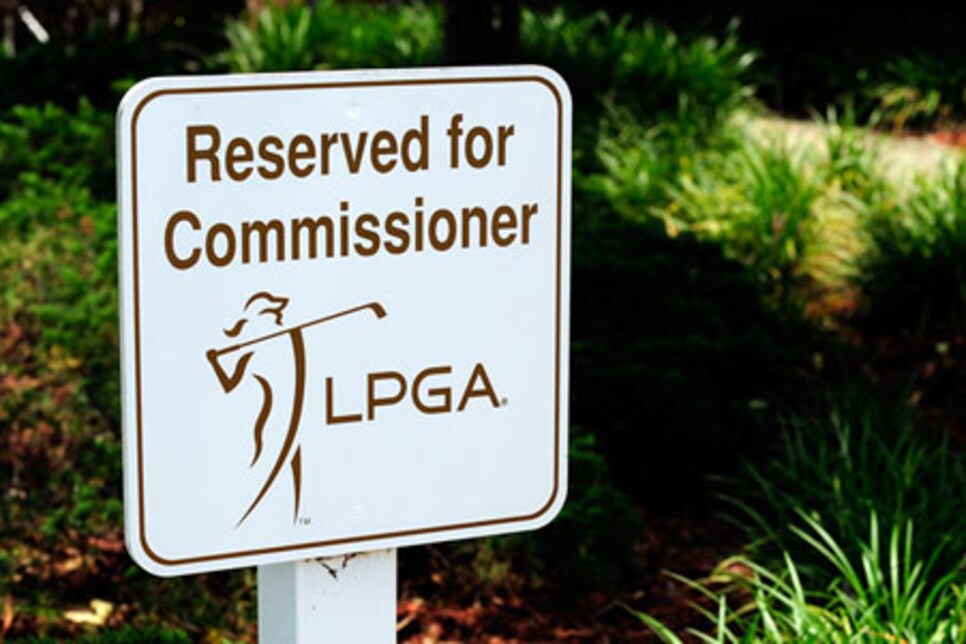 The LPGA is reportedly getting closer to picking a new commissioner, and chances are good there will be a permanent leader in place in time for the Tour Championship in November. The short list of candidates is rumored to consist of three guys and a girl (but no pizza place): USGA chief business officer Pete Bevacqua, PGA Tour senior VP of business development Jon Podany, World Series of Poker commissioner Jeffrey Pollack and WNBA president Donna Orender.Â
In 2005, when the LPGA was searching for a replacement to then-commissioner Ty Votaw, it made no bones about its desire to hire a woman for the job. The world's oldest professional women's sports organization had, until then, been led by a long list of men, and it was "about time" a woman took over, many tour insiders -- and outsiders -- argued. Let's face it, how hard could it be to find a qualified woman to do the job?
As it turns out, it would be very hard. At least it seems that way now. Carolyn Bivens, the former media exec who ultimately got the gig in '05, had plenty of business experience, guts and lofty goals, but she failed miserably in her quest to turn women's golf into the next big thing. A lousy economy didn't help, but Bivens's lack of golf knowledge, people skills and flexibility in sponsorship negotiations ultimately hurt the tour a lot more than her gender helped. And since her player-encouraged resignation last July, there has been very little talk of finding a woman to replace her. Priority number one seems to be to find the right person, any person, for the job.
This is a sad reality. Sure, the LPGA Tour is in trouble, and with tournament sponsors dropping like flies, it needs a miracle worker to come in and right the ship before it sinks, gender be damned. But how is it possible that there are no such miracle workers on the planet with female reproductive organs? What does it say about us, women golfers, that we can't find a woman to take the helm of the LPGA and run it well?Â
Luckily, there is one woman, Orender, in the race, and she's very qualified. The question is whether or not she wants to take on that kind of pressure. Because if she is offered and accepts the job, then fails like Bivens did, she'll likely be the last person ever, woman or man, to run this particular show. And that would be a tragedy.Â
--Stina Sternberg (Photo: Sam Greenwood, Getty Images)