News
A rising star in professional golf opens up about recent successes, living up to expectations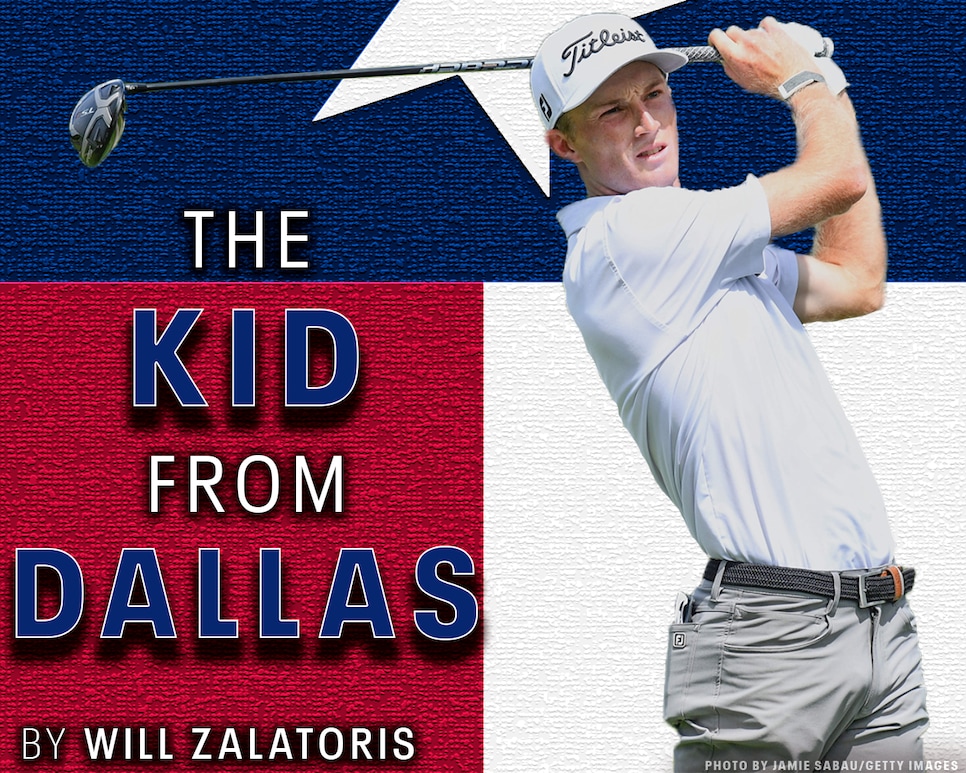 It's summer 2007. "Ticks" by Brad Paisley has just come out and, yes—it's a jam. Every prepubescent Dallas boy has these lyrics on LOCK … including me. Little Willy Zalatoris, all 11 years of age, daydreaming about singing it to his fifth-grade crush. Anyway, I'm sitting in the car with my friends, Cade Storey and Jordan Spieth. Cade's mom had just picked us up from a junior event that, shocker, Jordan dominated and won by eight strokes. We're chatting away as we pull up to a stoplight when, bam, "Ticks" hits the airwaves and … I'm not sure whether it was the high from winning, but Jordan goes full Paisley and starts belting it out like there's no tomorrow. Eyes closed, shoulder shimmies, singing into his water bottle—the whole nine yards. The kid almost cracked the windshield with his voice. Man, to this day, I haven't laughed so hard in my life.
When my family packed up our life in California and moved to Texas, that sandy-haired, mature-beyond-his-years, make-a-putt-from-anywhere kid named Jordan was one of my first close friends. So much has happened in our lives since then, but I'll never forget those summers driving around Texas playing three events per week, feeling the rush of competing against my buddies, and laughing until one of our moms had to ask us to calm down. No matter how much things change, I know a part of me is still in the backseat of that car.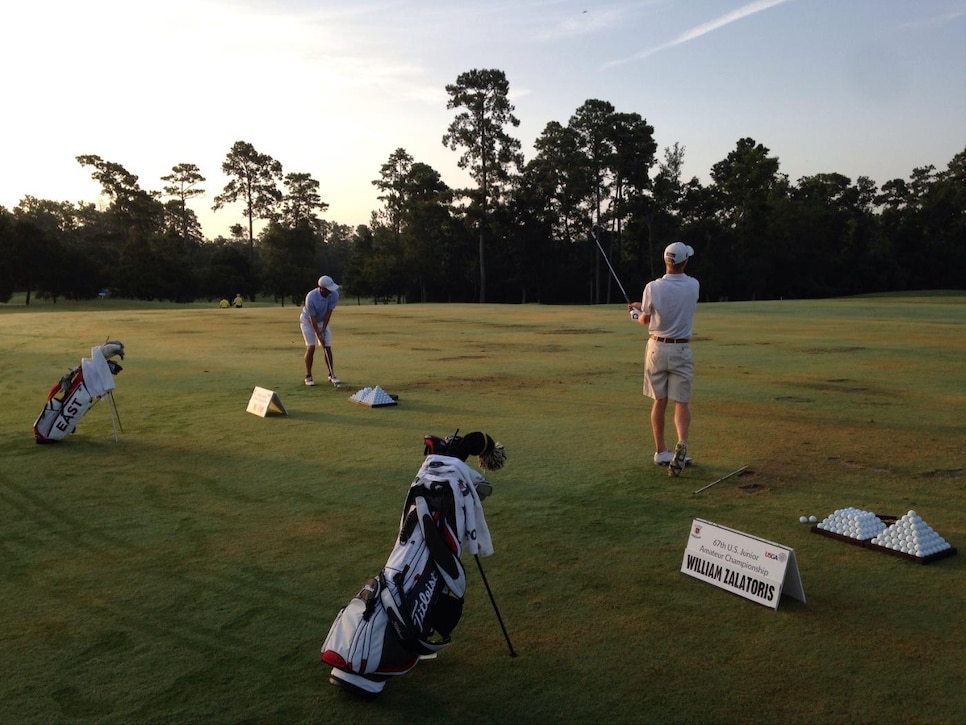 Will Zalatoris warms up for the final match of the 2014 U.S. Junior Amateur against Davis Riley. (Photo courtesy of Will Zalatoris)
Around that time in my life, my dad introduced me to David Price, the head pro at Bent Tree Country Club. DP was on the University of Texas team with Tom Kite and Ben Crenshaw that won back-to-back national championships in the '70s. Even at 11, I knew the guy was a legend. But what I've come to appreciate even more than what he did for my swing was how he shaped me psychologically. Even though I hadn't hit my teen years yet, he was in my ear saying things like, "Are you on the range for social hour, or are you out here to try and get better?"
I'll be the first to tell you that asking an 11-year-old that type of question seems, well, a little dangerous. But DP knew how competitive I was. He had seen me challenge guys on the range to closest-to-the-pin competitions. He had watched me try to outdrive the older members. And more than anyone, he knew how motivated I was to beat Jordan's course-record at Bent Tree—something I had to look at every time I went into the pro shop. DP was talking to a young kid, but truthfully, I loved having those conversations. I embraced the process of improving, and DP, who had been molded by the great Harvey Penick himself, knew how important it was to hone in my competitive spirit. "I know it's cool to talk about winning," he would say. "But if you want to be a competitive golfer, you've got to work at it."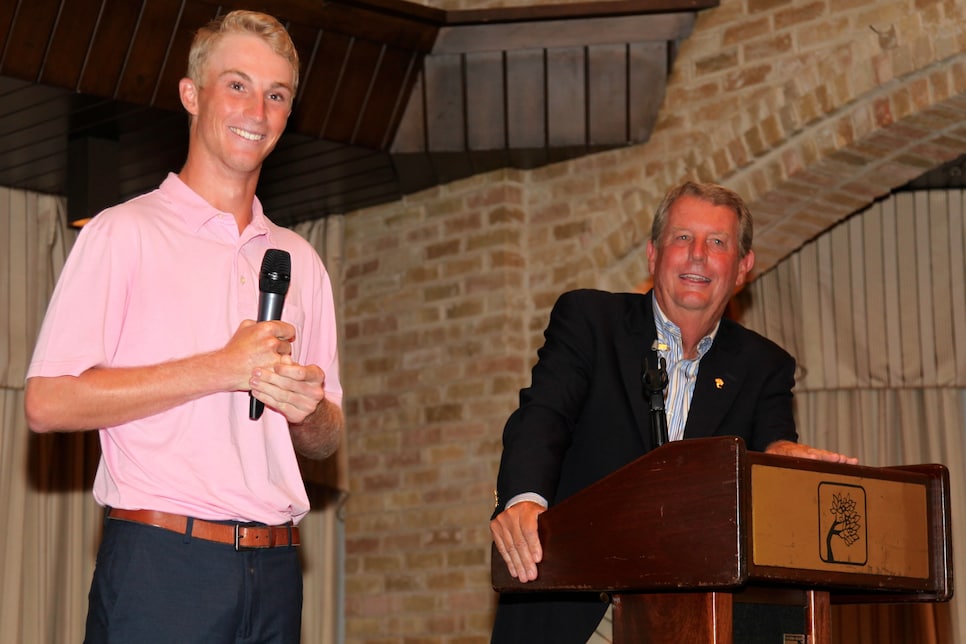 David Price looks on as Will gives a speech to members at Bent Tree C.C. (Photo courtesy of Will Zalatoris)
As a junior golfer, life was good. When I was 12, I was four shots back going into the third and final day of an AJGA event in Charlotte. I made five birdies on the back nine to shoot a 65 and win the tournament by one shot. At the U.S. Junior Amateur qualifier a week or so later, I was sitting at six over par with a little over half my round left to play. I ended up going nine under in my last 12 holes, shooting a 65 and winning the qualifier … before eventually going on to win the championship. Without DP, I'm confident none of that would've been possible. There'd be no 2014 U.S. Junior Am title, no Arnold Palmer Scholarship to Wake Forest, and no 2017 Walker Cup appearance.
As my mom drove down the highway on our way home, this wild thought popped into my 12-year-old head: Hey, maybe I could do this for a living someday.
There's a fine line between being competitive and adding undue pressure. Somewhere between that crazy thought and the day I turned pro in 2018, I might have lost sight of the difference between the two. Maybe that's why success on the biggest stage took a little bit longer than I thought it would. I know some thought Will Zalatoris might be the next name mentioned after Champ, Morikawa, Hovland, Wolff and Scheffler on the PGA Tour. I mean, I loved watching my friends win at the highest level of golf, watching them as a card-carrying member of the Korn Ferry Tour still trying to break out full time on the big tour. But if anything, it's given me the greatest motivation to finally get there.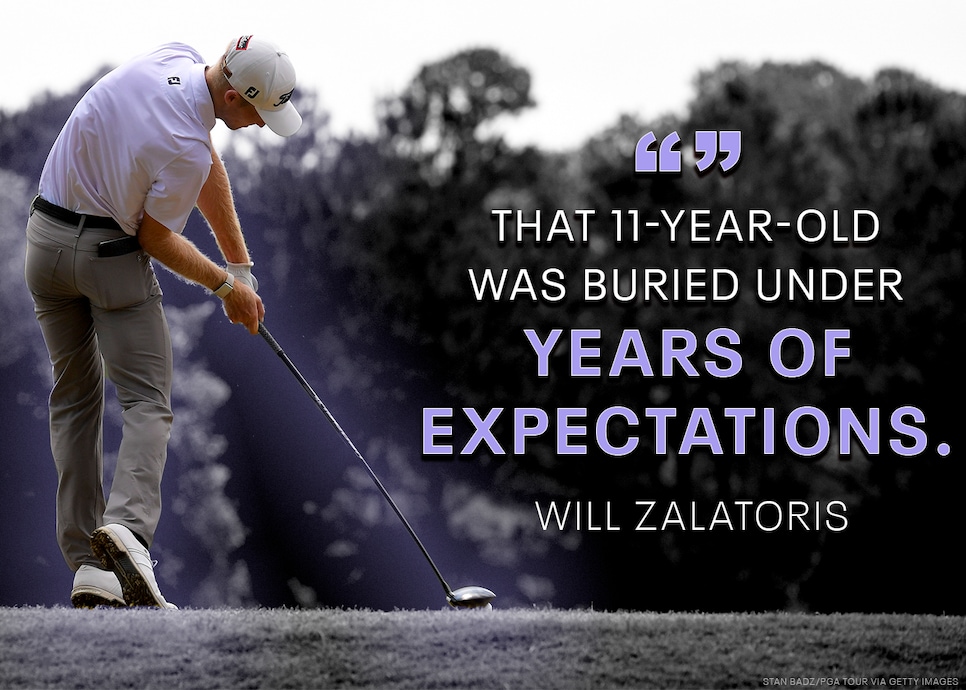 Last year, I went back to my home course in Dallas to play with some old friends. I am lucky that my usual Sunday game includes Tony Romo, and out on the course, I'm going on about life, expectations, everything under the sun. Tony—who is no stranger to lofty expectations—interrupts me, looks me in the eye and says, "These are the years you're going to look back on and be fond of because life is so simple. But instead of thinking like that, you've made everything such a big deal."
Then, as he was teeing his ball up, he turns around and says, "Eventually you're going to be like, Jeez, how stupid was I?"
Man … it hit me hard. The golf course? I wasn't supposed to be hanging my head out there. That 11-year-old kid was buried deep under years of pressure and expectations and a twisted form of competitiveness. I know it sounds trivial, but that conversation with Tony changed a lot for me. Even a little perspective can massively transform your game. And it has.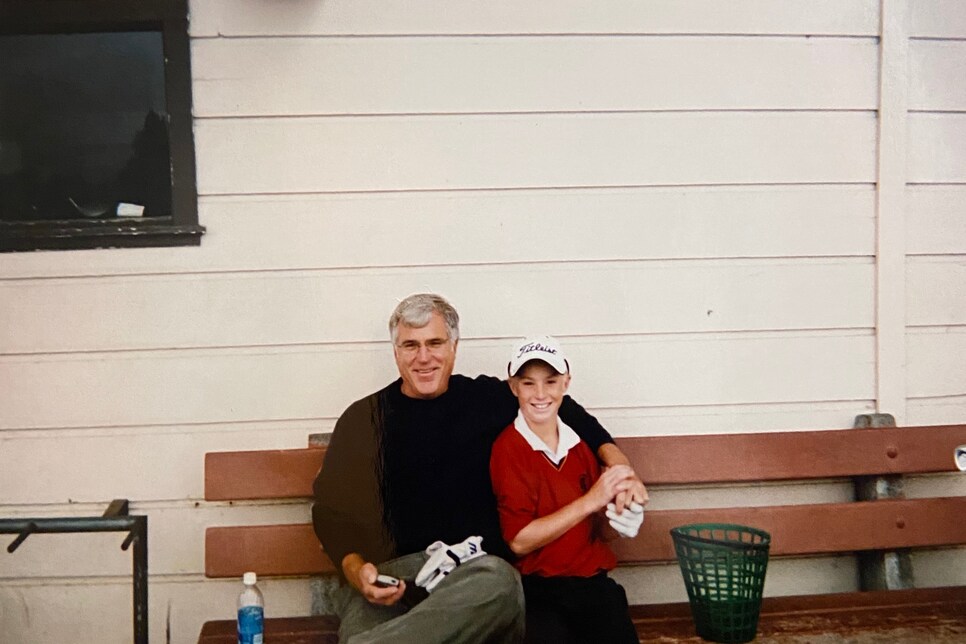 Will praises his father, Richard, for never attending one of his golf lessons. "I never felt that overbearing presence that so many kids might feel," Will says. (Photo courtesy of Will Zalatoris)
I'm so fortunate to have had a great team behind me with some ride-or-die friends. But I'd be lying if I didn't say that it's been my parents who have gotten me to where I am today. There's no T-6 in the U.S. Open in September without my mom bringing me to the course when I was 5 years old, waiting in the parking lot while I'd play a few holes with my dad, and picking up a milkshake on our drive home. There's no Korn Ferry Tour trophy sitting at home without my dad bringing me to a driving range when I was 7 years old just to hit thousands of balls into a net 15 feet in front of us. And there's certainly no opportunity to reach the PGA Tour without my parents picking up their lives to move from San Francisco to Dallas when I was 9 years old, giving me the chance to play in competitive junior events. They did everything for me, and honestly, it makes me emotional writing it down. I'd say they sacrificed their lives so that I could pursue my dream, but my mom—a former track-and-field athlete and competitive person herself—would probably close the computer and call me right away. Because in my parents' view, this was a choice. A choice that's allowed me to be sitting here writing this article.
I'm proud of my friends for all their success in golf. It's the biggest motivation a kid could ask for. I just hope that they'll make some room in the winner's circle. If I get there, who knows ... maybe we'll belt out a country song to celebrate.
You know, for old time's sake.