A resurgence in one of golf technology's oldest forms
A video recently came across our desksthat details the unique forging process employed by Miura Golf, and while forging is the oldest process for making iron clubs in the game (Miura's forging house is set in Hemiji, Japan, where forging of metal has been done literally for hundreds of years), forged irons this year are seeing a bit of a resurgence.
Certainly, Miura, a Silver selection in the 2007 Golf Digest Hot List for its CB-301 irons, has developed a well-deserved cult following with its precision irons and wedges and its spin-welded hosel technique (the hosel is a separate piece and is fused onto the clubhead by spin-generated friction, which heats the two parts so they join together as they cool). But no less enthusiastic and innovative are the latest forged initiatives from several major companies.
Let's run down the list, starting with the company who has had more of its forged irons appear on the Hot List than any other company's forgings.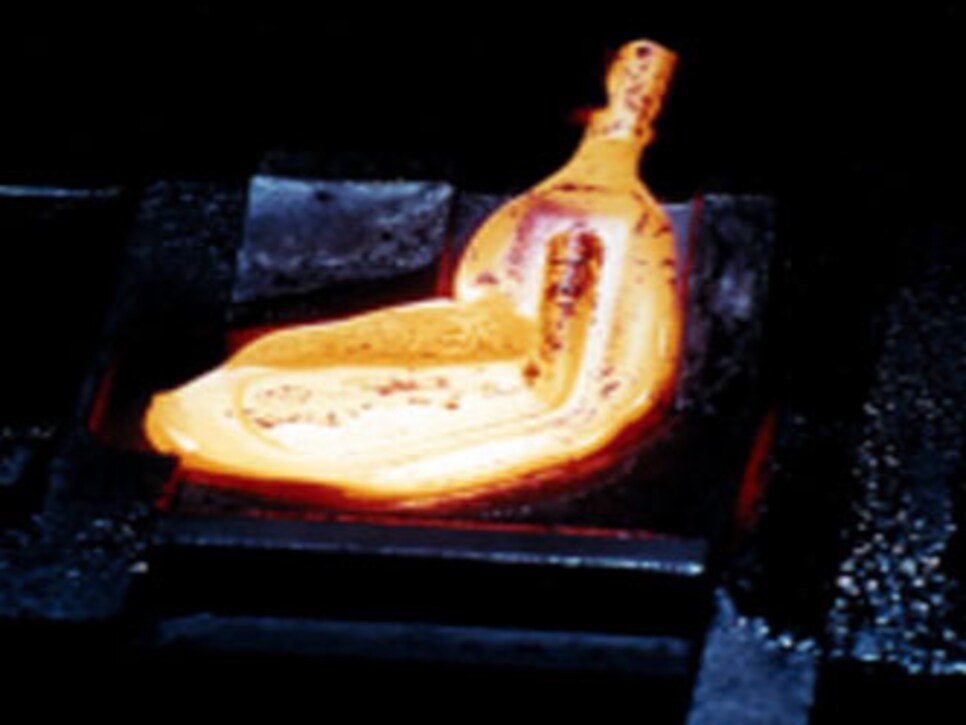 No discussion about forged clubs can begin without addressing Mizuno, which has been making forged clubs for nearly 60 years at the same factory outside Hiroshima. The [__MP-53, Gold in the 2011 Golf Digest Hot List__](http://hotlist.golfdigest.com/detail-exec/brand/2718/product_type/205/model/47818/b/Mizuno/p/Iron%20set/m/MP%2053), uses a computer milling process to form a pocket cavity and save 14 grams for redistribution in the clubhead. It's what Masao Nagai, Mizuno's head of global research and development calls "the most forgiving golf clubs ever in the MP category." Through modal analysis designers used the diamond-shape in the cavity tos improve the consistency of sound and feel..
Callaway's latest X-Series JAWS CC forged wedges, Gold on the 2011 Hot List, utilize a new closely spaced groove pattern that according to Callaway data retains at least 70 percent of the spin of its pre-2010 groove rule wedges. That same pattern is forged into the new RAZR X Forged irons, Silver on the 2011 Hot List, for more consistent distance control and spin, and Callaway's design team emphasizes that the precision pattern, which features five more grooves than in its RAZR X irons and steeper sidewalls in each groove, can only be achieved through the forging process.
At Nike, the VR Pro Combo irons, Silver on the 2011 Hot List, feature three head styles (blade in the short irons, split cavity in the mid-irons and pocket cavity in the long irons). The different center of gravity locations are designed to promote consistent peak trajectory through the set. The forging process also includes a die-stamped high-frequency groove pattern that includes more grooves on the face. For example, the VR Pro Combo 8-iron features four more grooves than its predecessor.
Ping, the grandfather of investment cast irons in golf, recently entered the forged world with its Ping Anser iron, Gold on the 2011 Hot List. The multiple material iron includes a forged body of 8620 steel with a hollow sole that features a tungsten insert to lower the center of gravity and enhance vibration dampening.
TaylorMade, which has produced limited forged irons in the last decade, debuts three new iron models that incorporate forging this year. The fully forged Tour Preferred MB and MC, Gold on the 2011 Hot List, feature a six-step forging process, while the Tour Preferred CB combines a forged face with a cast body. The extensive forging process results in a head that requires less post-forging finishing and thus a cleaner, consistent final product. A weight port in back is designed to provide consistent swingweights throughout the set.
So forging is, in a sense, back, although it never really left. What major companies are finding today is ways to match the smartest new technologies with the game's oldest club-making technique. Like all great club design, it is a mixture of the scientific with the artistic. Not so convinced that a forged club is for you? Maybe the words of Katsuhiro Miura will provide perspective. He once told me that the feel of a forged club would be obvious to all, and he had a pretty telling illustration.
"It's like if you have two glass jars," he wrote me in an e-mail exchange back in 2007. "One is filled with marbles and the other is filled with sand. There are a lot of voids in the jar filled with marbles, but not with the jar of sand. The jar of sand is a forged iron.
"The marbles will vibrate at impact, and that results in some of the energy transfer being lost and a vibration within the hands of the golfer. The sand produces no vibration and no loss of energy. Both a good and an average player will feel that difference."
--Mike StachuraFollow me on Twitter