News
A reminder of Michelle Wie's past and a glimpse of Lucy Li's future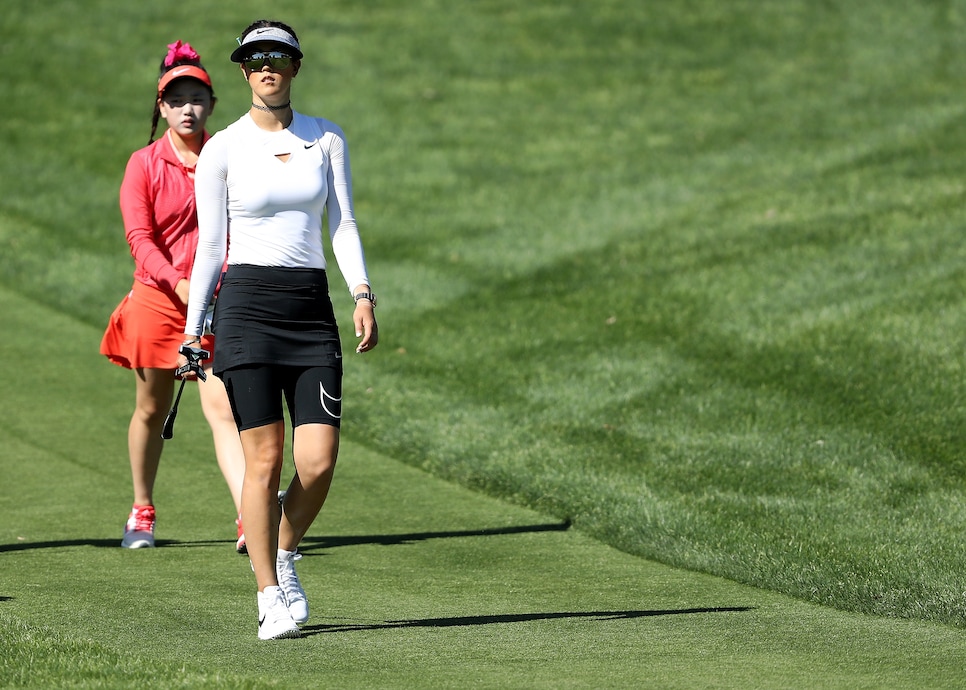 RANCHO MIRAGE, Calif. — On Throwback Thursday, Michelle Wie, for better or worse, was taken to a time and place when the fairways seemed wider, the hole bigger, the future brighter.
In the first round of the ANA Inspiration, Wie was paired with Lucy Li, a precocious teen, just as Wie was a precocious teen when she made her debut here, in what then was called the Kraft Nabisco Championship.
Wie was 13, in 2003, and tied for ninth, a glimpse of a future that knew no bounds and it was never a consideration that she might not fully deliver on that promise.
Li is 14, a sprite next to the physically-imposing Wie, but with a future not short on promise, either.
"No one really called me cute back then," Wie said facetiously, comparing their debuts here. "I was walking behind her on one. She's really cute. 'She's tall' is all I got."
Their scores in the first round here — a four-under-par 68 for Wie, a one-under 71 for Li — were not secondarily important to the feel-good element their pairing evoked.
For Wie, it puts her squarely in the mix, one off Karine Icher's lead in a tournament she once routinely was among the favorites to win. At 26, time is still on Wie's side.
For Li, who at 11 played in the U.S. Women's Open in 2014, it was further confirmation of her level of skill that should not invite comparisons with Wie at a similar age.
Overheard in the gallery was a man saying that if Wie "wants to put Li off her game, she should tell her where she hit it when she was 14."
Li, who won the Junior ANA Inspiration to gain a start here, isn't nearly as long as Wie was then or is now, but she went about her business in a professional and mature way. "Everyone has their own game, and so I just try and focus on myself and play as well as I can," Li said.
Li made two birdies and a single bogey. "I'm really impressed with her round, how she plays, how she carried herself," Wie said. "She must have been nervous today, but she carried herself really well and acted mature beyond her years. And she was a great player. I had a lot of fun playing with her."
Her maturity manifests itself off the course, too. History interests her, and Li is an avid reader who is in the midst of reading Doris Kearns Goodwin's bestseller "Team of Rivals: The Political Genius of Abraham Lincoln."
Li, a home-schooled high-school junior, two years ahead of schedule, can't be fully invested in the tournament or in the book, not with Algebra II homework with which she has to reckon in the evenings.
Algebra II is a necessarily evil and not the thrill it is to be paired with Wie. "Yeah, I was really excited," Li said. "She's super nice, and we just had a lot of fun today. She played really well."