The Loop
A Reader's Trip Report: Orlando
Tom Hoyt of Lebanon, NH, is a reader of the blog and an avid golfer. He says he is a 15 handicap and his wife, Kim, is a 25. "We've averaged 75 rounds at 45 different courses over the last five years," says Hoyt, who filed this trip report after a recent trip to Orlando.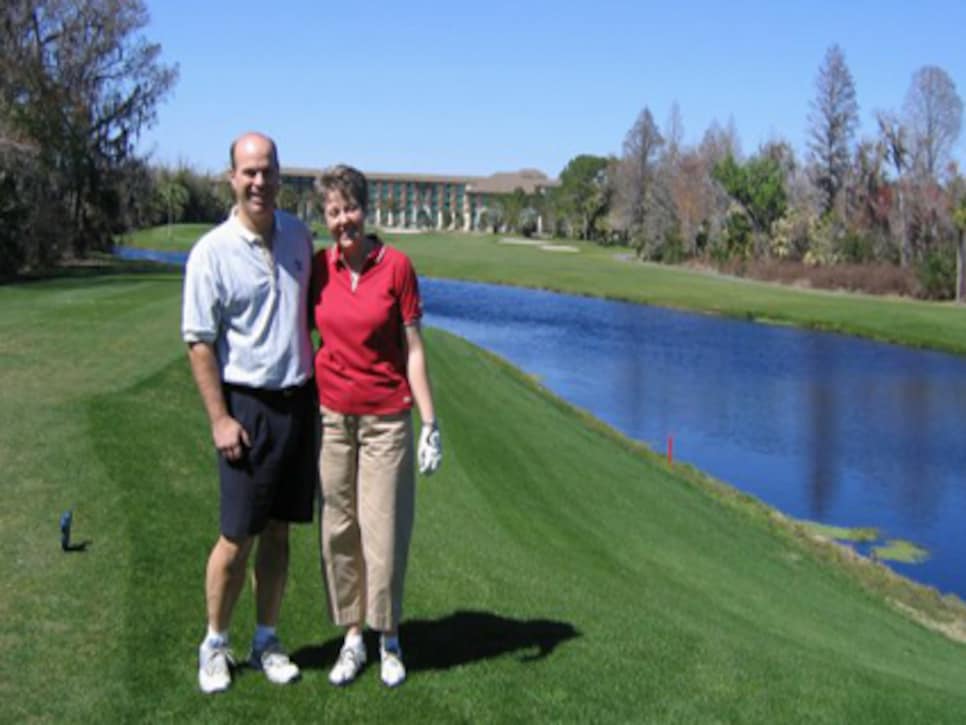 My wife and I (pictured above) just returned from the prototypical "winter getaway" golf trip to Orlando and I thought I'd share a few thoughts with you and your readers.
Hunter's Creek: Whenever the question is asked about courses near Orlando International Airport, Hunter's Creek is often in the discussion. It's not in the same league as Eagle Creek, Falcon's Fire, or Shingle Creek, but I was also able to find a $40 green fee vs. $100(ish) at the other courses. It's pretty typical Florida, lots of water and palm trees as it winds through homes with backyard pools and screen enclosures. Hunter's Creek Golf Club has been decorated with awards and accolades, including being honored by Golf Digest as one of the "Top 75 Public Courses to Play" in the country in 1990s. I always find it surprising when a course includes something like this on their website. If the last award you want to tell me about occurred 20 years ago, I'm going to assume things haven't been great since then.
Disney: You know the drill—Palm, Magnolia, Osprey and Lake Buena Vista. It's resort golf and while you will find lots of golf groups escaping the cold, you will also have to deal with vacationers who have decided to play golf rather than spend a day in the parks. The courses are just hard enough to bring pace of play to a grinding halt when a said group happens to be in front of you. Courses were in great condition. What I did find interesting was Palm and Magnolia, that co-host the Children's Miracle Network Classic, are directly across the street from the Magic Kingdom and you can hear things at the park while you are playing. Conversely, Osprey Ridge winds you through remote forest and it's easy to forget that you are so close to the madness.
A couple of other notes: Palm and Magnolia have "Kodak Moment" signage at every tee box that tells you some historical event that happened at that hole during the history of the PGA tour stop. Palm has a stretch of holes, 13 through 16, that needs a name—short par 4, a risk/reward par 5, wide-open par 4, and a picturesque par 3. Honda has The Bear Trap, Augusta has Amen Corner, TPC with the Gauntlet. I don't know, maybe something like, "The Mouse Trap?"
Disney offers a "golf membership" with details available on their go website. It's worth investigating. Not only does the membership reduce green fees by up to 40%, it is good for a full year.
Orange County National: The PGA Tour holds Qualifying School here. From the back tees it's an absolute bear with a slope near 140. Long story short: admit that you aren't that good, play from the right tees, and both of the 18s are very playable. This was not the case with the group in front of us. A threesome played from the tips, hit six shots off the first tee and didn't get one of them in play. We played Crooked Cat on this trip and I'm always intrigued by No. 12, a par 4. I've played it before and I know it shouldn't be that hard, but it's a design gem in that as you stand over your 140-yard approach shot, you convince yourself how hard it's going to be, and as a result, top an 8-iron into the scrub. You can easily spend the day at OCN. It has two courses, a 9-hole short course that gets a lot of play from people who can play, the biggest 360-degree driving range I've ever seen, on-site lodging and food—they've got it all.
Be sure to sign up to be part of OCN's e-mail list. I was able to secure a "winter getaway" green fee that was nearly 50% off their listed rate. If this is your choice for the first or last round of the trip, you should know you're looking at a good 45-minute drive to the airport, and that's without traffic. Simply put, there are better choices for the first or last day because you want to take the time to enjoy this place.
__Reunion Resort:__The final day of our trip was rained and winded out so what better to do than drive around and look at other courses? Reunion Resort, just south of Disney on I-4, is a microcosm of what went wrong with Florida real estate. I played there five years ago, as things were getting built, and remember thinking, "Do that many people really need $500,000 second homes?" The three courses at Reunion all appear to be in good shape, but everywhere you look you see houses that are half finished, numerous empty lots, and perhaps saddest of all, the new Nicklaus course, across the interstate, has a temporary clubhouse in a tent. During the height of the real estate boom I drove to the front gate at Reunion and was turned away because I didn't have an appointment. This trip I said to the guard on duty, "I'm interested in looking at some houses," and was given a map and directions!
Thank you, Tom. Be sure to pick up the April issue of Golf Digest. I'm also recently back from Orlando and I filed a report about the renovations at Bay Hill.