The Loop
As you watch the rest of the FedEx Cup Playoffs, here's the guy who decides what you're actually seeing
When you think of sports television and storytellers, it's the people in front of the screen that come to mind. But the work of those behind the scenes is equally important, and among the most skillful at that brand of storytelling is Tommy Roy, the lead producer of NBC's golf coverage.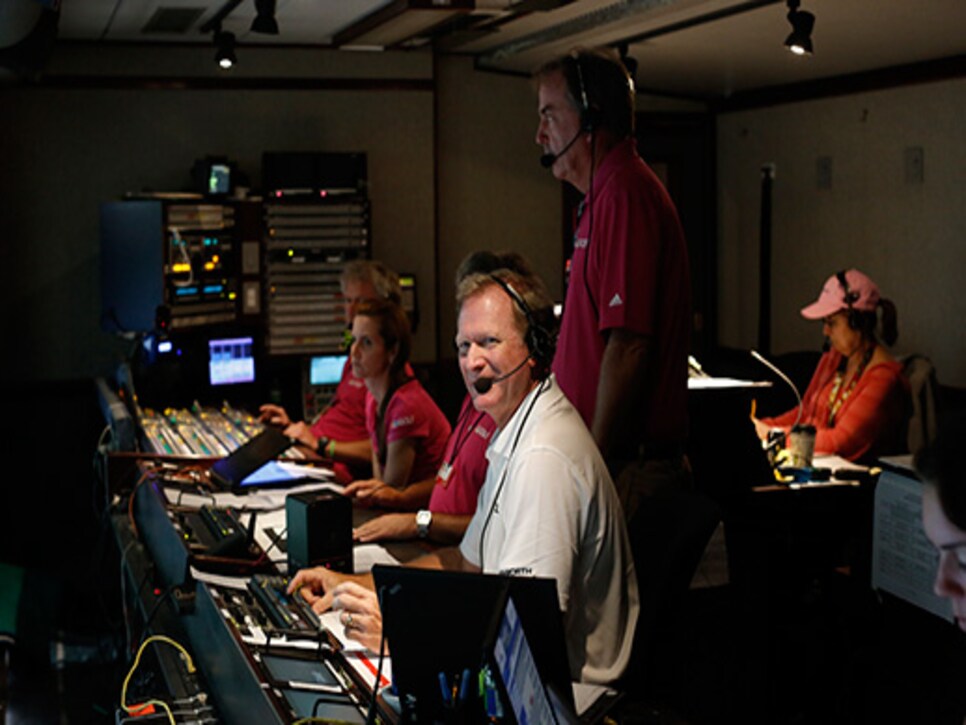 Roy will be busy in the next few weeks as NBC/Golf Channel broadcast the final three FedEx Cup events of the 2013-14 season and all three days of the Ryder Cup for the first time. We spoke to him last week for Golf Digest Stix about the FedEx Cup, Ryder Cup, Tiger Woods and even John Elway. Here's an extended version of that Q&A.
Golf Digest Stix: What separates a golf telecast from other sports?
Roy: The biggest thing is that it's not on one court or one field. Golf is played out on 18 holes spread out over acres of property. So logistically it's much more challenging. And the competition never stops. If you're doing a football game, when you go to a commercial, they're not playing. In golf, it becomes much more complicated to go to break. You try to do it while the leaders are walking in between shots so you don't miss anything crucial. But inevitably, you do. And of course, during commercial breaks in football or basketball, you can catch your breath and regroup before the action starts, then you're ready to get going. But in golf, you're working during the break to figure out what we're coming out of the break with, if we're going to be live or if we're going to show a shot or putt on tape delay. So there's that factor.
And then one of the biggest things is the number of athletes in a golf event. If you're doing, say, a Denver Broncos game, you absolutely know the storyline coming in is Peyton Manning. But if you're doing a golf event, you have hundreds of players, and so coming into it you're preparing yourself for hundreds of stories that could unfold over the final days. But that's where our announcers do such a great job. Bringing out the stories in these events, and giving our viewers a reason to care about these athletes.
Golf Digest Stix: Given all those differences, do you think golf's the most difficult to broadcast?
Roy: Other than the Olympics, I think it is the most difficult to cover. And the only reason that the Olympics tops it is the sheer size, and you have a thousand athletes spread out over multiple cities. That's just gets even more massive with everything that you're doing. Auto racing, too, is very difficult when you have to stop and go to commercial. And I've been an executive producer on a Daytona 500, so I know how that works. I definitely think golf is the second most difficult to do.
Golf Digest Stix: NBC has covered the FedEx Cup for a while now. Given the complexities of the points standings and players advancing to the next event, what are some ways you try to make it sensible to the viewer on TV?
Roy: I think graphically, you have to keep explaining it over and over and over again. Every single telecast since this has been in existence, we've been pointing it out in the graphics. We've made green and red good and bad, whether you'll make it to the next week. We literally go back to square one every single telecast just to re-explain to people, to tell people what the graphics are explaining. And then once we get to the Tour Championship, we bring in Steve Sands to further explain it. We were using the Tim Russert white board originally to help the people at home to understand it.
I remember the year that Phil Mickelson won the Tour Championship but Tiger won the FedEx Cup [in 2009], we had explained it ad nausea, in what I thought was an effective way. After we got off the air, I actually talked to my mom and I asked her, "You knew how that whole thing worked, right?" That Phil won the event but Tiger won the Cup, and she said, "Nope. I had no idea." So I realized then that we hadn't done a good enough job. That's when we brought in Steve to do the Tim Russert thing, and I can say that since then, my mom has understood it, so I feel pretty certain that the average viewer gets it now.
Golf Digest Stix: Mom knows best, right?
Golf Digest Stix: You will also be broadcasting the Ryder Cup. How do you think the Cup compares to a regular stroke-play event?
Roy: A regular stroke-play event plays out over four days. But in the Ryder Cup, every single point is just as valuable as every other point. So you have all these mini tournaments that are lasting 3 1/2 to 4 hours. Just a normal day of stroke-play golf on a Thursday or Friday might get tedious on a given week, but in the Ryder Cup, there's finality after the morning session, after the afternoon session, and then golf on Saturday and Sunday.
And there's much more emotion generated at the Ryder Cup than virtually any tour event, and I'd say even greater than most majors. You're sitting in the production truck and you hear a huge roar. If I'm doing a stroke-play event, I can look at the monitor right away and know right away where it came from. But in this, I'm scanning the monitors and I'm not seeing anything. And all that happened was the fans reacting to a scoreboard change from another match and they let out a roar. It's great drama and great energy. And I have to say, the European fans are the ones who really bring the energy. All of that chanting and cheering irritates the American fans, so they try to respond. So it's great stuff.
Golf Digest Stix: When something big is happening at a Ryder Cup and you feel the electricity on the course, how does that play out in the truck?
Roy: Well, you have to stay impartial. We can't be rooting. But I will say that certainly when the energy level on the course is at its highest, our announcers can feel that, so they go up. And consequently, our energy level in the truck goes up too. It's just natural. But at a Ryder Cup on a Sunday, we are rocking in the truck. Because you have all these matches going on, and key shots are happening in multiple matches at the same time, we're bouncing back and forth. The thing is, there's a lot more information for our announcers to spit out. So it's not, "To 17, Tiger for birdie." It's: "Tiger for birdie, his opponent missed his birdie attempt and still has a four-footer for par. And the match is all square." So there's a lot more information you need to get out for the viewer to understand the full situation. What I'm saying in the announcers ears pretty much doubles during the Ryder Cup.
Golf Digest Stix: For the average TV viewer just watching and not appreciating what's going on behind the scenes, what's one thing that maybe they aren't aware of that gos on to have a successful show?
Roy: When you're sitting at home watching a golf telecasts, and the announcers are talking in a low, muted voice, and the fans are hushed, in the truck, it's LOUD. It's semi-chaotic and people are shocked when they come into the truck what's going on. But because there are so many storylines, so many players, so many balls in play spread out all over the place, there's so much communication that's required to get everything on the air.
Golf Digest Stix: Being that you've produced Super Bowls, NBA championships, the Olympics, what have been your favorite broadcasting moments?
Roy: I have a few. I got to produce Michael Jordan's first three championships. That's when the NBA was absolutely electric. In primetime, these games were just incredible. And then, getting to produce the Super Bowl when John Elway finally won it after losing three of them [XXXII]. Getting a chance to do three Super Bowls, you know you have every eyeball in the United States who has any interest in sports at one particular time. That's probably the only time I've felt a little bit of pressure is doing that Super Bowl. I love being on the air and I really never feel any butterflies or anything. But I did for that Super Bowl for that one time.
But, the greatest thing I've had the chance to do was working when Michael Phelps won his eighth gold medal [at the Beijing Olympics in 2008]. That was one of the things that, maybe someone back in the day had some rare feat, but it wasn't documented. I consider Phelps to be the single greatest sports accomplishment of any individual. Those events were beyond description and how cool it was to be a part of that.
Golf Digest Stix: Wow, as a sports fan, we're on the edge of our seats watching these historic events, but you're the one controlling what we're watching. It's so cool.
Roy: Absolutely. And by the way, Tiger Woods in 2008 U.S. Open is right up there. I remember going off the air on Friday, he had played great and we had a terrific telecast. It was a combination of ESPN and NBC, and we all thought it was great. And then Saturday topped that -- that's when he eagled 13 and 18 and chipped in at 17. That usually doesn't happen with a U.S. Open because the course is set up so hard. But I remember getting off the air on Saturday thinking, 'If only this was the final round, it'd be the greatest thing ever.' But then Sunday topped Saturday, and then the Monday playoff topped it all. It was like four consecutive days of absolutely incredible drama.