The Loop
A putting revolution is starting and we can thank Jordan Spieth for it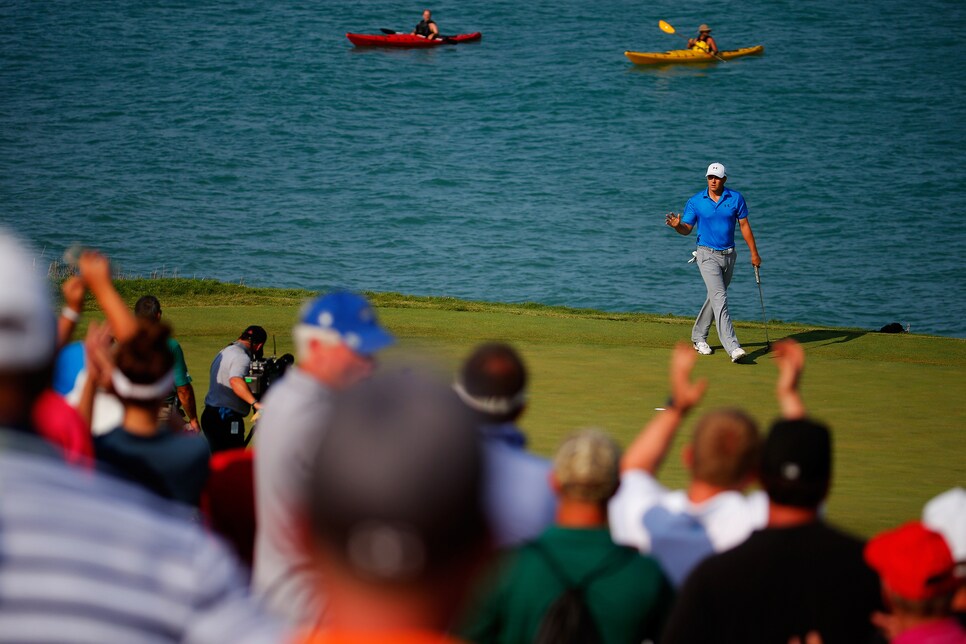 Mental barriers both hold athletes back and catapult them forward.
The classic example is the four-minute mile. For 10 years the record of 4:01.3 stood firm, with John Landy of Australia running within 1½ seconds of the record several times. At one point, a discouraged Landy surmised that he probably was not physically capable of running under four minutes. Then in May 1954, Roger Bannister ran 3:59.4. Forty-six days later, Landy ran 3:57.9.
Such mental barriers are more tangible and easier to target in sports with fixed empirical standards of time, distance, height or weight. Yet they exist in every sport. Currently, in basketball, it has become apparent that the range of what is considered an acceptable three-point shot is stretching outward. What used to be considered a bad shot in the NBA is now justified by statistics, is taken with more confidence and, most of all, follows the example of one Stephen Curry, the greatest long distance shooter in the sport's history.
I think something similar is happening in golf with putting. The expectation of making putts in excess of 10 feet is growing. In fact, the 25-footer is transforming from a shot in the dark to a scoring opportunity.
Simply putt, Spieth with a putter in his hand is special. Last year there were too many bombs to remember, although two were unforgettable—the 20-foot curler on the 70th hole at the U.S. Open at Chambers Bay, and the 50-footer for birdie on the 70th hole of the Open Championship at St. Andrews. And just to refresh our memories, Spieth put on another noteworthy display on the grainy, windy, undulating surfaces at Kapalua's Plantation course last month in taking the Hyundai Tournament of Champions by eight shots.
The collective putting skill on the PGA Tour has been gradually improving. Back in 1989, a study by Dave Pelz found that a six-footer was a 50-50 putt for tour pros. ShotLink shows that the break-even distance is now just under eight feet.
There are a few reasons. First is the improved smoothness of the green surfaces. Second is that the Darwinian challenge of keeping your place on the top tour in the world won't tolerate poor short putting. These days, it's routine for the winner of a tournament to make all but a couple of the 60 or so putts that he faces from inside 10 feet over four rounds, and sometimes he'll make them all.
At the same time, putting is still considered the most capricious part of the game. The margin of error is so small, and the variables of break, wind and day-to-day differences in feel make it unpredictable.
But Spieth is changing the paradigm, expanding the zone of expectation. Last year, from 20 to 25 feet, he made nearly 26 percent, more than double the tour average. That's a Curry-like revolution.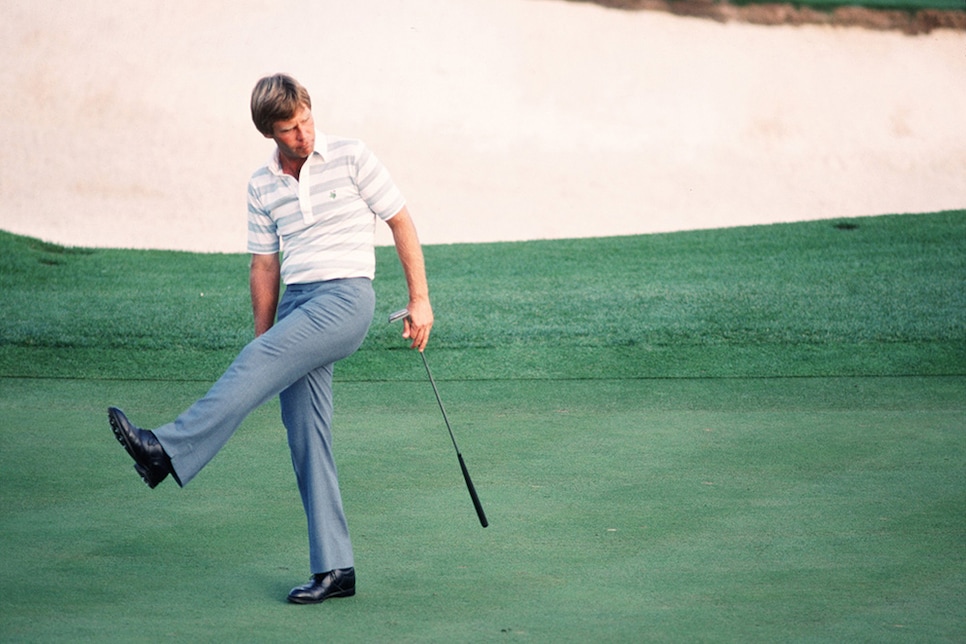 The criticism Spieth has received to his displays of displeasure after missing a long-distance putt is similar to the reaction Ben Crenshaw got for the same thing when he broke out on tour. (Augusta National/Getty Images)
Of course, there's no guarantee Spieth can keep up such a conversion rate. Throughout history golf has seen some of its greatest players have extended periods of great long-distance putting, although there were no statistics available to measure how great. Arnold Palmer in the early 1960s probably made more long putts than any previous winning player. In the late 1970s, Tom Watson did the same. And Tiger Woods in the late 1990s and early 2000s likely exceeded them both.
Spieth, however, is arguably the most advanced putter for a multiple major champion ever. According to statistical analyst Peter Sanders of ShotbyShot.com, Spieth achieves two goals that tend to work in opposition. Spieth gets his putts to and past the hole better than his peers, while leaving the shortest putt possible (he ranked second on tour in approach putt proximity at 2.0 feet).
In contrast the accumulation of charged putts that left so many four-foot comebackers eventually eroded the putting skills of Palmer and Watson.
Some criticize Spieth for animatedly showing disappointment when he misses an 18-footer, but expectation of success is a big part of having success at all. Ben Crenshaw used to burn hot—and get chided for it—when a 15-footer didn't go down. Yet the fact is, he was that good.
Before Spieth, the consensus best putter on tour was Brandt Snedeker. Last year, their putting stats were comparable—Snedeker was fifth in strokes gained/putting to Spieth's eighth. But Snedeker wasn't in the same class from distance, converting 16.51 percent from 20 to 25 feet to rank 29th.
"Jordan definitely has a different mind-set," Snedeker says. "He looks at a 15-footer like it's a five-footer. He's thinking, If I hit a good putt, this is in. I've never been able to get to that point with putts over 10 feet. I just put limitations on my expectations. But obviously, we shouldn't; we're just getting in our way. The other players are paying attention to what Jordan is doing, and it's bringing down some mental barriers. The new big idea on the greens will be to think like Jordan."
Says Sanders: "Look at what Tiger did to the advancement of the game on the tour. And now with ShotLink, the particulars get exposed. Players say, 'I need more of that in my game,' and get to work. Pretty soon, the old mental barriers are broken down. Jordan is definitely an agent of change."