The Loop
A Player, Politician and Musician
Please see the post below for Part 1: The Player, Billy Andrade.
Part 2: The Politician, Governor Haley Barbour__
As we pulled up to the second tee of Annandale Gold Club in Madison, Miss. it was time for the group picture. The photographer took charge. Appropriately, he directed Haley Barbour to the far right of the frame.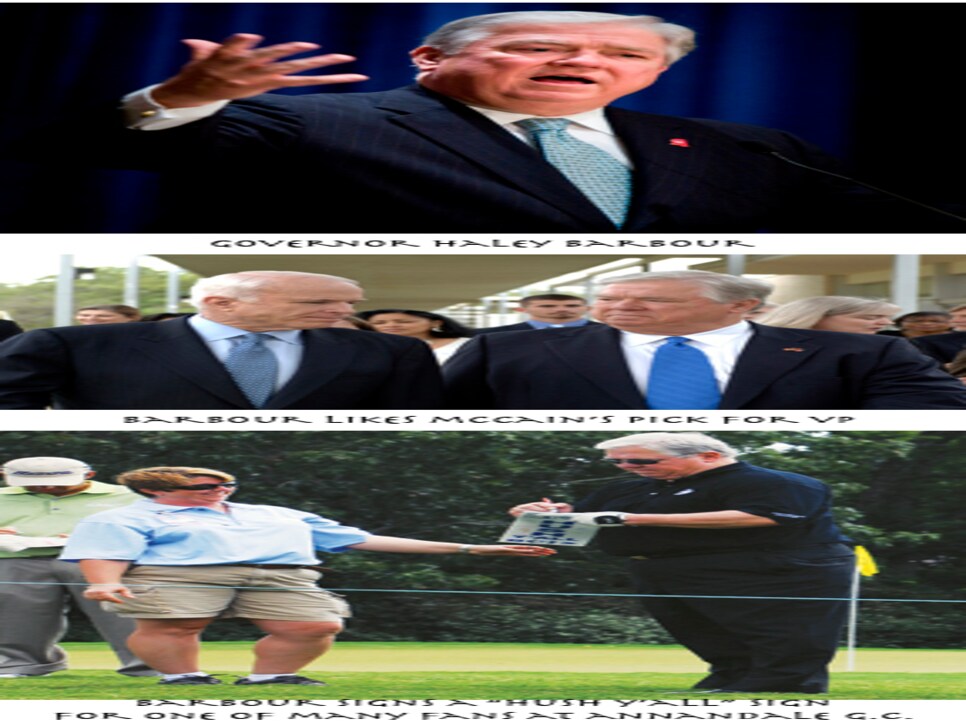 Barbour's serving his second term as the Republican Governor of Mississippi. Barbour has white hair, which was a stark contrast to his all black attire. He had to be hot on this steamy southern day.
"If the Governor's on the right, then I should be on the far left," said our pro, Billy Andrade. Barbour laughed, and with a stiff southern drawl, told us about playing with David Duval a few years ago. "He was also a democrat. All he wanted to do was talk politics," said Barbour.
"I think David and I are the only two democrats on tour," said Andrade.
For this particular pro-am, the Governor didn't have to pull many strings to get his first choice of pros to play with. He chose Andrade because the rumor was Andrade was a great playing partner. As I pointed out in the post below, the Governor was right again.
For a guy who stands as far right both politically and for our team picture--he sure hits it left a lot.
That didn't matter. Our team was quick to give him a playability pardon. Barbour has had more important things on his agenda than the game of golf.
I don't have to tell you about Hurricane Katrina, but I will tell you that in Mississippi she claimed 231 lives, left thousands homeless and knocked out one of the state's big bread winners, the multi-billion dollar casino industry that is located along the Gulf Coast.
Barbour hadn't played golf since the 2007 pro-am of the Viking Classic, but he's an athlete, a former catcher at Ole Miss, and even with a bad back, he was able to scrape together a few pars.
It turns out our scorer, sweet like the iced-tea they serve in the south; Shirley Neal grew up with the Governor in Yazoo City. She reminded Barbour that he used to call her "Scooter." He also played softball with her husband. "I remember he was competitive," said Neal.
It didn't take long to figure out Barbour is well liked by the locals. He signed a lot more autographs than Andrade, but he also got a lot of hugs and hand shakes. No doubt they appreciate his leadership through the toughest of times.
Barbour snapped another one into the deep rough on the left. As he approached his ball, and the marshal tending to the hole recognized him, I overheard the marshal tell another marshal, "Hell, if I knew that was the Guvna's ball, I woulda kicked it back into the fairway."
As I said in the first post, I talked golf with Andrade and politics with the politician of our group.
After Katrina, Barbour became known for an inspiring quote. I'm told it wasn't what he said; it was how he said it. "The goal is to rebuild the coast back like it can be, rather than simply like it was." Barbour was, and still is, determined to get Mississippi back in the saddle of prosperity. He has until 2011, when his second term is up, to finish the job. He was discussed as a candidate, first as President, and then as a possible McCain running mate. But the Governor has always said that he's still on "hurricane duty" and would prefer to not leave his people or his post.
Here's what the Governor said about the hurricane and a fellow Governor from Alaska:
Getting through Katrina:__ "It was the worst natural disaster in the history of this country. We made it up as we went along. What impressed me was the character of the people. They got knocked down flat, but the next day they picked up their britches and went to work."
The status of Mississippi three years after Katrina: "The population is back to 95 percent of what it used to be. By the coast it's still a little snaggletoothed, but we'll get there. It won't be tomorrow, but we'll get there."
On Sarah Palin: "I like her. What you see is what you get. She's likeable, she's smart and she knows a hell of a lot about energy."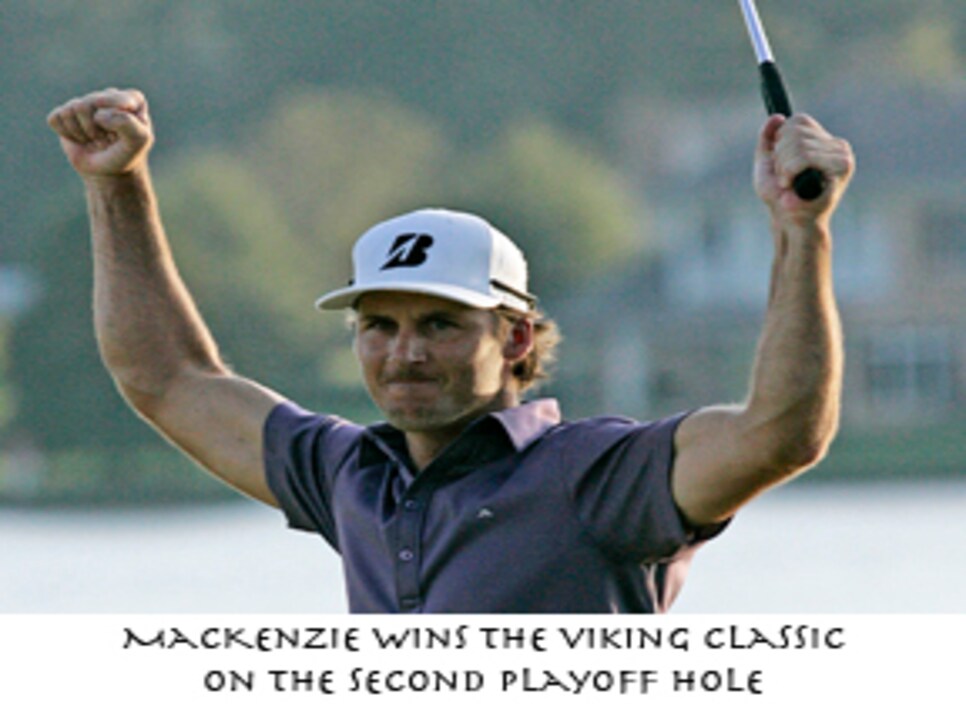 Will McKenzie won the Viking Classic at Annandale last Sunday. My boy, Andrade, finished T70. I have to admit, I watched the Ryder Cup. America and golf got a much-needed victory, but pardon me for a graph or two. I've been inspired to rant about another guy who can't hit it straight.
The next time a storm rolls through the Gulf Coast, and Governor Barbour is looking for a big bag of sand to try and stop the flooding, I offer up Phil Mickelson. I'm sorry. I'm a Mickelson fan, but in my modest financial profile, right now his stock is worth a penny less than Lehman Brothers. It's one thing to blow a U.S. Open, call yourself "an idiot" and sign autographs for an hour right before you over-tip the locker room staff. Which is what Mickelson did at Winged Foot in 2006. I actually bragged on his behalf for that.
I don't even care if he leaves the long stick out of his bag to try and tackle Torrey Pines, which is what he did at the U.S. Open this year. That's head scratching strategy on his own time, and costs him his own dime.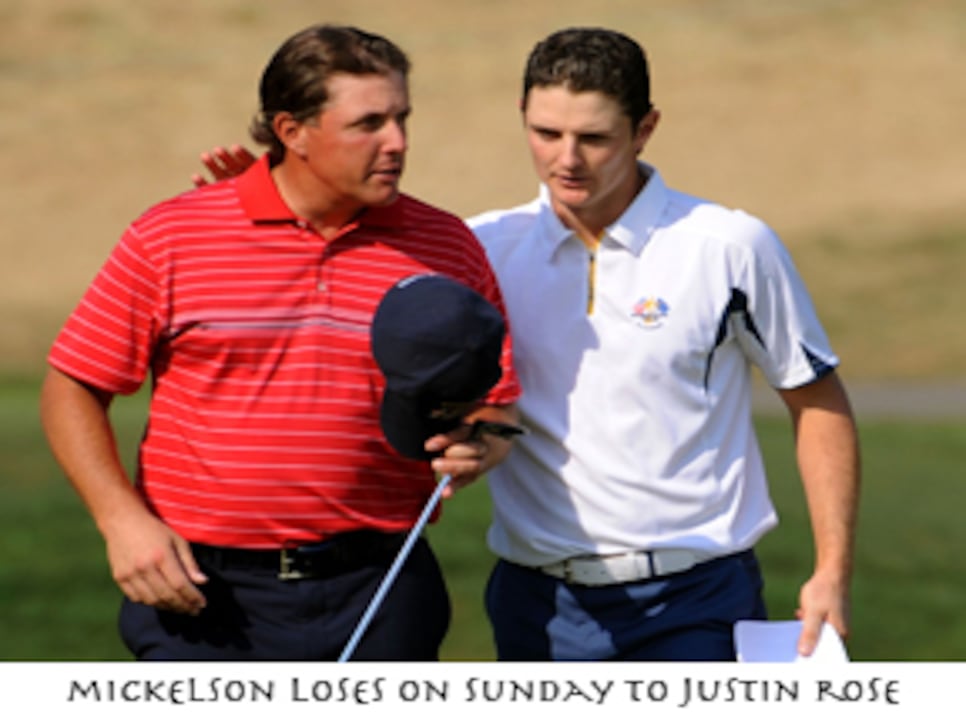 But the next time Mickelson's playing for us, his country, I ask that he packs the perma-grin, greasy hat-head and bobble nod in the dimple of a Holmes golf ball, right before Holmes makes impact with a driver.
The reason why our national basketball team won the gold this year was not because we had a team of professionals, it's because we had a team of professionals who refused to lose. Am I crazy if I want to see fist pumping, but if you miss a shot, I want to see head hanging? I'm OK with bag kicking, club tossing crowd rousing golf. Curse under your breath, but just loud enough so I can hear it. Smile when you win but scowl if you suck. And then take your God-given talent, and play better. Make me believe you care more than me, because you can actually have an impact on the outcome.
The greatest thing about a Ryder Cup is not just the format (why isn't the Fed Ex Cup match play?) The Ryder Cup gives us the human side of the robots we see on most Sundays of watching the PGA Tour. Last week golf got to know some rising stars: Anthony Kim, Hunter Mahan, Ian Poulter, Robert Karlsson, Justin Rose, J.B. Holmes and Boo Weekley. Unfortunately, golf learned a little more about Phil Mickelson. The fact that he has lumbered away with only three and a half points in his last 16 Ryder Cup matches makes me think his spot would've been better served by a guy with rocks the size of Rocco's. To steal a line from Obama (sorry Governor Barbour, I'm leaning a little left myself) "ENOUGH!" Come on Phil, you're better than that.
In two years, when it comes time to fill out another Ryder Cup roster, if our next captain's looking for a little grit and grind and some old-fashioned leadership, I offer up Governor Haley Barbour. Even if he still has a bad case of the lefts, he'd be better than Lefty. Especially if Barbour lines the fairways with his Mississippi marshals and their loyal foot wedges.
Part 3: The Musician, Paul Overstreet.