Fire Pit Collective
A one-of-a-kind concession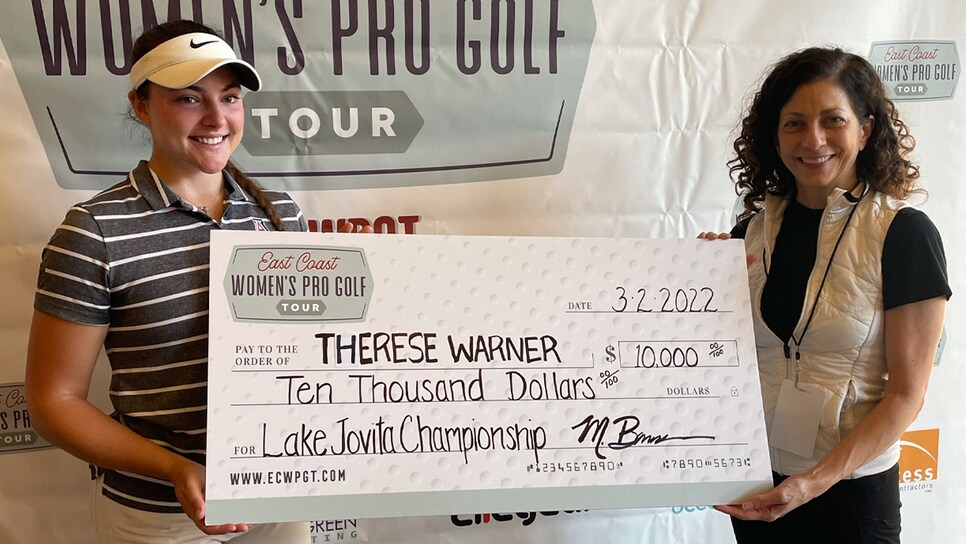 Therese Wagner didn't know what to say after Kynadie Adams, an 18-year-old amateur, conceded a playoff on Thursday so the young professional could collect the $10,000 winner's check.
"It means so much to me to have her do that for me," Wagner said. "I was speechless. I still kind of am really."
The East Coast Women's Pro Tour is a new developmental circuit with events in Florida and California. The Lake Jovita Women's Championship, played at Lake Jovita Country Club in Dade City, Fla., was just the fifth event in the tour's history.
In the final round of the 54-hole event, Adams, a high school senior from Gallatin, Tenn., who has committed to Alabama, shot a 5-under 67 to grab a share of the lead. Wagner played collegiately at Arizona before turning pro in January during her junior year.
While Wagner was finishing, Adams realized a playoff was possible, so she approached the ECWPT tournament director to ask how the prize money would be distributed in the event of a playoff.
Mark Berman, tour director of the ECWPT, said the policy is that if an amateur wins, the first-place prize goes back into the purse and is evenly distributed among the players who finish in the money. (basically, Wagner would have won around $5200 if she lost the playoff, instead of the $10,000 winners check)
Upon hearing that, Adams talked with her father and then decided she would concede if she and Wagner went to a playoff. Wagner parred the last for a 70: she and Adams each had a 54-hole total of 7-under 209. Elizabeth Moon finished third, two shots back, after firing at final-round 64, the low round of the week by three shots.
As Wagner was signing her card, Adams informed the tournament director she would be conceding the playoff. "It's an amazing gesture," Berman said. "I didn't know what to say. I can't thank her enough." Wagner added.
"I just didn't feel right," Adams said. "She would have won the tournament if I wasn't in it, and I have played with Therese in junior golf and had played with her the second day. I know how much the win and the $10,000 would mean to her, and I thought it was the right thing to do."
It was an excellent gesture from an 18-year-old. May karma pay Adams back tenfold.