Chevron Championship
A new rule has taken Brooke Henderson's 48-inch driver out of play. How will she respond?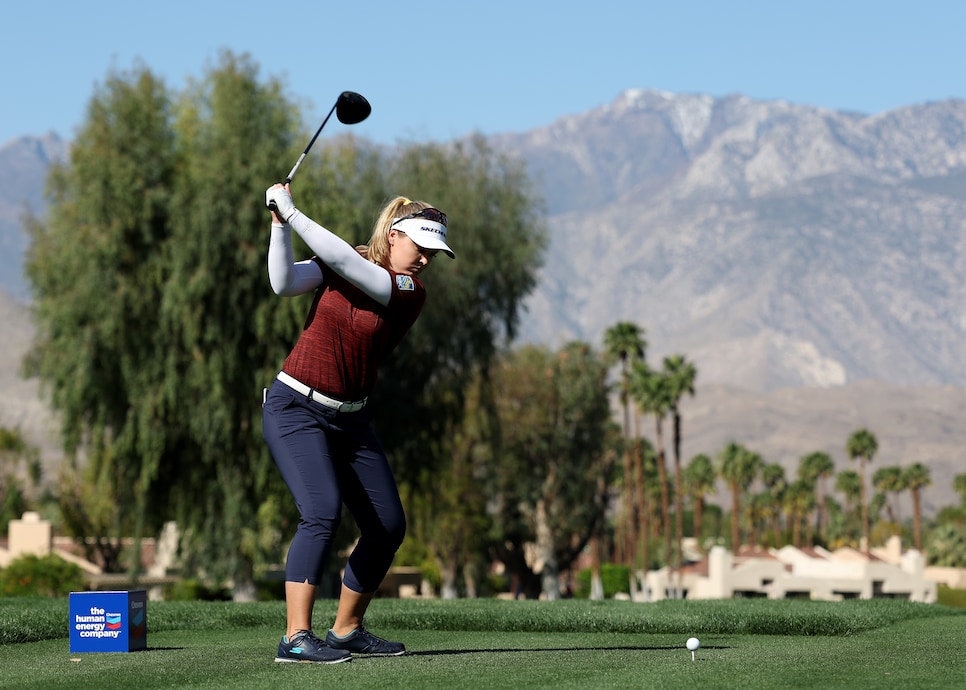 RANCHO MIRAGE, Calif. – Brooke Henderson is a fan favorite of sorts here in the Coachella Valley, a Canadian at home among Canadians, the snowbirds who leave the frigid north to winter in the warmth of the desert sun.
But don't call it a home-course advantage. Whatever level of comfort she derives from it potentially could be offset by a new rule that has deprived her of one of the best clubs in her arsenal, a 48-inch driver on which she choked down as much as two inches.
The USGA began limiting driver length to 46 inches, though leaving it to the discretion of the tours whether to adopt the rule. The LPGA and PGA Tour both agreed to do so, with the former putting the new rule in place last week.
So for the first time, on a difficult Dinah Shore Tournament Course that she reveres, Henderson will be navigating it with a driver length that still is largely foreign to her.
"Gripping it at the end," she said, "which is also another big adjustment. It's been good. I'm looking forward to hopefully hitting it well this week and putting myself back in contention. It's definitely been a big process starting last year when the announcement kind of came out that there was going to be the rule change.
"I went through a lot of different shafts and weights, et cetera, et cetera, but was able to, I guess early January late December, to pick one that I have in the bag this week that I felt was going to be the right club. I definitely miss my 48 driver, but this one, it's good. I think as I get used to the timing and the rhythm of it, I'll be able to gain back some of the distance that I lost. It's just a little bit of an adjustment now, but moving forward I think it'll be good."
To compensate for losing the two inches in length, her equipment company, Ping, added weight in the grip, "to help with that feeling of like as if I was choking up on the 48."
The driver change is the only unknown regarding the state of her game. She enters the Chevron Championship that begins here on Thursday on a roll, having finished in the top six in four of five starts, including a second in the Hilton Grand Vacations Tournament of Champions.
"It's definitely been a strong start, which is really exciting," she said. "Especially after last year wasn't my best year it was important to get off to a fast start. I've been able to do that so far. Been in contention and played in a couple close to the final groups, which is always fun, and getting close to the lead on the weekend. So hopefully continue that the rest of the season."