The Loop
A new question for Michelle Wie: What will this do for her psyche?
RANCHO MIRAGE, Calif. -- He was there, as he usually is, a ubiquitous presence, no more than three feet away as she hit chip shots moments before her Thursday tee time. He is her shadow. Her father. Maybe her millstone, too.
Michelle Wie is 24 now, a productive adult who nonetheless remains tethered to her parents, for better or worse, and the consensus opinion has never been a favorable one.
Wie is a star without the credentials. She is the most identifiable player on the LPGA, to wit the Interstate 10 billboard near here, featuring her image, promoting the Kraft Nabisco Championship. Yet she hasn't won in four years. In each of the last three, she earned less money playing full time than she did in eight events as a 16-year-old rookie pro in 2006.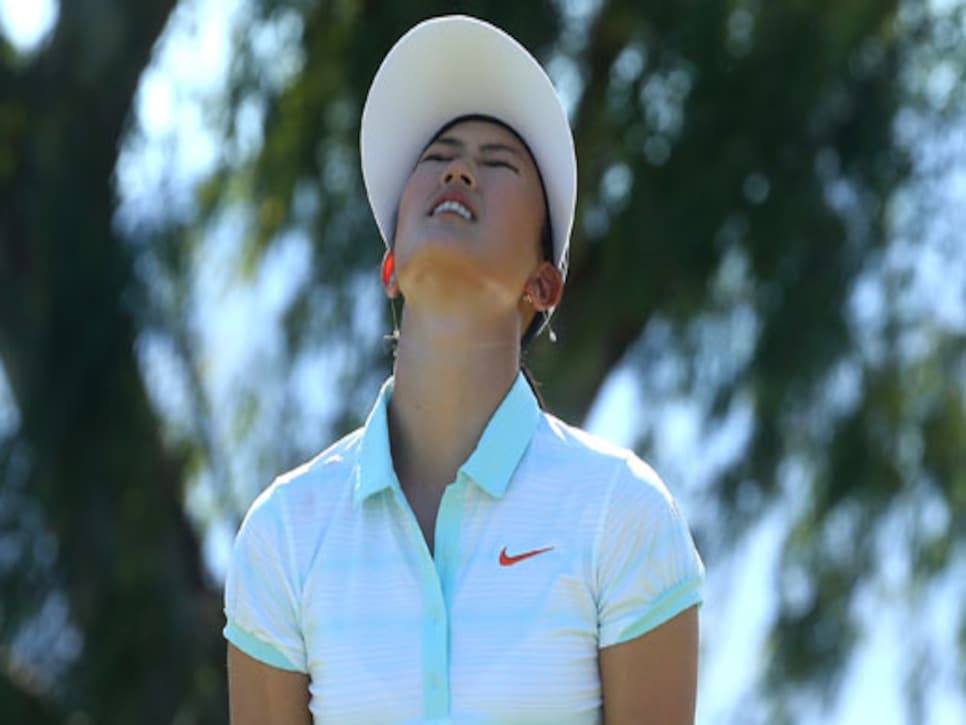 The future for Wie once was as bright as the midday sun here, but these days, it's partially cloudy, Wie's career having veered far from its intended path. She is a good player, but not a great one, and one can't credibly argue that that was her destiny all long.
It was here, rather than her nearly making the cut in a PGA Tour event at 14, that her real potential was evident. She was never qualified to play the PGA Tour, never would be, but she stood poised to conquer the world of women's golf. At the Kraft Nabisco, the LPGA's first major championship, she tied for ninth at 13, was fourth at 14, tied for third as a professional at 16.
Eight years later, she positioned herself to begin delivering on that potential. She was tied for the 54-hole lead -- the first time she has led in a major championship since taking the first-round lead at the U.S. Women's Open in 2006.
She was striking the ball well, hitting fairways and greens and putting reasonably well. Then Lexi Thompson steamrolled her on Sunday, adding to the list of unanswered questions about her career: How will a devastating loss prevailing over a breakthrough victory affect her psyche going forward?
As for her parents, if winning breeds winning, as the notion goes, Wie might have been better served had they fed her a healthy diet of junior golf, rather than rushing her headlong into LPGA and PGA Tour events.
Say this for her. She is doing it her way, as that odd putting stance she created for herself demonstrates. And if her way includes keeping her parents within arm's length at all times, so be it. Golf, as Wie plays it, has always been a team game and apparently, will stay that way.