The Loop
A new attitude goes a long way for McIlroy in first round
KIAWAH ISLAND, S.C. -- It seems like ages ago, but Rory McIlroy actually was the hottest player on the planet in early 2012. Three straight top-three finishes to start the season, including a win, pushed him to No. 1 in the world, and the slight Northern Irishman was poised to challenge for his second major after two rounds at Augusta.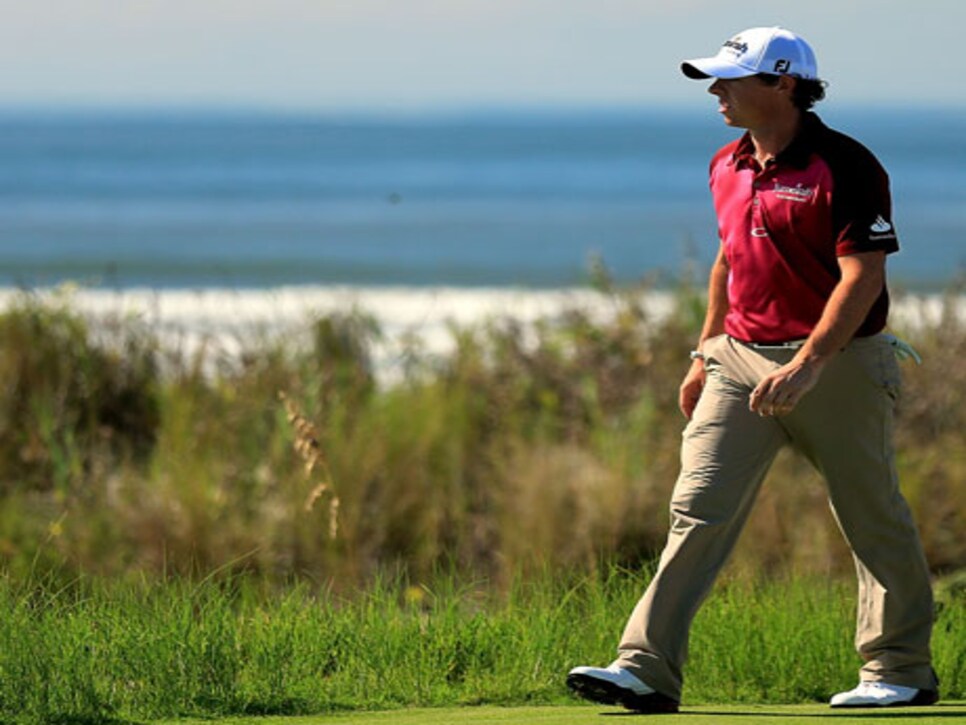 McIlroy walks along the 17th hole. (Photo by Getty Images)
But he vanished on the weekend, shooting 77-76 to tie for 40th. McIlroy then missed the cut at the U.S. Open, and disappeared again at the British after an opening 67, playing the last three rounds in 11-over to tie for 60th. Luke Donald and Tiger Woods have since passed him in the rankings.
McIlroy spent the last month grinding on some full swing adjustments, but didn't start to see it come together until last week, before the Bridgestone, when noted short-game guru and two-time PGA champion Dave Stockton offered some advice almost as an aside to the work they were doing on McIlroy's putting setup and routine. "I told him he needed to smile more," said Stockton, who has worked with McIlroy for more than a year. "Physically, he's really good, and he's comfortable on the greens. He's not thinking too many mechanical thoughts. But I told him I wanted him to go out and enjoy it and keep a more even demeanor. The players out here are too good to give shots away by getting down on yourself. This is supposed to be fun."
McIlroy responded, shooting 67-68 on the weekend to tie for fifth at Firestone, and he brought Stockton's brand of upbeat serenity with him to South Carolina. After low-key sessions with Stockton on Tuesday and Wednesday -- and taking a break from playing full 18-hole practice rounds to conserve energy in the thick low country heat -- McIlroy went out and shot a bogey-free 67 to sit one shot off the early lead.
"It's definitely helped," McIlroy said. "I started to feel quite comfortable last week, and started to hit the ball the way I usually do. It gave me a good bit of confidence, and that was something I could take into here."