The Loop
A new (and better?) putter-fitting system
Dr. Paul Hurrion is a sports biomechanist into whose putting expertise Padraig Harrington, Lee Westwood and Rory McIlroy have tapped. The rest of us can, too, provided we find a facility that has the Quintic Ball Roll Software and system that Hurrion has developed.
Here's how the Quintic Ball Roll system differs from other putter-fitting software: "We're tracking the golf ball," said Jim MacKay, who heads Quintic's U.S. operations. "Everyone else is tracking the golf club."
The Quintic Ball Roll system is similar to a full-swing launch monitor, but was designed specifically for putting. It captures skid, backspin, roll, launch angle, bounce, ball speed, hook or slice sidespin, and the point at which true roll begins.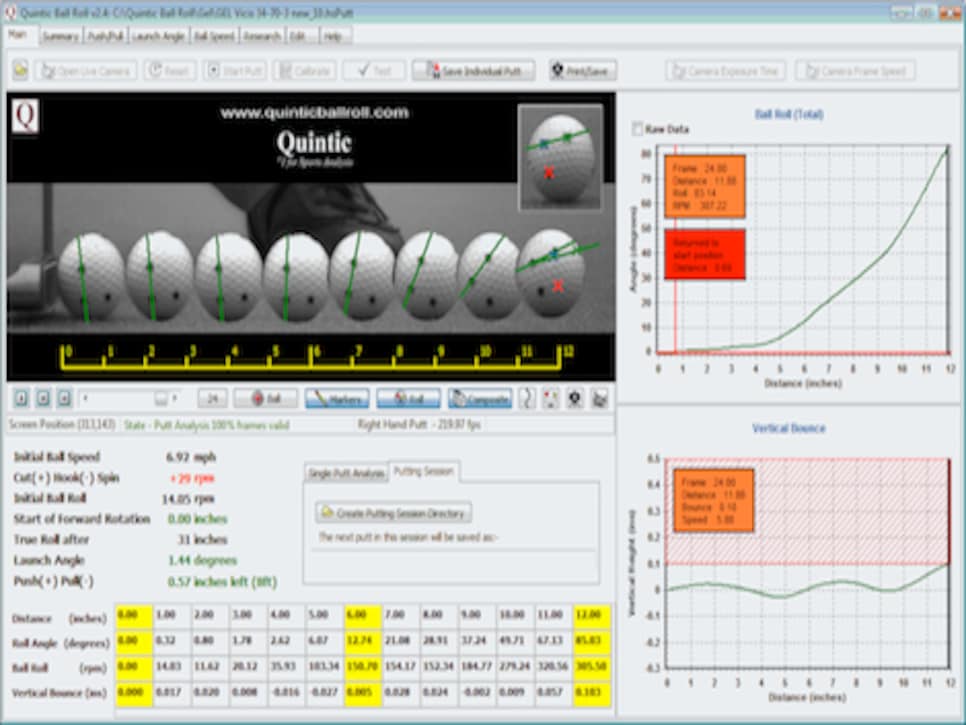 "The reason why it's important to track the ball as opposed to the putter, you make adjustments based on what the ball is doing," MacKay said.
Its sales pitch to retailers is simple. Have a golfer bring in his own putter, have him hit up to 10 putts on the system, then try other putters and find which works best for them based on the data collected.
The system works for fitting, instruction and even research and development. Ping and TaylorMade are among the equipment manufacturers employing the system on the latter front. Harrington is among the tour players who uses one at home, as does the LPGA's Beatriz Recari, who won the CVS/pharmacy LPGA Challenge as a rookie last year. Dr. Jim Suttie, who has two golf training centers and counts Loren Roberts among his students, has ordered one, MacKay said.
The cost of the system is $7,500, which features a Quintic 260 frames-per-second camera, a camera stand, calibration t-bar, light and template for marking golf balls, and the software.
"We're really excited about what it is we're doing," MacKay said. "We think we're pioneering what we're doing. It will be a huge help to players and to manufacturers on how to build the putters. It's a great research tool, a good fitting tool, a good coaching tool."