The Loop
A miscue by one player will impact plenty of others
AUGUSTA, GA. -- So do you think the green jacket will come with an asterisk if Tiger Woods wins this Masters?
Maybe, maybe not. But what about the poor guy not named Woods who cozies up next to Jim Nantz in front of the fireplace in Butler Cabin Sunday evening? Will he be remembered as the 21st century Bob Goalby?
If Tiger falls one stroke short of winning his first Masters in eight years and first major in five, how huge will that two-stroke penalty issued Saturday morning for a bad drop on Friday's second round loom?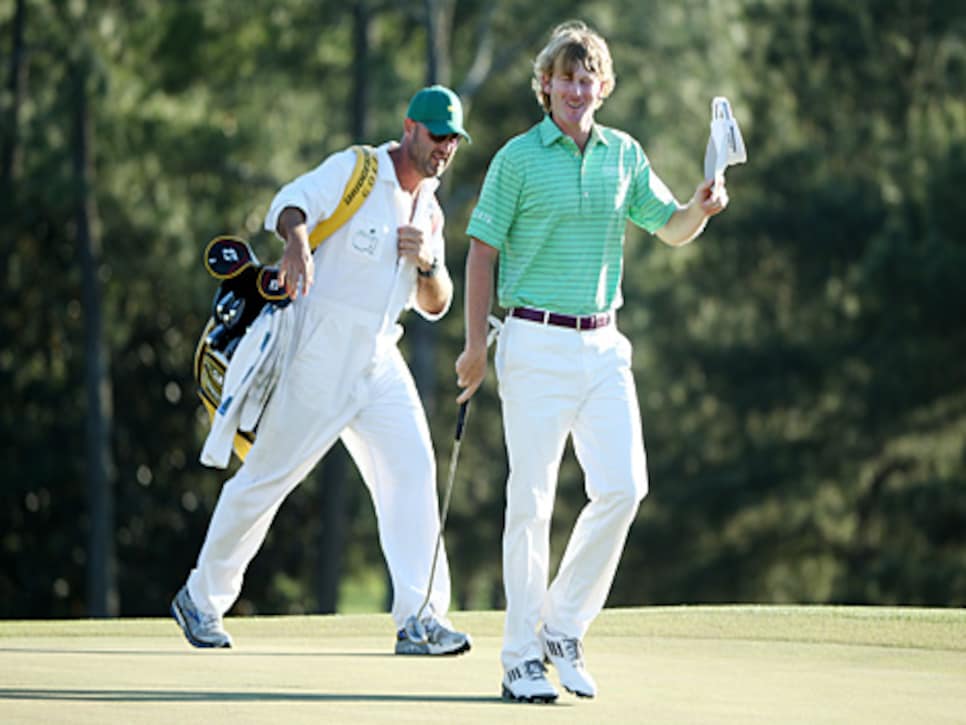 Brandt Snedeker is one of the many players with a major chance on Sunday.
Just like that the controversy will change from, "Woods should have been disqualified" to "Wow, if not for that penalty called in off TV, Tiger wins his fifth Masters."
The Roberto de Vicenzo lament, "What a stupid I am," after he signed an incorrect scorecard in the 1968 Masters, handing the title to Goalby and avoiding an 18-hole Monday playoff, would become, "What a lucky I am," for whoever wins this year.
And the contenders going into Sunday have a lot on the line. For Jason Day, Adam Scott, Brandt Snedeker, Marc Leishman, Matt Kuchar and Tim Clark, it would be major championship No. 1. That means more than the $1.44 million first prize. It means millions more in endorsement dollars.
For Angel Cabrera, it would be his second Masters and third major, which trails only the four by Phil Mickleson as the most in the Tiger Woods Era by a guy not named Woods. That raises Angel's status in the game to a whole new level.
And 53-year-old Fred Couples would become the oldest player to win a major by five years, breaking the record set by 48-year-old Julius Boros in the 1968 PGA Championship. Making history is, well as Freddy might say, historical.
But anyone who wins here Sunday, if it is not Tiger, will be remembered forever and always as the guy who won the Masters in the year Woods was penalized. Just ask Goalby what that is like. His gift Masters was his only major title -- and a lot of people never let him forget that.
"I shot 66 in the final round, but you never heard about that," Goalby told the Augusta Chronicle last year. "I made a 4-footer on 18 for par that I thought was to tie. I was walking to the clubhouse when Cary Middlecoff, who was doing television back then, came out of the tower and spotted me. He said, 'Hey Bob, you won the tournament. Roberto (de Vicenzo) screwed up his card.'" The normal celebratory scene after a victory of such magnitude was instead a muted lament in which in which no one really knew how to behave. It was like being at a funeral for a friend and not knowing what to say to the grieving relatives you don't know all that well.
"I walked into the TV room, and Roberto was in there talking, so I had to kneel on the ground," Goalby remembered. "It was just confusing after it ended, but I won, and I was thankful that I did. All I read about afterward was that I became champion on a score keeping error. I've got no ill feelings toward anybody. But I did get 500 of the worst letters you've ever seen after that win."
Quite likely, the winner of the Non-Woods division of this Masters will be skewered in 50,000 angry, bitter tweets, many of which are misspelled and miss the target of accuracy, if such a lofty goal was ever intended.
And it may well be that the only way that winner can validate this championship is to win another major title, something Goalby was not able to accomplish. So do we get Tiger Woods, when all is said and done Sunday at Augusta National, or do we get another Bob Goalby? Seems like no matter what the outcome, this Masters will long be remembered for what happened long before the back nine on Sunday.