The Loop
A March pilgrimage to the one and only Hoosier Gym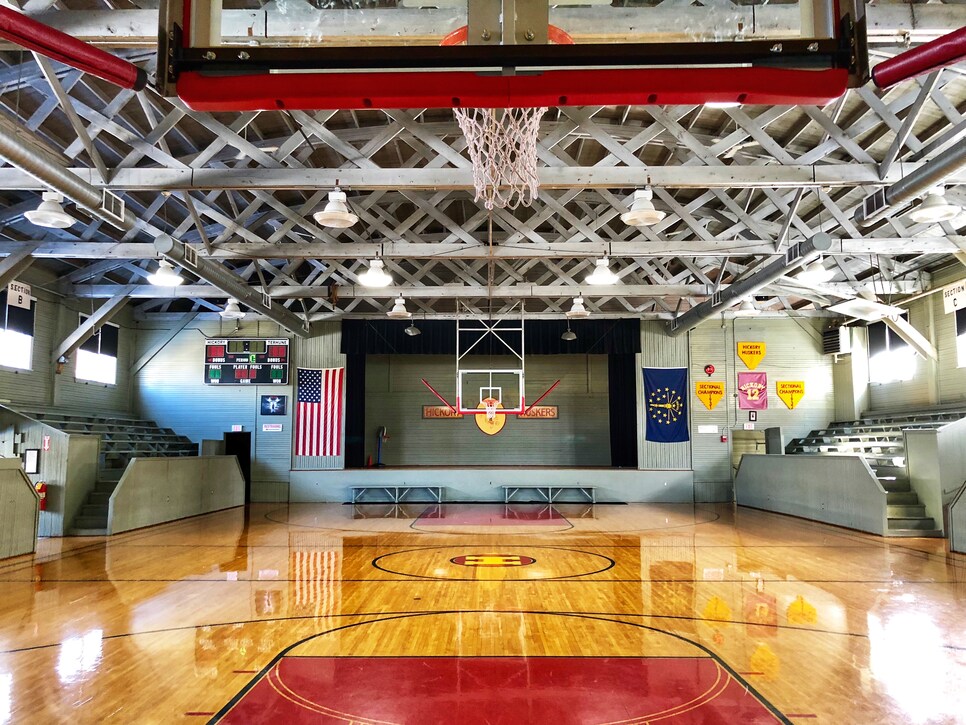 To find baseball from before, the wool-clad, leather oil-smelling, faded-yellow version that predated whatever you feel corrupted it, you go to Cooperstown, and you lope through ice cream parlors and hand-painted memorabilia shops and maybe into Doubleday Field, where a sleepy game of aging locals may be living out unclaimed dreams. Doing it for basketball is a little easier: Drive to Knightstown, Ind., an hour east of Indianapolis, just three miles off the I-70 exit, where the price of basketball Americana is exactly zero dollars.
Knightstown houses the Hoosier Gym, built in 1921, polished up in 1936, shuttered in the 1966 and revived in 1985 for the filming of Hoosiers, where it played the home court of Miraculous State Champions Milan (renamed Hickory in the fictionalized version) and enshrined itself as an evocative hoops-tourism destination, once the cast and crew got over thinking they'd just shot an audienceless throwback bomb. Shortly after wrapping filming, Gene Hackman, Dennis Hopper and screenwriter Angelo Pizzo sat in the featureless, low-ceilinged locker room —where Hackman's coach Norman Dale slapped around his playbook while delivering the Sermon of the Four Passes—and decided the pocket-budgeted small-town sports flick they'd just shot would not merely go fundamentally unwatched outside of Indiana but also possibly end their careers.
It didn't: In March of 2018, the Hoosier Gym remains almost entirely untouched, hosts up to six high-school games per Saturday and will, by season's end, draw something on the order of 80,000 visitors to Knightstown, population 2,200. (Pro tip: If you're overnighting, stay in Greenfield, where the hotels offer Hoosier Gym discounts and also there are hotels.)
"They've done an excellent job keeping the building just as we left it," says Pizzo, who's invited to a commemorative "Hoosiers" event there at least once a year.
Now a nonprofit, museum, community center, movie-tourist set, caddie tour stop, occasional wedding venue and current workout facility for the lunch-walk crowd, the gym is managed by events coordinator Bob Garner, a 70-year-old who looks 55 and played in the gym's then-final 1966 season. (His standard line is a good one: "I was the starting center," he says, "I started every game in the center of the bench.") Garner and his wife had decamped to Florida, but when she died four years ago he returned to Indiana, joined the gym's board and quickly distinguished himself as the member who could best get bodies in the building with the group's total advertising budget of $0.
When Garner started emailing press releases, someone on the board asked how much it cost; their current marketing strategy involves one billboard on I-70 East and another on I-70 West. But his primary idea was his most controversial: Rent the gym out for $30 an hour (minimum two hours), and let the teams keep 100% of the ticket money. The strategy was to get teams, sports parents and basketball junkies inside to taste the experience, upgrade the concessions and wait for word of mouth to do the rest. Also, sell Shooterloads of Hickory swag. "I said, get 'em in the door. When those people come in, who's gonna leave without a t-shirt?" says Garner.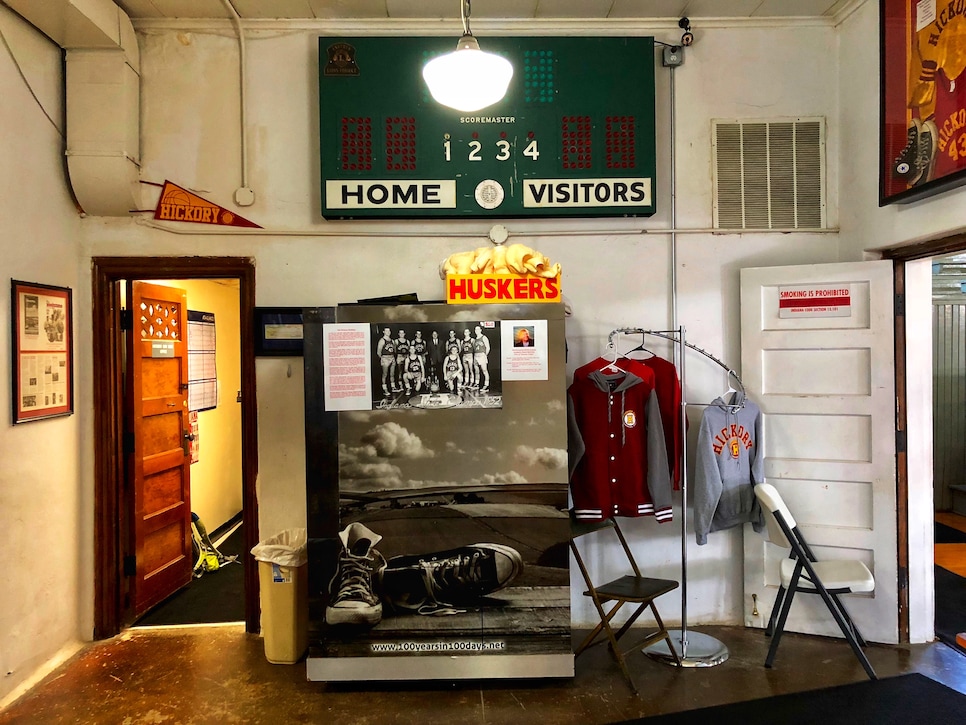 Garner was right. On any given Saturday, the Gym can clear thousands in hot dogs and nachos and more in Jimmy Chitwood T-shirts. Hickory 15. I'll Make It. Such creativity was necessary, because while the movie proved iconic, no one ever thought to actually trademark the name Hickory, a somewhat pleasing example of the small-town pre-lawyerly mindset that fuels the place. It also burns like hell: One hour west, the Pacers host annual Hickory-themed events at Bankers Life Fieldhouse, their prettily compensated players donning Hickory's dusky red and yellow without sending the gym a dime. (For what it's worth, things are better: Garner once unloaded his anti-Pacers spiel to a visiting and surprisingly strong-shooting gentleman who turned out to be new Pacers GM Kevin Pritchard. The relationship is now friendly if not monetary, though Garner allows that all publicity is good.)
Inside the Gym, being a Hoosiers fan certainly helps all the swag and cast reunion photos make sense, but the nice thing is how, even if you last saw the film in 1987 (or never), you can still amble onto the floor and promptly fall back in time. "Mostly," Garner says, "people walk in and stare." The building even tends to talk: I stood in the unmanned lobby for a good five or 10 minutes listening to people walking around inside, before wandering in myself and realizing that all the pops and creaks were simply the building settling, its arched wood roof grumbling about in the March wind.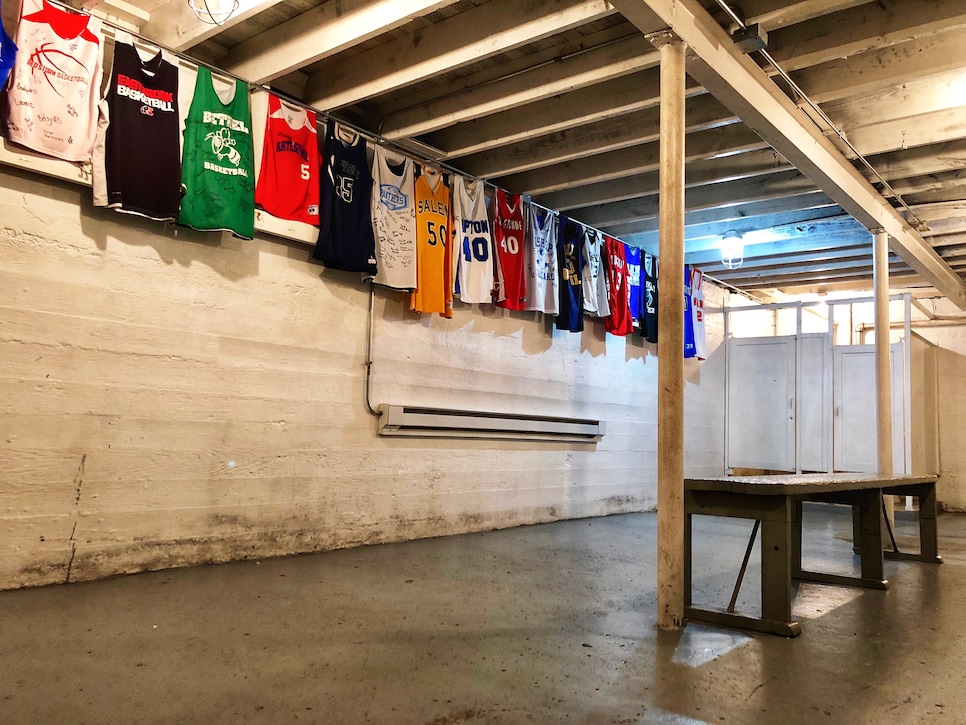 The battleship-gray bleachers have yet to be repainted. Except for a new heating unit, the downstairs locker room is preserved, decorated with jerseys from local teams that have asked to come play: Eastbrook, Centerville, Millikin. Garner has booked games out into the 2020-21 season; many teams order up special throwback jerseys for the occasion. Over Christmas break, two rival schools from Mississippi and their fans made a 1,000-mile round trip to play on the court. "I swore when they left there were more Hickory T-shirts walking around Mississippi than Henry County, Indiana," Garner laughs.
Garner understands he's running a community center instead of a movie set. A local basketball hero died last year in a car wreck and 1,200 people queued up to pass by the casket under the goal. A school bus route stops outside; at 3 p.m., a couple dozen kids will wander in and shoot around until 5. (On non-game weekends, the crowd swells to a hundred.) They host screenings, sometimes with the 30 (!) minutes of deleted footage, but can't charge for them without the movie company looking for its cut. To do all this, Garner is aided by his board of 13 and a small army of volunteer helpers that's headed by Knightstown's optometrist and the couple who owns the downtown H&R Block. The nearly 80-year-old floor, glassy and slick, is maintained on weekends by a guy who has 19 grandkids.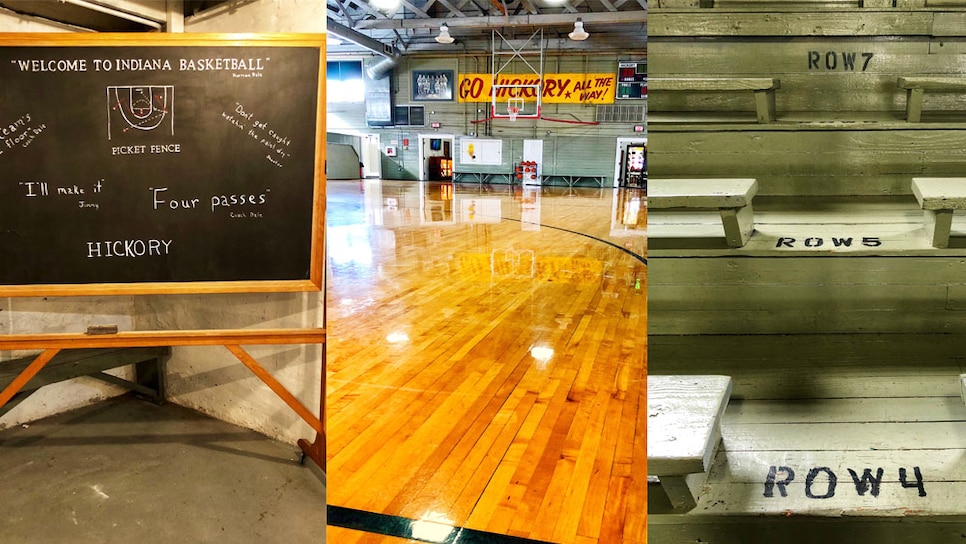 Later this week, following a two-hour announcement of a tournament grid on basic cable, 68 unpaid teams will slingshot themselves around the country, flinging untold millions this way and that and probably trying to ignore a recently vacated championship. Here you stand in a doorway, audibly mutter "Welcome to Indiana basketball," stroll out into an imaginary crowd of hundreds and fall forward into 1954. "People talk about other states," says Garner, "but no one plays high school basketball like Indiana."