The Loop
A iconic British brand has golf apparel that can play stateside
With the British Open center stage this week, we put together a kit with serious sartorial swagger from a brand with unrivaled British heritage.
Aquascutum, while probably not as well-known as fellow Brit-brand Burberry, actually claims the longer lineage and is also credited with the development of one of the most iconic menswear pieces in history: the WWI trench coat. The company was founded in 1851 by Mayfair tailor John Emery and its name literally means "water shield" in Latin. It was Emery who first weaved waterproof wools and worked with the British military during the Crimean War to incorporate these fabrics into military uniforms. By WWI, the waterproof wool trench was a standard-issue style for British infantrymen.
Aquascutum's tradition of foul weather fabrics did not stop there. The brand also outfitted Edmund Hillary on his successful ascent of Mount Everest in 1953. By the second half of the 20th century, the company leveraged its historic pedigree and quickly became a world-renowned luxury brand, clothing everyone from Hollywood heroes to dandy dignitaries.
In 2011 Aquascutum brought its signature British style to the golf course and introduced Aquascutum Golf. The brand has always maintained its attention to tailored and technical details and continues to design sharp selections for on and off the course. This summer, mix up your move with some classic English styles cut from cutting edge performance fabrics.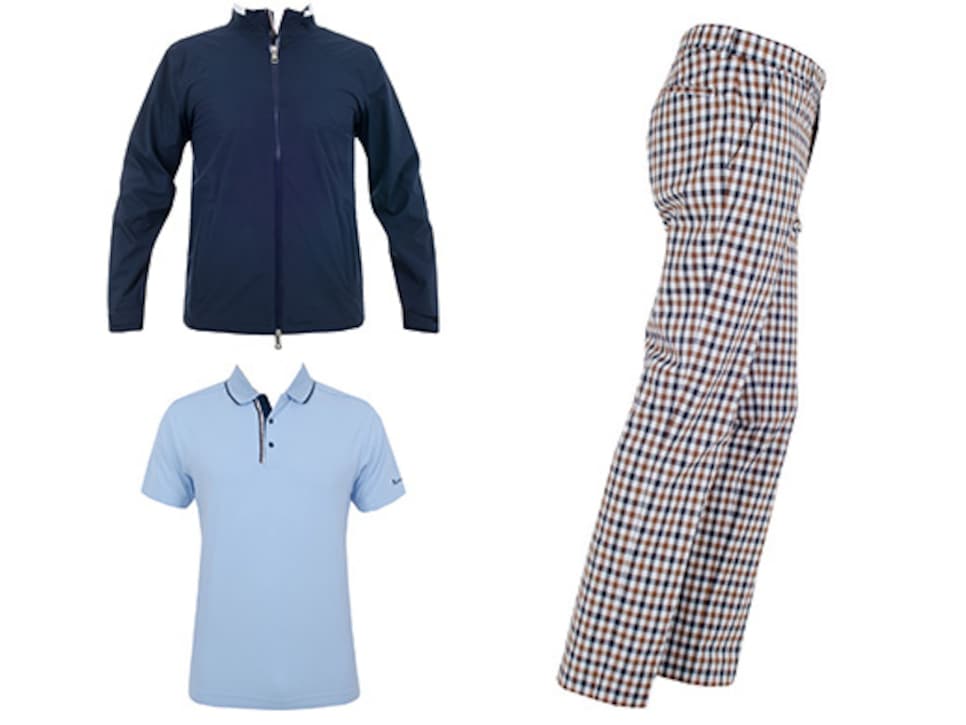 Bottom left: Moisture Shield Pique Polo, Light Blue - $145.00
Right: Iconic Gun Check Stretch Trouser - $195.00