News
A happy and healthy Jason Day is a golfer fellow PGA Tour pros respect—and fear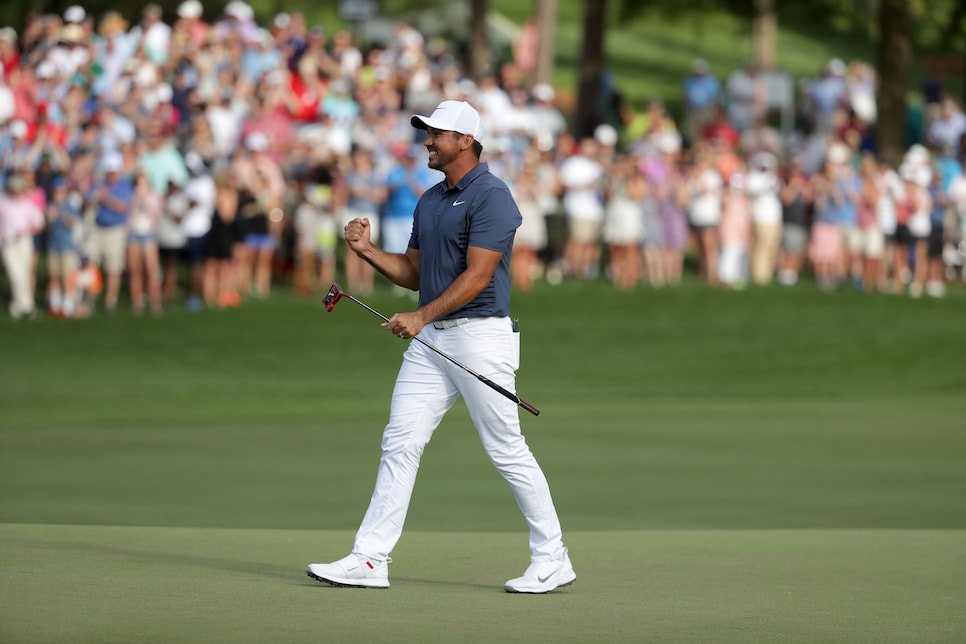 Photo By: Streeter Lecka/Getty Images
It is easy to forget sometimes that Jason Day is only 30. Part of it is because he turned pro when he was 19 and won on the PGA Tour when he was still only 22. But his precocious golf—his victory Sunday in the Wells Fargo Championship was his 12th on the PGA Tour—is only part of Day's story, and only part of the reason why there's a sense that he's been around forever.
Most golf fans know Day's remarkable backstory: His dad, Alvin, who first introduced him to golf, died of stomach cancer when Jason was 12. His mother scraped together enough money to send him to a golf academy where he met Colin Swatton.
Under Swatton's golf and life tutelage, Day went from troubled-teenager to rising golf star. He came to the United States at 19, won once on the then-Nationwide Tour and began a winding journey to stardom.
"He was one of those guys who was really willing to grind, to get better every day," said Erik Compton, one of Day's good friends in the Nationwide days. "But there was this very real streak of goodness in him. He was always looking out for his friends."
Day won at the Byron Nelson in 2010, then didn't win on the PGA Tour again for almost four years, although he flirted with a big-time breakthrough in several majors: a tie for second at the Masters in 2011; a third there in 2013, plus two seconds—one behind Rory McIlroy's U.S. Open runaway, the other a T-2 with Phil Mickelson behind Justin Rose two years later.
The real breakthrough though came when he finished a shot out of the three-man playoff in the Open Championship at St. Andrews in 2015. His last birdie putt on the 18th green stopped about two inches short of the hole, and Day was so upset he almost wept on the green.
"After that, I just told myself after that I was going all out every time I stepped on the tee," he said later. "If I lost, fine, but I wasn't leaving anything short."
He won a week later in Canada, ramming a 20-foot birdie putt into the cup on the final hole for a one-stroke victory, and then followed up with a bravura, record-breaking performance in the PGA at Whistling Straits to finally grab that elusive first major, beating Jordan Spieth by three shots. A month after almost crying in frustration on the 18th at St. Andrews, he wept for joy on Swatton's shoulder on the 18th at Whistling Straits.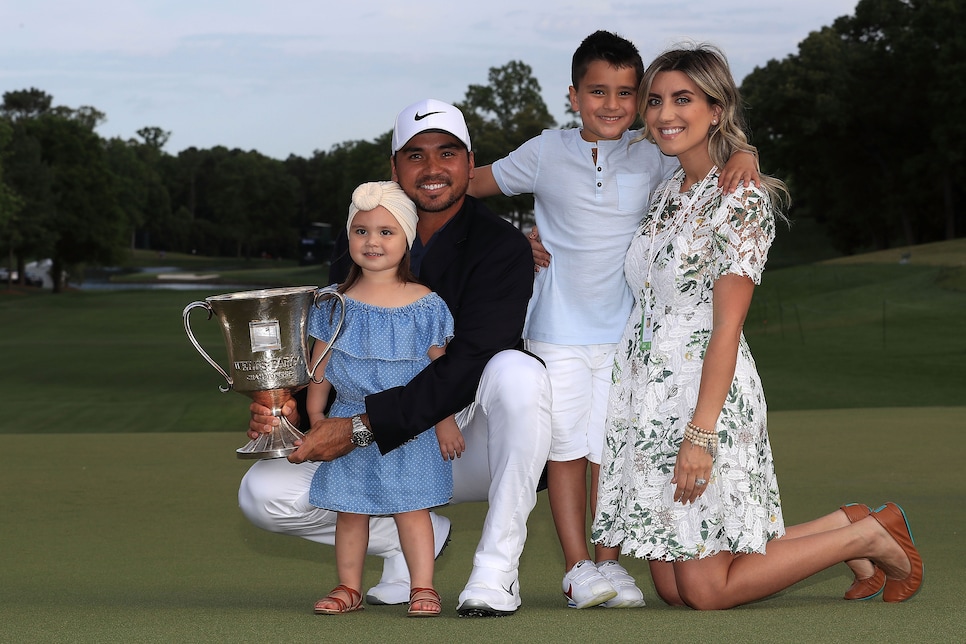 By then, he was on a rampage. When he won the Players Championship—wire-to-wire—the following spring, one of eight titles in a 15-month span, the last seven coming during a 10-month binge that had started in Canada. He was the No. 1 player in the world and was so good when he was on that other great players—Spieth, McIlroy and Dustin Johnson among them—were left shaking their heads.
"When he's healthy and he's on, there's no weakness in his game that I can see," McIlroy said after losing a taut semifinal to Day in the WGC-Match Play in 2016. "He gets focused and dialed in and it feels like he's not going to miss a shot."
Life was just about perfect for Day, the only thing slowing him down at all being health—his and other members of his family's health.
Day had literally collapsed on the ninth hole at Chambers Bay while finishing his second round at the U.S. Open in 2015, when hit by a bout of vertigo. He refused to withdraw, and still had the lead—remarkably—after 54 holes, before finishing T-9. There were other issues: His back hurt at times, and a couple of times he showed up to play when he was clearly sick.
Last year, the issue wasn't his health. First, his mom, Dening, was diagnosed with lung cancer. Doctors in Australia gave her a year to live. Her son had been through this already with his father, and he was stunned and frightened. He brought his mother to his home in Ohio to see doctors there, and they told him that surgery might change the prognosis.
The week before the surgery, Day went to play in the WGC-Dell Match Play—an event he had won twice—but tearfully withdrew during his opening match, too upset and worried to not be with his mom. The surgery was successful, and Dening Day is now doing well.
Then, last November, tragedy struck. Day and his wife, Ellie, had a son Dash in 2011 and a daughter Lucy in 2013. Dash had become a celebrity with his "Dashes" onto the green to congratulate his father after his many victories. The Days announced in early November that a third child was on the way. Then, on Thanksgiving, in an emotional snapchat, Ellie Day said she'd had a miscarriage.
Forget golf, 2017 was not a good year for the Day family. On the golf course, he was frustrated enough with his game that he decided to change caddies—benching Swatton (who remains his teacher) in favor of Ritka Batibisaga (who was on the bag during Day's six-hole playoff victory at Torrey Pines in February) and Luke Reardon (his caddie at the Wells Fargo), both childhood friends.
Day finished a disappointing T-20 at the Masters, but Sunday—when he admitted he didn't have his best stuff—he came back from two bad bogeys on Nos. 13 and 14 to win in Charlotte, N.C., on two of the tour's toughest holes.
The last three holes at Quail Hollow are known as "The Green Mile," and getting through them in even par is considered a victory. Day was in contention there at last summer's PGA Championship until he made a quadruple-bogey 8 on the 18th hole on Saturday. Certainly that memory had to linger as he approached the 16th tee with The Green Mile in front of him and his three-shot lead having slipped away.
Champions find a way, even when their driver is balky and they're having trouble finding fairways (Day hit just six on Sunday) and greens (eight). The Aussie hit a perfect tee shot at 16, put his second shot 11 feet from the hole and drained the putt for birdie and a one-shot lead on young Aaron Wise.
"When he's healthy and he's on, there's no weakness in his game that I can see." — Rory McIlroy
The 17th, the long par 3 with water short, left and long, awaited him. There had been exactly zero birdies—that's zero—all day on the hole. Day's 7-iron might have gone through the green except for one thing: It hit the flagstick flush and bounced three feet from the hole. The birdie gave him a two-shot margin and the chance to take a victory walk down the brutal 18th.
Day called the win one of his best ever, because there is nothing more satisfying to an athlete than to find a way to win when it's not easy. At his best, Day makes golf look easy. That wasn't the case Sunday—he made four bogeys on the day. But his short game allowed him to save par on a number of occasions, and his putter produced the six birdies that gave him a fourth-straight round in the 60s.
Day will no doubt be working on his driving going into this week's Players Championship, and he knows if he wants to contend in the U.S. Open next month at Shinnecock Hills, he will have to drive the ball far better than he did last week.
Even so, there's no doubt he's on the rise again. His world ranking is back up to seventh and, more important, he should be ready to seriously compete in the year's three remaining majors.
It's been a long journey for Day to get where he is right now. And yet, his best days should still be ahead of him.