The Loop
A golfer cameo on 'American Ninja Warrior' might only be a matter of time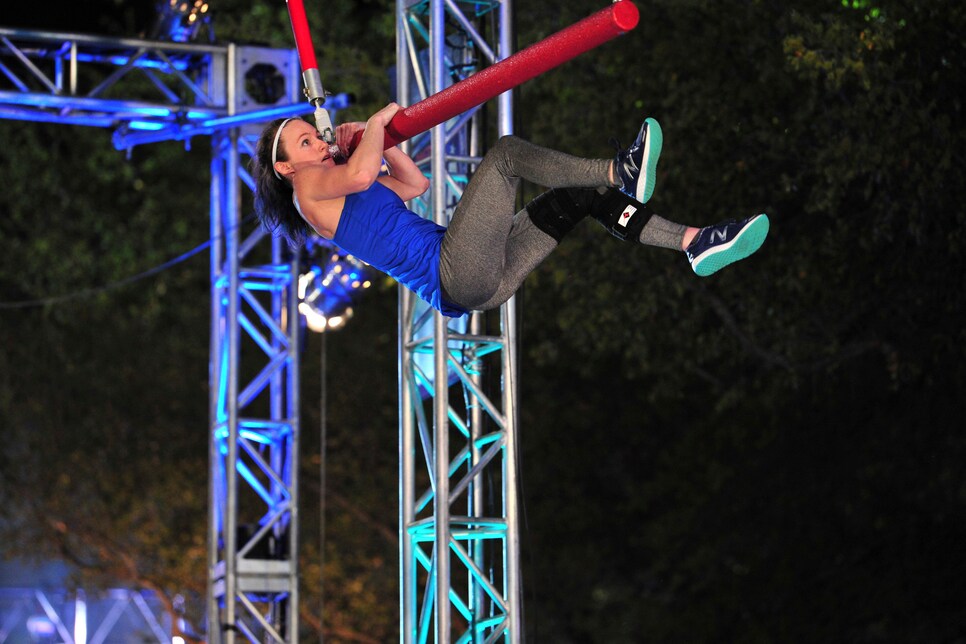 INDIANAPOLIS — I'm standing in line to get my fancy "American Ninja Warrior" media pass, a red clip-on badge that announces to everyone, "F**k no I'm not doing this, it would aggravate my back arthritis," but the kid behind me talks to me anyway, glancing quizzically at my snappy blazer/jeans combo before asking if I'm running the course. No no, I say, joking that I'm too old for that kind of thing. "Nah man, it's OK," he shoots back with a trainer's enthusiasm, "Lots of old people run it." Lots. Lots of OLD PEOPLE. Break an arm falling from a steel trapeze, pipsqueak, and don't come crying to me in 15 years when all your energy-drink sugar turns into side fat and diabetes.
Now in its 10th season, NBC's "American Ninja Warrior" spends its springs traveling to a half-dozen cities before resolving into its finals in Las Vegas. Tonight they're in Indy, dropping a giant obstacle course onto Monument Circle and lighting the surrounding buildings with appropriate Hollywood fervor.
And they're here because Indy turns up for this: The circle is filled half by contestants — what the show and gym culture have come to unironically call "ninjas" — with -3% body fat in disquietingly short shorts and half by fans who are decidedly nonplussed by both the 50-degree chill and fact that, in order to maximize optics, "ANW" starts shooting at 9:30 p.m. and goes until all 120 athletes have attempted the course. They'll all be here until 3 a.m., watching hyper-athletic gnomes fling themselves around steel rings and tumbling blocks and an 18-foot-tall half-pipe that, in defiance of all known skateboarding laws, they're supposed to walk up. Many people can do this.
Indiana, it turns out, is very good to ninjas. "Last time we were here the presidential election was going on, so Hillary, Sanders and Trump were all here and we still felt like the biggest draw," said Matt Iseman, one of the show's two hosts. The weather was a jerk during that 2016 visit, dumping rain on the shoot into the wee hours. "And in the middle of the night, in the middle of all that rain, there were still thousands of people in line." And then Iseman plays the hits: "I'm gonna be quoting Gene Hackman quite a bit here."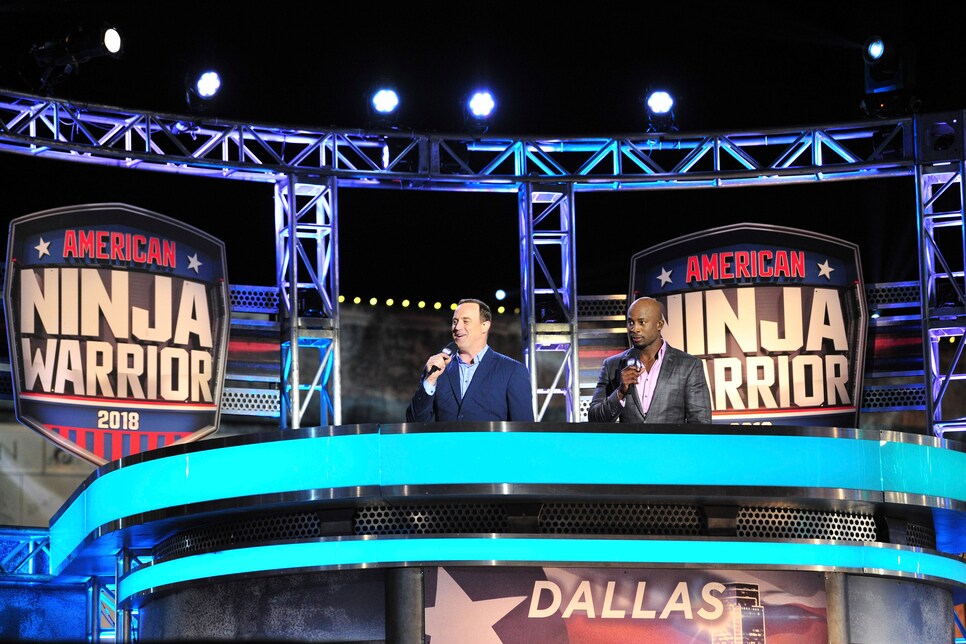 Backstage is an outdoor gym of small people doing lunges, squats, jumping jacks, pull-ups, things where they like touch their knees to their chins and impromptu push-ups, you know, like you did today. As schtick increases the chance for airtime, everybody has a bit: One guy has a bright-red foot-long beard emblazoned with blue and white stars; a girl clicks her heels together before starting the course, one kid nails a trick shot into a nearby hoop, because Indiana. Because there's still morning radio somehow, a fat guy from an FM station, duly equipped with a GoPro on his head and a theoretically funny cup over his pants, starts the course and makes it exactly two steps before plunging cup-first into the water.
There's famous folk too: Tonight's celeb ninjas are Scott Dixon, the 2017 Indy 500 pole-sitter who walked out of a harrowing crash that sent his car into the air for about three miles, and Kendall Dixon, a 25-year-old who won gold with the women's hockey team at the 2018 Winter Olympics. But upon learning that their 15-lbs. overweight visitor is here from Golf Digest, Iseman and co-host Akbar Gbajabiamila, immediately start drafting a fantasy "ANW" team. "People talk about wanting to see Rory McIlroy or Sergio out here," says Iseman. "I want to see John Daly. Now. Or Craig Stadler! Someone built like me!" (Iseman, like Gbajabiamila, is enormous, but neither are remotely built like Craig Stadler. If the morning-zoo guy had said that, maybe.)
They do, however, do a heroic job of comparing golf to the process of traversing unstable monkey bars with your hands while hanging 20 feet over a pool. "It's mental toughness 101," says Gbajabiamila. "You against the course." I helpfully opine that climbing up a sheer surface that goes two stories up might not be all mental, and he agrees. "It's true, some of these ninjas come out here and don't have the technique. Grit will only take you so far."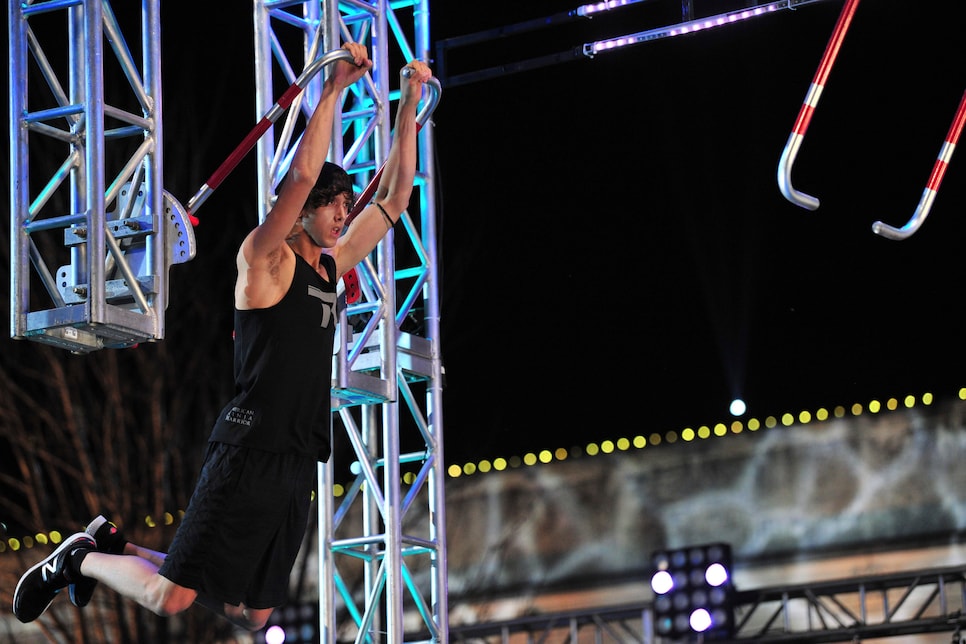 And like golf fans, they see a lot of competitors fall. "To us the biggest part of this is mental," says Iseman. "People focus on the physicality of it, but so much is mental toughness and preparedness. You remember Van de Velde, when he just fell apart — you see that happen here, where ninjas will just fall and fall." If NOTHING ELSE, Van de Velde's collapse didn't involve plunging into a pool while every light in the course turned bright failure red, but I take his point.
So we at The Loop are officially making this a petition for "American Ninja Warrior" to sign John Daly, or Craig Stadler, or really anyone, you guys are fantastic golfers but frankly a lot of you could use some upper-arm strength. You have a year to prepare, to get on the monkey bars, to dangle from large steel beams that are moving, to find an empty in-ground pool with a deep end and try to sprint out of it. Remember: The first thing you need is MENTAL TOUGHNESS. Actually, never mind, forget it, you're all too old.