The Loop
Glacial pace at Merion suggests the USGA is in no hurry to change
ARDMORE, Pa. -- The irony is inescapable. Or should that be hypocrisy? In the same week it announced its much-ballyhooed attack on slow play, "While We're Young," the USGA has made itself something of a laughingstock by presenting America's national championship on a course covered with long grass and greens running between 13 and 13.5 on the stimpmeter.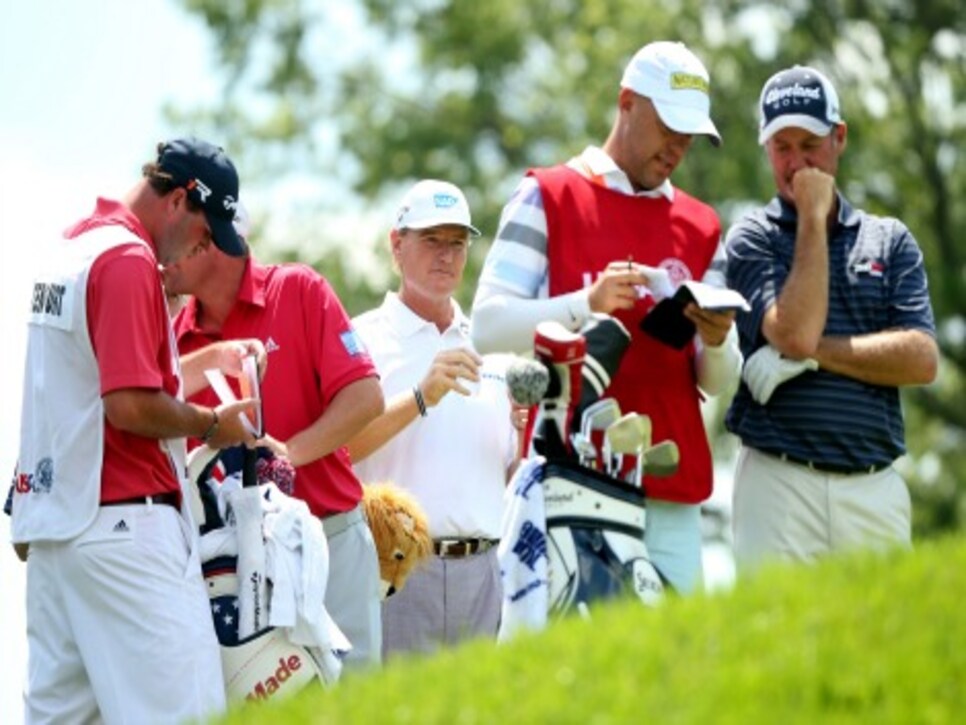 Imagine for a minute if you will -- only a minute -- just how long the average golfer would take to play a 7,000-yard course set up in such a fashion. On almost every hole, at least one member of each foursome would surely be looking for his or her ball. And on every green, at least one player would hit a first (or even second) putt that did not finish within tap-in range. The first factor would add who knows how long to the round and the second would, by my rough estimation, keep our no-doubt dejected foursome out there at least another 45 minutes or so. Yet the USGA -- at least by implication -- tell us that the US Open is "proper" golf. Grinding away is apparently how the game should be played and the best method of identifying the most gifted practitioners. Maybe so. But it is also the best cure I know for insomnia. Take today's third round at Merion. The final group of Luke Donald, Phil Mickelson and Billy Horschel took a snail-like two hours and 50 minutes to play the first nine holes.
On a course where they had thousands of ball-spotters on hand, three world-class golfers took an average of almost 20 minutes to complete every hole. To all of which there is only one conclusion: at least in terms of encouraging a reasonable pace of play, something is wrong with the way Merion has been set up and, by extension, the USGA's warped view of how golf should be played. The message emanating from Far Hills, New Jersey is not "While We're Young," but "Do as we say, not do as we do." OK, time out. We all know that slow play has been with us for years. Only this week AP golf writer Doug Ferguson cited a notice given to competitors in the 1950 US Open at Merion: "Be observant, reach your decision quickly and execute your shots with promptness and dispatch." Clearly, no one has been listening. In his article, Ferguson also quoted former USGA executive director Joe Dey. "The time has come when we must act if the game is not to be seriously injured."
Throw in the fact that no professional on the PGA Tour has been penalized for slow play since Tim Finchem took over as executive director and it is clear that there is little or no enthusiasm for addressing this long-running (make that "long-crawling") problem. So pardon me if I view this latest initiative with an appropriate amount of cynicism. The sadness, of course, is that there is any number of possible solutions. And the example has to start at the top, on the world's tours. If the impressionable masses see their heroes playing at an appropriate speed, they will follow. Here's one way of sorting things out: Focus on getting groups round the course faster rather than getting players to hit shots faster. So if a guy wants to stand on the 12th tee at Merion for five minutes before hitting, he should be allowed to, as long as he plays the whole round within a designated amount of time.
Related: '5 hours 1 minute' for final group at '61 Open In other words, officials should be timing periods of rounds rather than individual swings. They should break each round up into, say, three-hole segments and give the players an appropriate time to complete those holes. That way, a player can overcome one slow shot during those three holes. He won't be penalized for having one particularly tricky stroke he needs to take extra time over. On the other hand, if a group consistently misses its time for each three-hole segment then all three players should be penalized shots. Fines are no good. Adding strokes is the only way to go. Now, can we please get a move on?