The Loop
A (final?) trip to Vegas, a sucker bet on Rory McIlroy, and Sergio Garcia makes history
Welcome to another edition of The Grind, where we learned how different a trip to Vegas in your 30s is compared to a trip in your 20s. This time, there were a lot more naps and hot-tea orders at the blackjack tables. Attention #SB2K16 crew, you will get older, too. Not that we -- especially the bachelor -- didn't have some fun, though.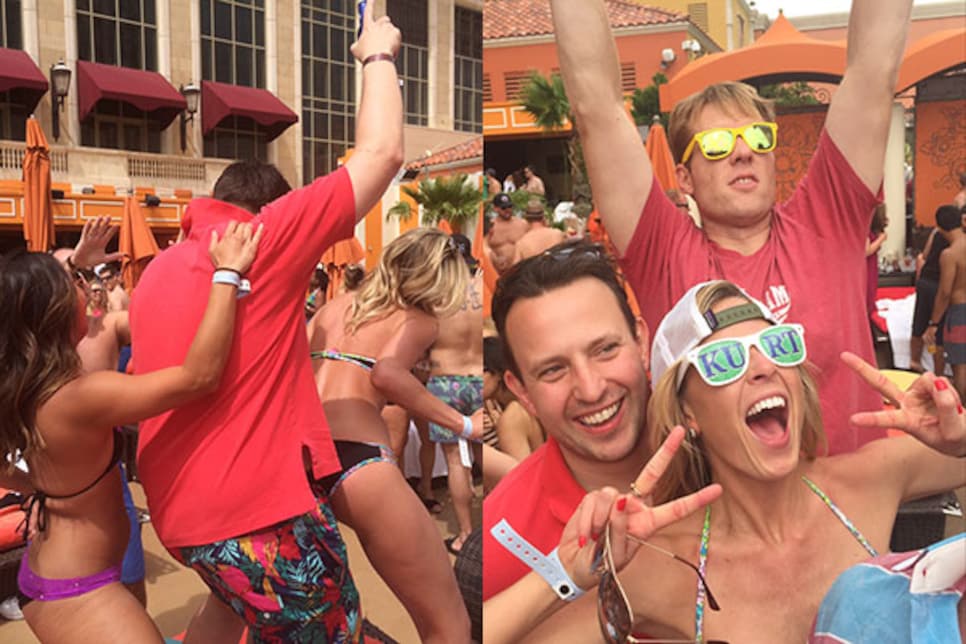 But bouncing back from these trips is getting tougher, and I'm currently blaming everything on Sin City, where time is tougher to keep track of than Charles Barkley's golf score. If I make a typo in a story? Vegas. My breakfast that I left on the train? Vegas. But hopefully, I haven't forgotten anything too important in golf. Let's get to it.
Sergio Garcia: For the first time in The Grind Era (January 2013), the Spaniard has won a PGA Tour event. Welcome to the winner's circle, Sergio. You get to lead off "buying and selling." Pretty cool, huh? And doesn't it feel great to finally get that monkey off your back?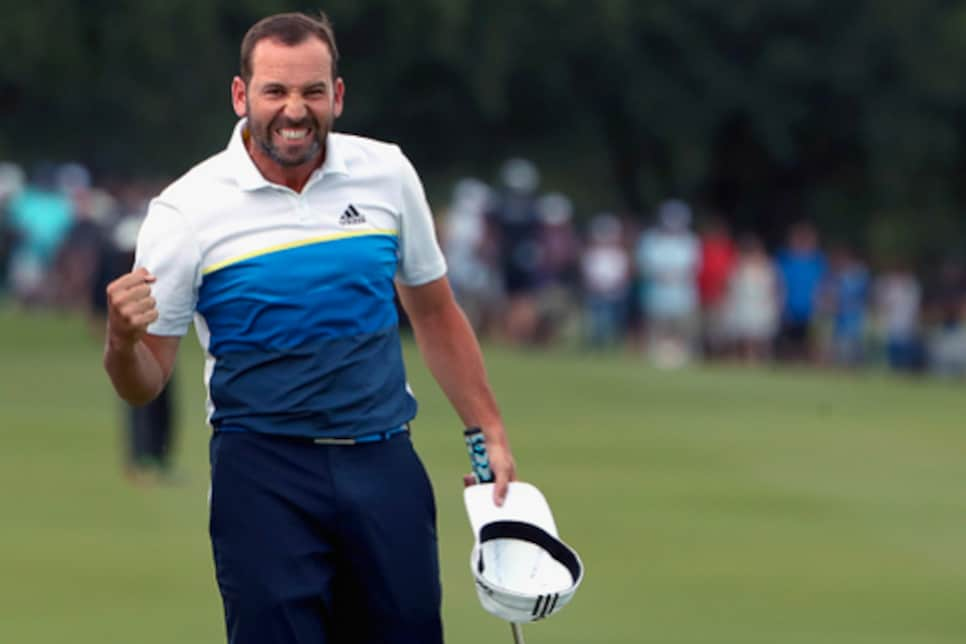 We thought so. Garcia now has as many PGA Tour titles as his idol, Seve Ballesteros, and only Rory McIlroy has more PGA Tour titles among Europeans since World War II. Not bad for someone who is often considered a "disappointment."
Rory McIlroy: I've never seen such a reaction to someone winning the Irish Open as I saw on Twitter on Sunday with McIlroy's victory in his home country. But I've also never seen two fairway woods like the ones McIlroy hit on two of the last three holes.
It was enough to get me to run down to the Palazzo's sports book and place this U.S. Open bet before McIlroy's odds changed: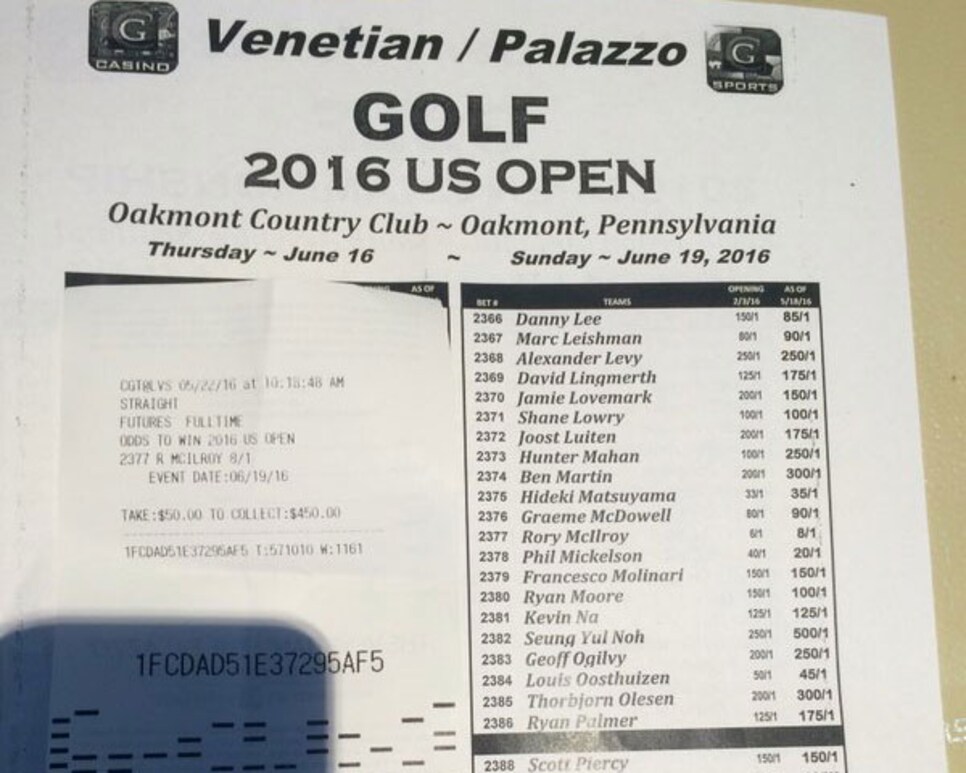 OK, so that is the definition of a sucker bet.
Matthew Southgate: McIlroy's emotional victory got most of the attention, but it wasn't nearly the best story of the week. That honor goes to Southgate, who picked up his first top-five finish on the European Tour after battling back from being diagnosed with testicular cancer last year. Awesome stuff, Matthew. Let the man tears flow.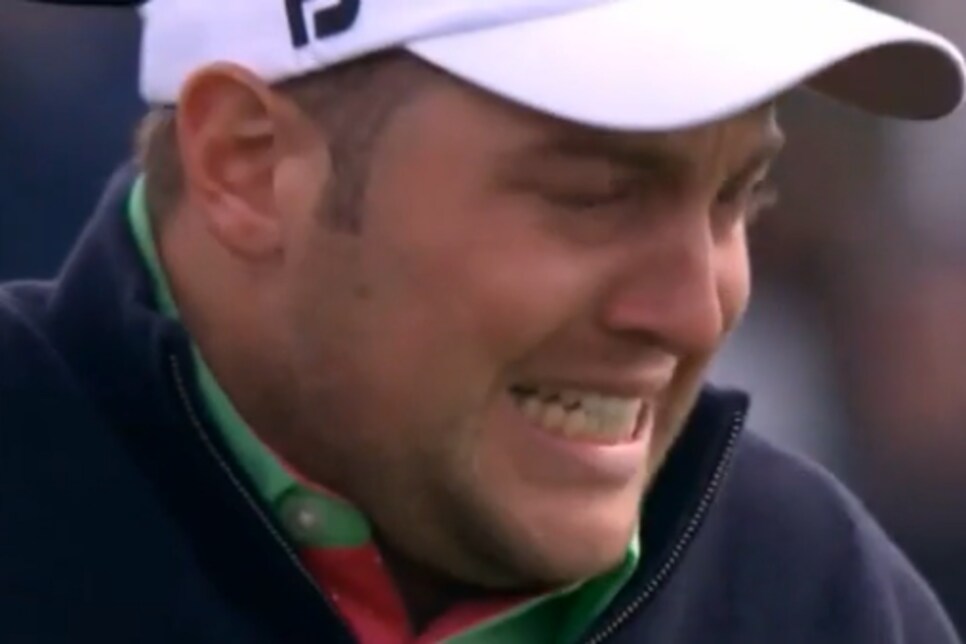 Topgolf Las Vegas: I'm going to assume that I'm one of only three people to ever run two miles on the Vegas strip in the middle of the day to get to this just-opened place and not hit a single ball. The other two are the friends who accompanied me. We then convinced our entire group to come back later, but sadly, we never made it because, well, Vegas. At least we got some exercise in, and it looked like a cool spot. We missed Drake putting in some work work work work work there by a day:
Brooks Koepka: Koepka looked on his way to picking up a second PGA Tour title with a three-shot lead with nine to play. But consecutive late bogeys and a tee shot into the water gave the tournament away to Sergio Garcia. And after, Koepka gave this great quote: "I can bring my C-game and still compete." Think that drew a few eye rolls in the locker room?
Donald Trump: It turns out The Donald wants to build another wall – around one of his golf courses. While he remains consistent in the structures he hopes to build, he's inconsistent in his reasoning. The man who calls climate change a "total hoax" wants to build a wall at Trump International Golf Links in Ireland as protection from, you guessed it, climate change. Think that drew a few eye rolls from scientists?
Muirfield: A vote to allow women members at Muirfield didn't pass, and the R&A swiftly announced the removal of the historic course from its Open Championship rota. Bad job, Muirfield. Good job, R&A. Guess the guys in Gullane have never seen Anchorman:
Bad golf-cart driving: In the span of a couple days, there was a burglar who got caught wet-handed after driving a golf cart into a pond AND a guy at the AT&T Byron Nelson who got embarrassed by driving one into a fire hydrant. Just look at this mess!
Poor guy. We think we've found the perfect scenario for Southwest's next "Wanna get away?" commercials.
The PGA Tour stays in the Dallas-Fort Worth area for the Dean & DeLuca Invitational, aka the Colonial. Be prepared for a lot of jokes/comments about the tournament's history in regards to the new title sponsor.
Random tournament fact: Ben Hogan has won five Dean & DeLuca Invitationals, which is amazing since the last of which came nearly 20 years before the chain was even established. (We told you to be prepared.)
RANDOM PROP BETS OF THE WEEK
-- I will be going back to Vegas anytime soon: 1 MILLION-to-1 odds
-- Rory McIlroy will win the U.S. Open: 8-to-1 odds (Actual odds that I got in Vegas)
-- I will be ripping up that betting slip next month: LOCK
Dash Day quoting Happy Gilmore while hitting balls at the range:
THIS WEEK IN JOHN DALY BEING JOHN DALY
John Daly made a closing eagle -- and then signaled for a drink.
Turns out, someone in the crowd had made a bet with him before the putt.
"The guy says two shots of Crown on a putt like that, I'm usually going to make one of those," Daly said. "If it's for Crown, I'm making it." OK then.
THIS WEEK IN MODELS PLAYING GOLF
There she is, Miss America. Playing golf, in slow motion:
THIS WEEK IN DUSTIN JOHNSON-PAULINA GRETZKY JORDAN SPIETH-ANNIE VERRET PUBLIC DISPLAYS OF AFFECTION
Sorry, ladies. The young superstar is still taken.
THIS WEEK IN CHRIS KIRK-TAHNEE KIRK PUBLIC DISPLAYS OF AFFECTION
Well played, Chris. And the couple also got dressed up.
"The only thing he told me was that he'd be happy to give me advice on holes 1 through 17, but he wasn't going to provide any for 18." – Tim Mickelson on the scouting report for Winged Foot provided by his brother, Phil, ahead of the U.S. Amateur Four-Ball Championship.
After breaking through for her first LPGA Tour win two week ago, Ariya Jutanugarn, 20, won again. That's bad news for the rest of the LPGA and it also lowered the average age of LPGA winners this season to a staggering 21.1. . . . Bernhard Langer won his third event of the year and the sixth PGA Tour Champions major of his career with a six-shot victory at the Regions Tradition. That kept the average age of PGA Tour Champions winners this season over 50. Go figure. . . . Congrats to Virginia Elena Carta for making her first college win the NCAA Championship. And she won by eight shots! I find it just a bit confusing, though, that the Duke freshman's first name is the same as a rival ACC school. . . . And finally, I went back to Willow Ridge Country Club, the site of my wedding reception last summer, for a fundraiser. I'm happy to report the place is still bringing it when it comes to the food. Check out this plate of pasta!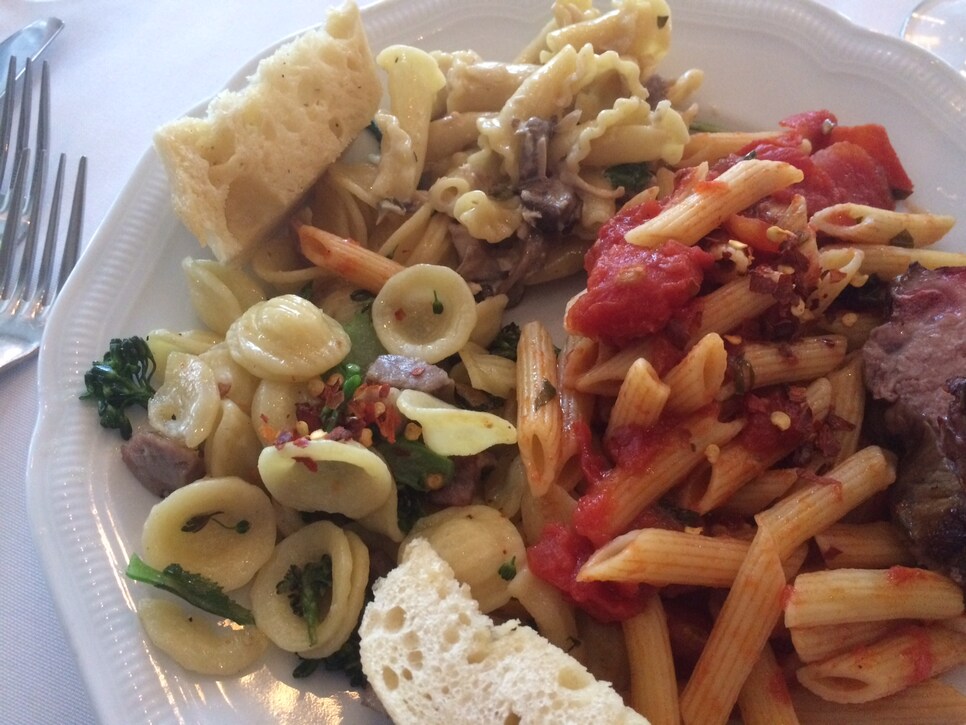 RANDOM QUESTIONS TO PONDER
How many pounds of pasta have I eaten in my life?
Who is the best player without a win in The Grind Era?
Could I survive a trip to Vegas in my 40s?