News
A field ranging from legends to amateurs prepared to take on the inaugural U.S. Women's Senior Open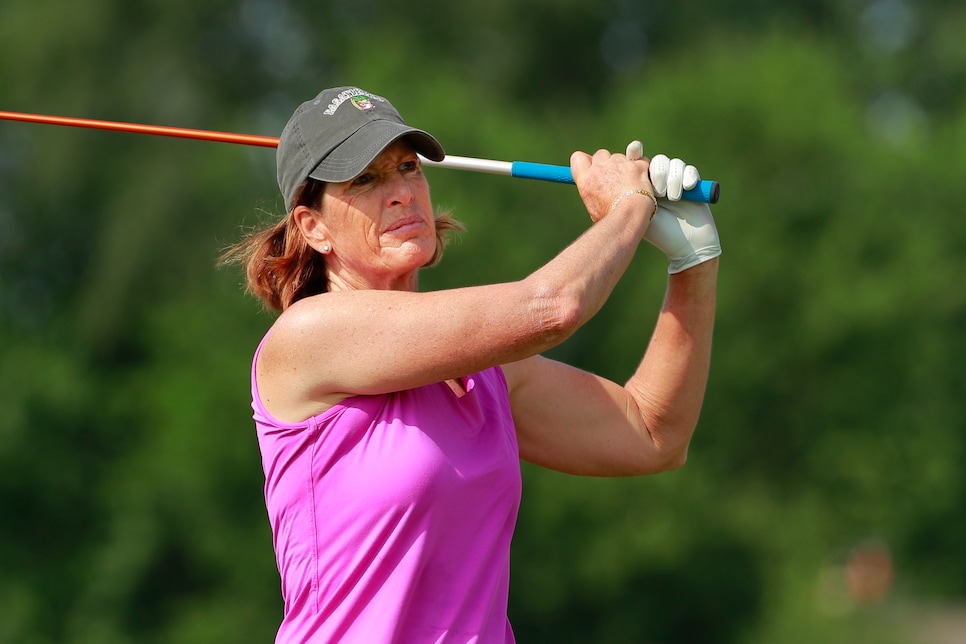 The inaugural U.S. Senior Women's Open begins on Thursday, July 12th at Chicago Golf Club and this 120-woman field is stacked with U.S. Women's Open champs, U.S. Women's Amateur champs and a whole lot of names that are going to bring you back to the '80s and '90s. We're talking Amy Alcott, Laura Davies, Pat Bradley, JoAnne Carner, Juli Inkster, Jan Stephenson, and many others.
While it's been fun seeing women who were dominant on the LPGA Tour back on the golf course, some of the novelty fades as the actual event approaches. The business of competing takes over.
"That's pretty much all we like to do is we like to compete," said Inkster. "We've done it our whole life, and then you get to a certain point where you can't, and you've got a big void left. All these women out here, they like to compete. A lot of them have brushed off their clubs and been practicing. I think it's great for women's golf."
The range of competitors is vast. The youngest competitor is 50-years-old, and there are two 79-year-olds in the field, one of whom is JoAnne Carner. More varied than just age, though, is the range of preparation.
Unlike the men's PGA Tour Champions, which has a 29-event schedule, the women's senior tour, the Legends Tour, has just five events on its schedule, including the U.S. Senior Women's Open. There are only two events besides it that are multiple-round, individual stroke play events. One is before the U.S. Senior Women's Open and one is after it. The lack of a consistent tour for senior women to compete on makes this field diverse in its preparation, and could produce some surprises over the four rounds of tournament play.
Some players, including Inkster and Laura Davies, have played in LPGA events this season. Suzy Whaley, the PGA of America vice president who got her spot in the field via a local qualifier, told Golf World that she was preparing by practicing and playing in a few events in her local section in Connecticut.
"Obviously the ones that play regularly on the regular Tour you would think would have an advantage," said Davies, "but all bets are off when you stand on that first tee and you're as nervous as any player out there. So that levels the playing field out a little bit."
As for the hardest thing you face when you haven't been consistently competing, Davies says it's finding the groove where you're scoring, and keeping that feeling rolling through all four days.
"You just get in a rhythm with scoring and you just make the pars, easy pars, when sometimes if you've not been playing, you don't make the easy par, and that's where the pressure builds and that's where the big numbers come from," said Davies.
Whether you've been preparing by playing LPGA Tour events or small local events, there's really no way to prepare for an "inaugural" anything. There's never been a U.S. Women's Senior Open before, so there's no way to simulate just how much pressure there's going to be or what exactly it's going to take to win. In that regard, each player is prepared exactly the same.
"It's up to us now," said Davies. "The USGA have given us the platform, now we've got to prove that we're worthy of this because it's pretty amazing what they've given us."