News
A field fit for The King, Jason Day's drink with Arnie, and the best Palmer tribute of all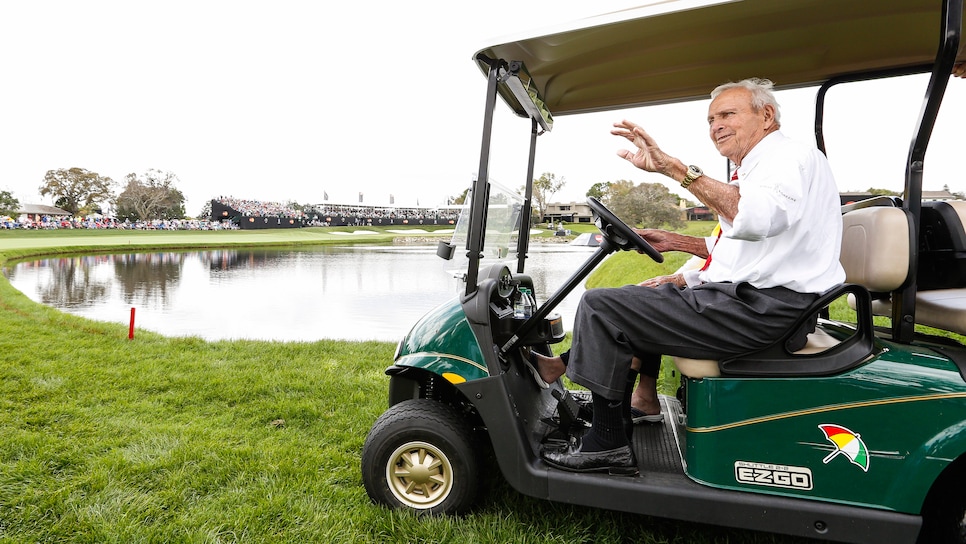 ORLANDO -- Much has been made of the handful of big names not at Bay Hill for this week's Arnold Palmer Invitational. Yet don't let that cloud your perception of this year's field. Turns out that in the first playing of the event since the death of its namesake last September, the tournament boasts its second-best field over the past decade.
Consider the following stats: This year, 64 World Ranking points are projected to go to the winner. That's up from 58 the last two years and 56 the year before that. The only year that offered more points since 2008 was 2013 with 66 points.
Yes, Palmer's event is missing some big names in its first year without the host—Dustin Johnson, Jordan Spieth, Justin Thomas, Adam Scott and Patrick Reed to name a few—but 14 of the top 25 in the world are here. That included defending champion Jason Day, No. 3 Rory McIlroy, No. 4 Hideki Matsuyama and No. 5 Henrik Stenson.
That's a better turn out than at Pebble Beach, where just eight players from the top 25 teed it up, and Phoenix, which had 10 of the top 25.
The bigger concern potentially? Beyond this year.
Or maybe not, at least in the eyes of some.
"Bay Hill has been a permanent part of the schedule for a long time, and I don't think it's in jeopardy anytime soon," McIlroy said. "Besides, half the PGA Tour live in Florida. It's easy enough to drive there and play."
Jason Day will forever be the last API champion congratulated personally by The King behind Bay Hill's 18th green, having won last year's event six months before Palmer passed away at age 87. It's a memory Day won't soon forget.
So is what happened afterward.
Following the victory, and after the trophy presentation and media obligations, Day joined Palmer for a drink inside Palmer's, just the two of them, along with Day's agent, Bud Martin, who, like Palmer, is an old Pittsburgh-area guy.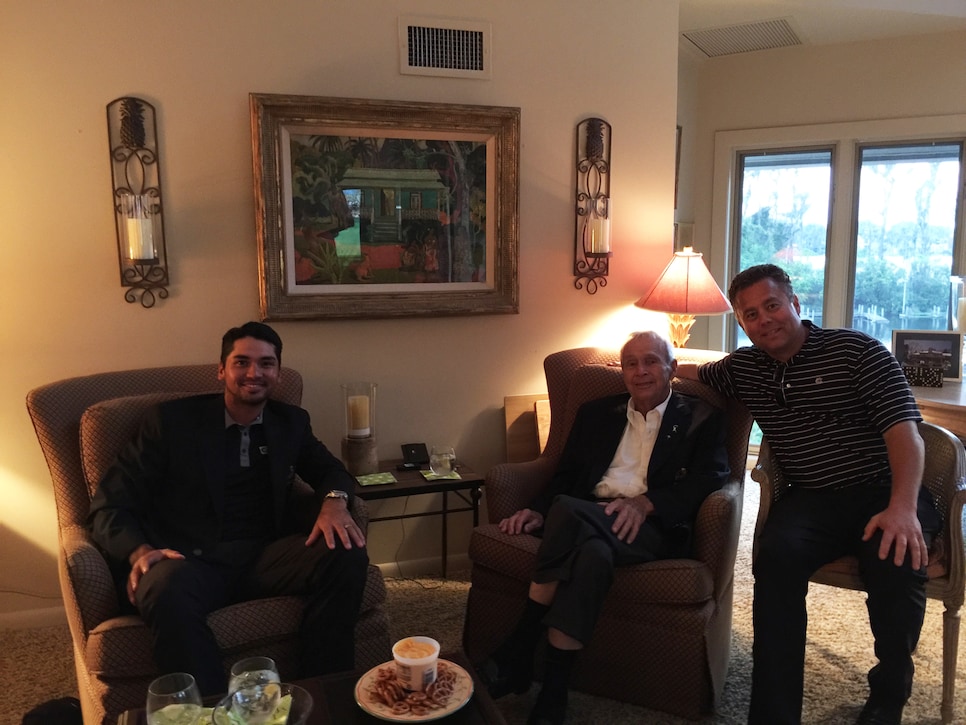 "It was such a neat experience," Day said Tuesday. "We were talking about all sorts of stuff. I remember telling him how strong the drink was, and he just looked at me like it was normal to have a drink that strong.
"I had to go on Golf Channel after, and I remember being on TV feeling absolutely hammered from my drink. He loved his Kettle One."
The true Arnold Palmer drink: Iced tea, lemonade…and vodka.
Palmer loved people, too, of course.
The first time Adam Scott met him was 2001. The Aussie was just a 20-year-old rookie on the PGA Tour, though he had won the European Tour's Alfred Dunhill Championship at the start of that year. Back then, Palmer would sit in his golf cart behind the first green as players came through.
"Before I could introduce myself he came straight over and said, 'Adam it's so good to have you here,' " Scott said. "I just couldn't believe he knew my name. There's a million of those personal care stories with Arnold. He took the time to know who people were and know their name."
Scott would end up playing with Palmer a few times over the years, and when he won his first PGA Tour event, in Boston in 2003, Palmer left a congratulatory note in his locker. The note also told Scott to come to Bay Hill for the tournament.
So did Henrik Stenson, whose wife gave birth to two of the couple's three children at the nearby Winnie Palmer Children's Hospital, named after Palmer's first wife.
The stories—and the memories—are endless.
"It will be odd everywhere we go places he's not," Scott said. "There's going to be so many mixed emotions, especially the way he's touched everyone. Hopefully it'll be great celebration."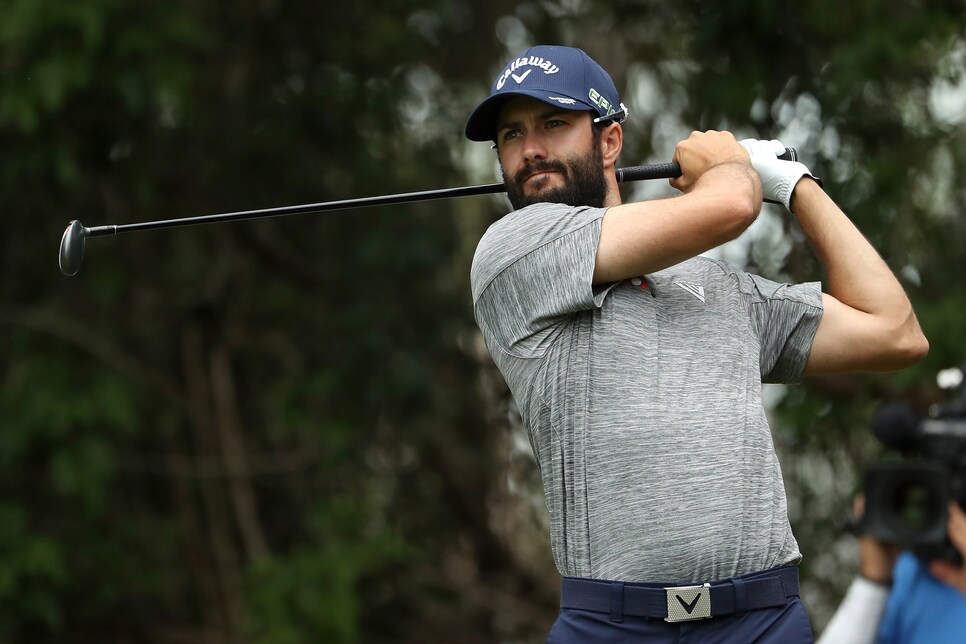 A MUCH-EXPECTED WIN FOR HADWIN
It was only a matter of time before Valspar champion Adam Hadwin was going to be a winner on the PGA Tour. The 29-year-old Canadian has a smooth, rhythmic swing that makes him one of the best ball-strikers in golf. It came in handy down the stretch at Innisbrook, where, after rinsing his tee shot and making double bogey on the 16th hole, it was fairways and greens that helped deliver his first tour win on Sunday.   It helps to be a great putter, too, which is the real strength of Hadwin's game. He ranked 12th and 48th in putting the last two years and is third this year. For the week, Hadwin needed just 109 total putts and ranked fourth in the field in strokes gained/putting. Those qualities are going to result in a win sooner or later.   My favorite nugget on Hadwin, though, is that his bucket list includes skydiving, bungee jumping and visiting the Great Wall of China. He also said that if he weren't a golfer, he'd be a chef.
It's terrific that on Tuesday, the Honourable Company of Edinburgh Golfers announced it will finally allow women to join, with 80 percent of the current members voting in favor of the measure after the club couldn't get the two-thirds majority needed during its original vote on the measure last year. Not long after, the R&A announced that the club's legendary course, Muirfield, was back in the Open rota. What a coincidence! Meanwhile, who are the 20 percent who voted against admitting women? Fred Flintstone, Barney Rubble and the rest of Bedrock? …   I saw MasterCard's #ArnieWould commercial earlier this week, and it evoked many of the same emotions for me that the Budweiser Harry Caray ad did after the Cubs (yes, their my team) won last year's World Series. Then there's the statue of Palmer at Bay Hill, though I wish the latter captured more of that signature whirling-dervish finish Palmer was so known for. …
Jordan Spieth and Dustin Johnson are co-favorites in the latest Masters odds at 13/2. A better proposition, in my opinion? Justin Thomas, Jon Rahm or Rickie Fowler, all at 25-1.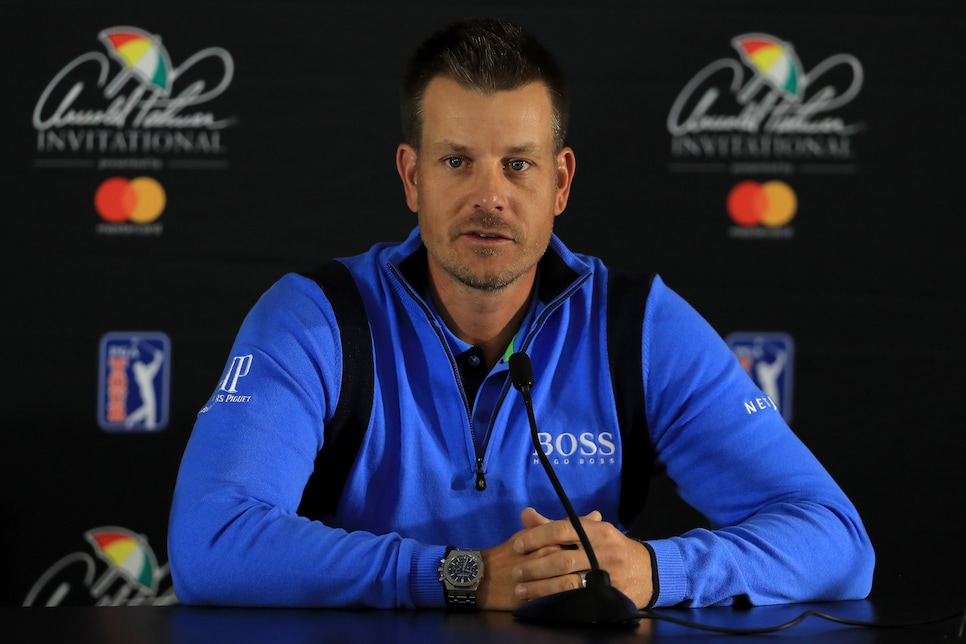 Jason Day and Rory McIlroy are the headliners at Bay Hill, but Henrik Stenson is the guy I'd slot into my fantasy lineup (if I actually had a fantasy lineup). Though he's still not 100 percent from a stomach ailment that knocked him out in Mexico, he played well in Tampa last week and has operated with machine-like efficiency here with a T8-T5-2nd-T3 since 2013. A good dark-horse pick? Tommy Fleetwood, who finished second in Mexico and whose game should play well around Arnie's place.