The Loop
A favor to his ailing college golf coach brought Ben Curtis back to Kent State for the fall semester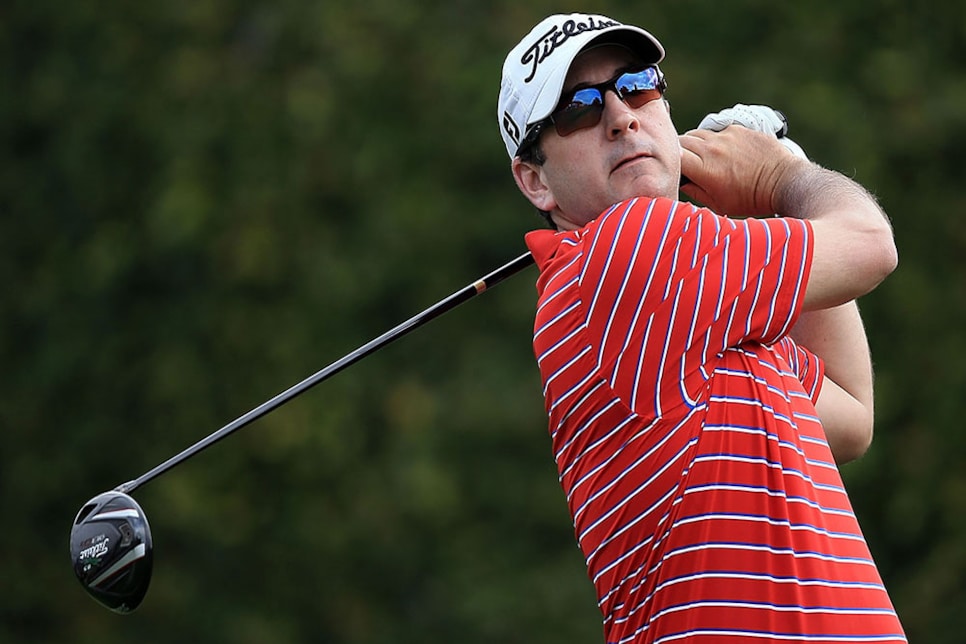 Herb Page grabbed the microphone Thursday morning and thanked those assembling for the traditional Thanksgiving fundraiser in downtown Kent, Ohio. "I have a lot to be thankful for," said the long-time father of the Kent State golf program and recent survivor of quintuple-bypass surgery. "I'm surrounded by my family, my friends and my town."
As guest auctioneer, Page was drumming up support for Kent Community Services, which in part benefits the Ben Curtis Family Foundation to assist needy children. It was Curtis that put Page's program on the map when he won the 2003 Open Championship at Royal St. Georges. Thirteen years, four months and one day later, Canada's Mackenzie Hughes became the first Kent State golfer to follow in Curtis' footsteps by winning the RSM Classic.
"I've got multiple winners on tour now," Page said proudly when I reached him at home. "I can say that!"
Page was perilously close to missing the milestone in Kent State golf history. Hoping to discover the next Hughes, the tireless Page, himself a Canadian native, had just returned from a long trip to Newfoundland where he walked nearly eight miles on a hilly course that hosted the Canadian Junior Boys Championship.
The next day, Aug. 10, the 65-year-old former three-sport star at Kent State who took over the golf program in 1978 drove himself to a local hospital complaining of a chronic sore throat. Doctors performed a cardiac catheterization and discovered blockage in his left anterior artery.
On the night before his surgery in Cleveland, Page's heart handled the excitement of watching Hughes hit an approach to a foot on the 72nd hole to win the Web.com Tour's Price Cutter Charity Championship. Last Monday, Hughes tested Page's bypass with his overtime playoff victory at Sea Island Golf Club. "It was the widow maker I beat," Page says. "If I could survive that, I'm OK."
During Page's recuperation, Curtis stepped up and volunteered to help former teammate Jon Mills coach the team. In January, Mills had been promoted from associate head coach, while Page became the school's director of golf. When Hughes visited campus in mid-September after the Web.com event at Canterbury, Curtis took time to mentor the 2012 Kent State grad.
Page visited Mills and Curtis on Labor Day weekend, riding around in a cart during the team's qualifying. Page then traveled to the Cleveland State Invitational and watched the squad shoot a 54-hole school record 44 under par, prompting him to joke that he would be fired.
"We were trying to keep him out of it, after what he went through," Curtis said. "But as you know with Herbie, you can't keep him away."
Page is hoping the coaching experience will inspire Curtis, whose 40th birthday is coming up in May. He's battling against deepening talent and lower cut scores, and relying on his standing in the past champion's category isn't providing many opportunities. "Guys like Mackenzie Hughes are out there now," Page said. "They don't miss a beat. You've got to be all in or you get run over."
As for coaching, it was fun and enlightening, but not something Curtis wants to take on full time. Not with the paperwork and recruiting trips like the ones Page made to Canada to discover players like Mills, Hughes, Corey Conners and Taylor Pendrith.
"It's so cool to see something good happen to somebody like that, and for Kent State," Curtis said of Hughes. "I know Herb can't be more proud. He treats his former players like they're his kids."
That's just how Herbie's family works.