A different way to get kids hooked on golf
What does the future hold for golf?
If the game is going to do more than survive and actually thrive, it needs a rich infusion of new blood. The latest numbers from the National Golf Foundation about millennial participation and interest have been encouraging, but not game changing. Contrary to Donald Trump's idea that golf should be aspirational—i.e. a privileged pastime for the rich—golf needs to improve its root system so it can grow.
Of course, the most vital source of new golfers should be kids. It's self-evident that the sooner someone is introduced to the sport, the more likely that person will be a lifetime golfer.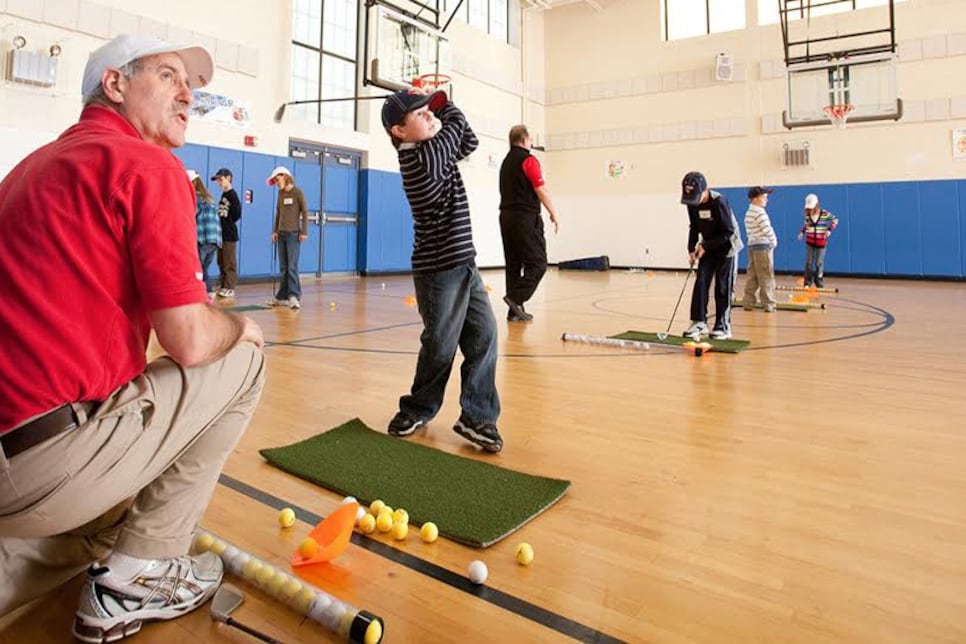 Thankfully, the game has been applying its collective thinking cap toward sparking the youth movement.
• The First Tee is a philanthropic favorite though the program, which has more than 200 chapters in the United States, emphasizes teaching life skills over growing the game.
• The PGA Junior League Golf, launched by the PGA of America in 2011, offers team competition for kids 7 to 13, creating uniformed squads of at least eight players, with scoring determined by pairs matches over nine holes.
• Youth On Course is an expanding concept started in Northern California in which donations buy surplus starting times from public courses, who then provide $5 green fees to kids 17 and under.
• LPGA-USGA Girls Golf provides an all-girl learning environment.
• For the last three years, Drive, Chip & Putt competitions involving thousands of players have been contested around the country, with the national finals held at Augusta National the Sunday before the Masters and broadcast live on Golf Channel.
Whereas all these programs work within golf's more traditional confines, another program bears watching that challenges the conventional wisdom regarding how junior golf should be funded (by donations) and run (by teaching professionals). TGA Premier Junior Golf, founded in 2003 by ongoing CEO Joshua Jacobs, is primarily an after-school "enrichment" program for children in kindergarten through eighth grade, run in conjunction with local school districts. For the most part, it's golf without the golf course.
Most of the TGA (Teach, Grow, Achieve) classes are held indoors, using regular clubs to hit low-impact restricted-flight balls. Instead of PGA professionals, the instructors are mostly golfers trained to teach Jacobs' curriculum. Yet for the cost of about $100 for six one-hour lessons one day a week, kids go through a five-level (modeled on the marshal-art belt system) station-based curriculum in which there are hardly any lines or waiting. Each student is given a 60-page handbook, and the program has a 50 percent retention rate. The business model is franchise based, with 55 chapters currently operating in 21 states (with additional franchises in Canada and Spain). Some 2,400 schools and 325,000 children nationwide have gone through the after-school and before-school programs since 2006. Add TGA's summer-camp programs, and that number tops more than a half million.
Jacobs, 39, takes encouragement from the latest NGF statistic that estimates there are 20 million non-golfers in the U.S. who say they are interested in learning the game. He says about 65 percent of participants first come to the TGA program having never played. Rather than "build it and they will come," Jacobs says "the question we ask Is how do you access the people who don't play?" From there, the goal is to build a more direct pathway to the game.
According to Jacobs, the advantage of his program is that franchise owners are economically motivated to deliver a good product to customers, and children and their parents are more committed to learning in order to get their money's worth. "Most junior programs need philanthropic donations and volunteers to keep going, which is often not a sustainable model," Jacobs says. "Golf on the ground floor is all about vesting people. Everyone tries that much harder, and ultimately the results are better. The way to increase participation is to incentivize people to grow the game."
Sam Greenwood/Augusta National
The key for ultimate growth, says Jacobs, is to put golf on the same footing as other sports and after-school activities when it comes to competing for kids' already overscheduled time. "Golf really doesn't have much of a chance in the current environment, at least if it's going to grow," Jacobs contends. "Even allowing for being an individual sport, it has significantly fewer players than other youth sports. Studies have shown that if you don't get kids into an activity before the age of 10, the probability that it will remain part of their later lives really lessens. We are imprinted by our youth experiences."
Jacobs' own golf story began as a southern California kid whose parents put a club in his hand at age 3. He played competitively as a junior and at Emory University, and continued with the game after getting into the business world. On Sept. 11, 2001, Jacobs was working in an office in New Jersey when he watched two planes hit the Twin Towers in Manhattan. In the aftermath, he decided he wanted to come home to California and be closer to family and friends. And, "I wanted to do something I loved."
He had an idea for starting the kind of golf camps he had attended as a kid, but the decline in overall travel post-Sept. 11 made that plan unfeasible. Still, one day after hearing his younger sister was talking about after-school programs for her kids, Jacobs asked if golf was included. When he learned it wasn't, he began putting together a curriculum and presented it to a couple of school districts around Los Angeles, eventually starting out in six schools.
One unintended consequence of his program is non-golfing parents often follow their children into the game by being TGA instructors themselves. Jacobs says most of the parents are between 25 to 45, the vital age bracket that according to the NGF offers the richest vein of potential new golfers.
"I can't tell you the number of parents who have said to me, 'I wish this program had been around when I was young,' " he says.