The Loop
A definitive ranking* of Roger Moore's James Bond movies (*One man's opinion)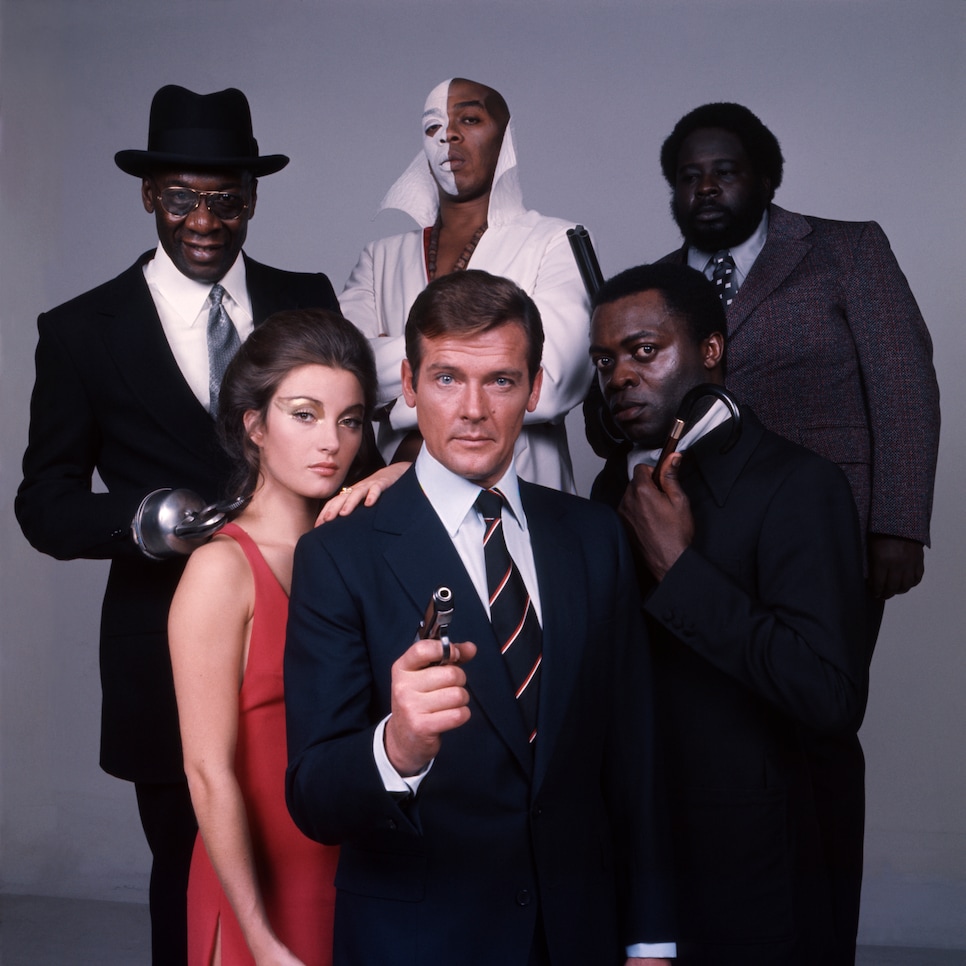 I was somewhat of a strange kid. I didn't like cheese (Actually, I still don't like cheese), I hated Teenage Mutant Ninja Turtles, and I never got into Star Wars. But boy, did I love James Bond. And I thought Roger Moore was a total boss long before I'd ever heard the phrase "total boss."
The tuxedos, the gorgeous women, the cool gadgets, the one-liners. What a stud. Sure, as time went on, I learned to love Sean Connery playing the role just as much (if not more), but I always had a soft spot for Moore because I thought his movies were better. Moore wasn't the original 007, but his seven films from 1973-1985 make him the most prolific Bond in the franchise (Sorry, I don't count "Never Say Never Again," Connery's seventh and final Bond movie made 12 years after he said goodbye to the role. I've never seen it and it's never a part of James Bond marathons on AMC.)
Sadly, Moore passed away on Tuesday at 89, but those seven movies will live on forever. Here's how I rank them (and I'm obviously right).
7. The Man With The Golden Gun (1974)
Bond Girl: Britt Ekland
Villain: Christopher Lee
Theme song: The Man With The Golden Gun (Lulu)
Summary: To be honest, I don't remember much about this one other than it confused me as a kid. There was a man with a golden gun [Ed. Note: He also has three nipples for some reason] and he set up some kind of maze/trap for Bond to go through. Bond lived, the other guy died. Pretty dull. And pretty dull theme song as well. Let's move on. This is supposed to be a celebration of Roger Moore!
6. For Your Eyes Only (1981)
Bond Girl(s): Carol Bouquet, Lynn-Holly Johnson
Villain: Julian Glover
Theme song: "For Your Eyes Only" (Sheena Easton)
Summary: There's a lot of underwater stuff in this one, which always freaked me out, and was a big reason why I was never a big fan of Thunderball. But there are some fun scenes on land too, including Bond showing off some incredible skiing skills and a figure skating protégée, Bibi Dahl (great name), played by Lynn-Holly Johnson, a former professional figure skater (talk about doing your own stunts! The skater, not Roger, that is. . .). The theme song, co-written by Bill Conti, starts slow, but it's great. What else would you expect from the man who wrote "Gonna Fly Now"?
Bond Girl(s): Lois Chiles, Corrine Clery
Villain(s): Michael Lonsdale, Richard Kiel
Theme song: "Moonraker" (Shirley Bassey)
Summary: There are some far-fetched James Bond plots, but nothing tops 007 taking a trip to outer space to prevent the world's population from being wiped out to make way for a new master race. Fortunately, Bond and Holly Goodhead (yes, that's actually her character's name) are able to stop this dastardly plot. As well as the return of "Jaws", a giant villain with steel teeth who survived the earlier Bond movie The Spy Who Loved Me by biting a shark. Again, all very believable.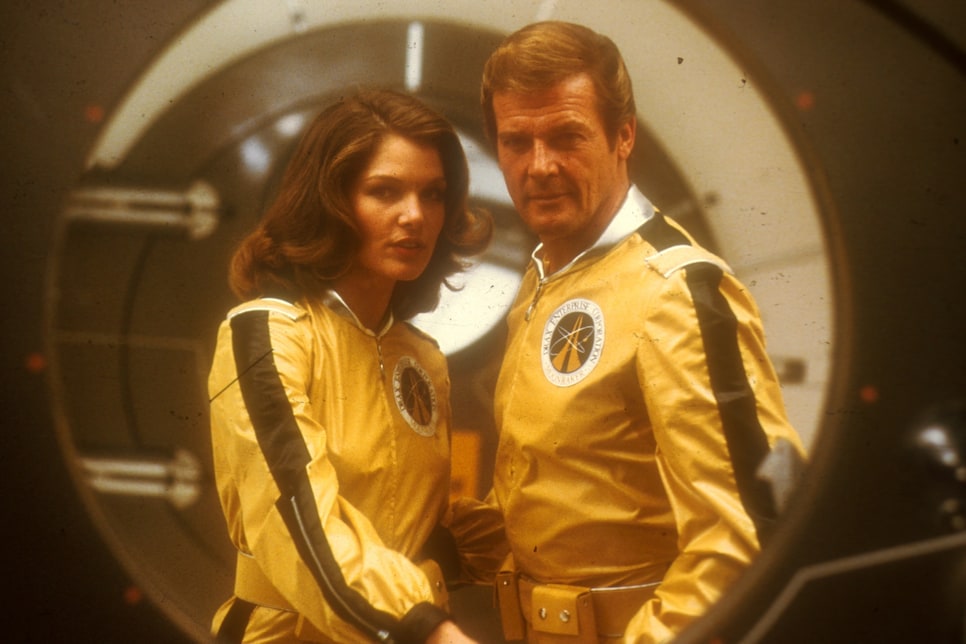 Bond Girl(s): Maud Adams, Kristina Wayborn
Villain(s): Louis Jourdan, Steven Berkoff
Theme song: "All Time High" (Rita Coolidge)
Summary: Yes, this is the movie where James Bond dresses up like a clown. But it's for good reason! He had to go deeper undercover to get into a circus and move a nuclear warhead set to detonate in the middle of the Cold War. That leads to one of the great car-train chase scenes in movie history in which Bond evades a pair of knife-throwing villains. Of course, that's not to be outdone by the plane scene at the end (What great Bond movie doesn't include an action scene on multiple modes of transportation?) in which Moore jumps from a horse onto a plane as it's taking off and then manages to climb aboard and cause it to crash, killing the bad guys while he escapes. Classic 007 move there.
3. A View To A Kill (1985)
Bond Girl: Tanya Roberts
Villain(s): Christopher Walken, Grace Jones
Theme song: "A View to a Kill" (Duran Duran)
Summary: I know this movie got panned by critics, but I always held it in high regard because I got it as a Christmas gift from my parents when I was 7 (thanks, for being so cool, mom and dad). Grace Jones doubled as a villain/Bond girl, but Walken, playing the role of "Zoron," is the true evil maniac. The movie also features a fantastic theme song from Duran Duran and a chase scene through San Francisco that predates the one in The Rock by more than a decade. Oh, and don't forget about Walken wielding an axe atop the Golden Gate Bridge while trying to kill Bond. SPOILER ALERT: Bond lives and the bad guy dies.
2. Live And Let Die (1973)
Bond Girl(s): Jane Seymour, Gloria Hendry
Villain: Yaphet Kotto
Theme song: "Live And Let Die" (Wings)
Summary: Looking back on it, James Bond risking life and limb to stop a Harlem drug lord named "Mr. Big" seems a bit odd, but it's an entertaining movie that includes a young Jane Seymour, a great fight scene on a train and Bond escaping from a pool of alligators (the bad guys just always have to get greedy by trying to kill Bond in the most gruesome manner possible). And also, what a theme song. Paul McCartney absolutely shreds on this tune that runs through your head the entire movie. Heck, it's running through my head right now. Hit it!
1. The Spy Who Loved Me (1977)
Bond Girl: Barbara Bach
Villain(s): Curd Jurgens, Richard Kiel
Theme song: "Nobody Does It Better" (Carly Simon)
Summary: This one has it all. A grizzled evil genius trying to start World War 3, a evil super-sized sidekick, a beautiful Bond girl who is a fellow spy (Agent Triple X!), a car that turns into a boat and a shark tank used to kill people. OK, so that last part gave me nightmares for awhile, but once I realized I didn't know anyone with a collection of killer sharks that are kept beneath a trap door, I got over it. Also, on the list of Bond ballads, it's tough to beat "Nobody Does It Better."
Needless to say, when it comes to playing the role of James Bond, nobody did it better than Roger Moore...well, again, maybe Sean Connery, but any self-respecting 007 fan must always hold a place in their hearts for Moore. RIP, Roger.