Courses
When golfers think of "grabbing a bite at the turn," their hopes rarely rise above a pre-wrapped turkey on white or a lukewarm hot dog that's seen more than its fair share of turns in the roller. But at Mexico's Quivira Golf Club, which is open to resort guests of the four Pueblo Bonito Oceanfront Resorts & Spas, all preconceived notions of a traditional "halfway house" can be tossed out the window. Here, those who are used to the limited provisions of beverage carts and snack bars are wowed by the resort's upscale, stylish approach. Offerings at the numerous on-course "comfort stations" are a collection of Baja cuisine's greatest hits, all freshly made by Chef David and his staff. And because fresh seafood is the star of the region, there are savory seafood offerings, which might include ceviche, Baja scallops, fish tacos and barbecued shrimp.
When it opened in October 2014, Quivira (key-vee-ra) generated a lot of buzz because of its Jack Nicklaus Signature design and dramatic natural setting, at Land's End on the southern tip of Baja Peninsula, about 10 minutes from Cabo San Lucas. The course edges the Pacific Ocean and runs up and down through dunes, native desert and alongside granite cliffs.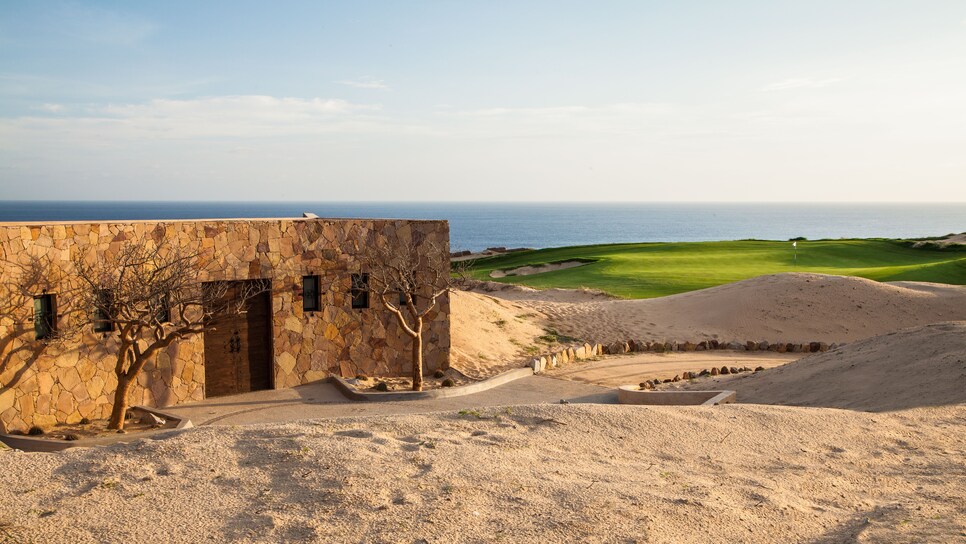 "Quivira is a place to connect with Baja's Mexican culture and the natural beauty of the area," says Antonio Reynante, the resort's director of golf operations. Reynante oversees a staff of 17 whose motto is "The smile is part of the uniform." The food and service are as integral to the golf experience as the expansive views of the Pacific, he insists. And by the reviews of Quivira gets on Trip Advisor, it seems plenty of the golfing cognoscenti agree.
The best way to start your round at Quivira, advises Reynante, is by spending time at the beachfront driving range, where golfers can hit unlimited range balls and help themselves to Mexican sweet bread, burritos, muffins, tea, coffee and water. "Some players get there an hour or two before their tee time to relax," he says (this might not be a bad idea, because the course is challenging). Built as a resort course, with five sets of tees ranging from 4,326 to 7,137 yards, the course is suitable for all abilities, but "people lose a lot of golf balls out there," says Reynante. To help mitigate the feeling of loss, players receive two sleeves of Project A TaylorMade golf balls as part of the all-inclusive green fee.
On the course, players can stop for refreshments at three comfort stations. The first one, known as the Cliff, is on the 5th tee. At 200-plus feet above sea level, it's quite literally the high point of the round. The open-air, cliff-hanging café has tables spaced around a covered stone patio high above the surf. Golfers can help themselves to drinks, including local beers and tequilas, and freshly made snacks like tacos, quesadillas and tostadas. "Chef David changes the specials daily. He's trying to do a mix of things that locals love and offer it in a special way," says Reynante.
The Oasis comfort station, accessible from holes 8 and 11, has indoor and outdoor seating, a grill and a full-service bar. The typical stop at Oasis is about 15 minutes, and if the course is not busy, you may have longer to sit and enjoy the food and drink. Typical offerings are inventive takes on classic Baja cuisine, from tamales and tacos to tostadas; recently, Oasis started making hamburger sliders as a nod to the American and Canadian guests, which are 90 percent of the clientele. The final comfort station on hole 16 is self-serve, with energy bars, peanuts, olives, cashews and similar savory snacks.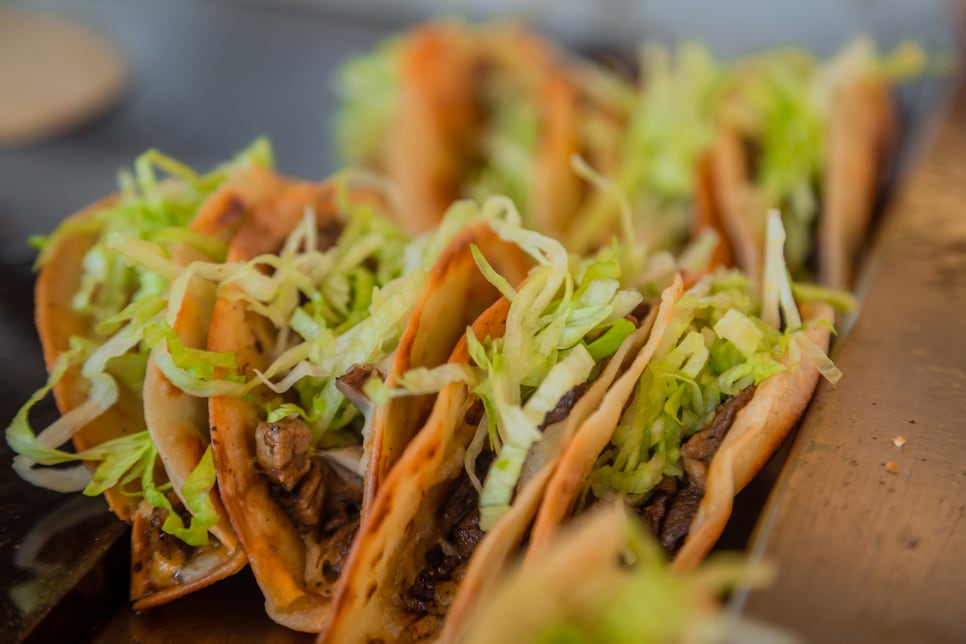 Because there are 12 minutes between tee times, guests can actually enjoy the amenities and attentive service without feeling rushed, says Reynante. "We have marshals along the course "to spot balls and to keep up the pace and keep golfers happy," says Reynante. (Golfers with less than four or so hours to invest might want to consider an alternate plan.) "Our staff, who must be fluent in English, is there to help you play the hole and stay out of trouble."
"We try to make the guest feel part of our family," says Reynante. "We want to offer a kind and warm welcome that is the proper blend of friendliness and respect. We want our guests to feel as if they are with family and friends so they will come back."