Courses
A Course Critic Doubles Down On His Candor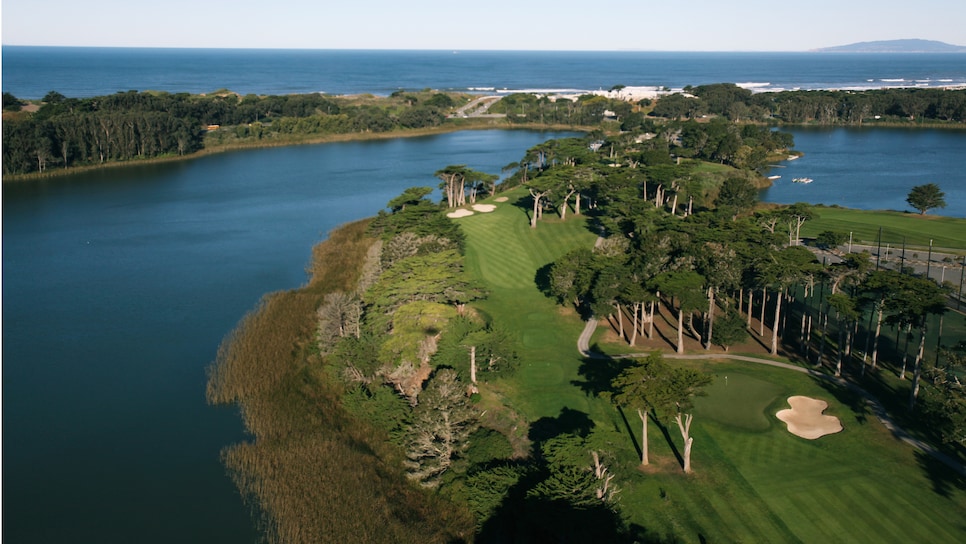 Tom Doak has traveled the world, not only designing golf courses but studying the designs of others. In 1988, at 27, he self-published what became a cult classic, The Confidential Guide to Golf Courses, containing highly opinionated thumbnail sketches of courses he found, good and bad. Now twice that age, Doak has updated his Confidential Guide and is releasing a five-volume set over five years. This time he has enlisted three other critics, Ran Morrissett of the United States, Darius Oliver of Australia and Masa Nishijima of Japan, to supplement his travels, but the voice throughout the books is Doak's.
His goal is to serve as a travel guide to golfers interested in course architecture. Vol. 1, Great Britain and Ireland, released in 2014, did a superb job of highlighting obscure gems and clunkers as well as the usual must-sees. Vol. 2, The Americas (Winter Destinations), is not quite as comprehensive, perhaps because it covers so much territory (the southern United States, Hawaii, the Caribbean, Mexico and Central and South America), so his reviews are mainly of big-name, big-budget golf courses, most of them private. But Doak does include a few surprise picks. He's clearly biased in favor of his designs, but that's OK; a parent should love his children unconditionally.
Elsewhere, Doak plays no favorites. Pete Dye was his mentor, but that doesn't keep Doak from lambasting some Dye designs (lauding other ones). Doak tweaks a job of his former associate Gil Hanse but gives high praise to another Hanse design.
Doak's candid assessments make these volumes worth owning. Each course gets a SCORE: from 0 to 10. The description of a 0: "A course so contrived and unnatural that it may poison your mind, which I cannot recommend under any circumstances. Reserved for courses that wasted ridiculous sums of money in their construction, and probably shouldn't have been built in the first place." His idea of a 10: "Nearly perfect; if you skipped even one hole, you would miss something worth seeing. If you haven't seen all the courses in this category, you don't know how good golf architecture can get. Drop this book and call your travel agent, immediately."
Here are snippets of some of Doak's reviews of public-access courses: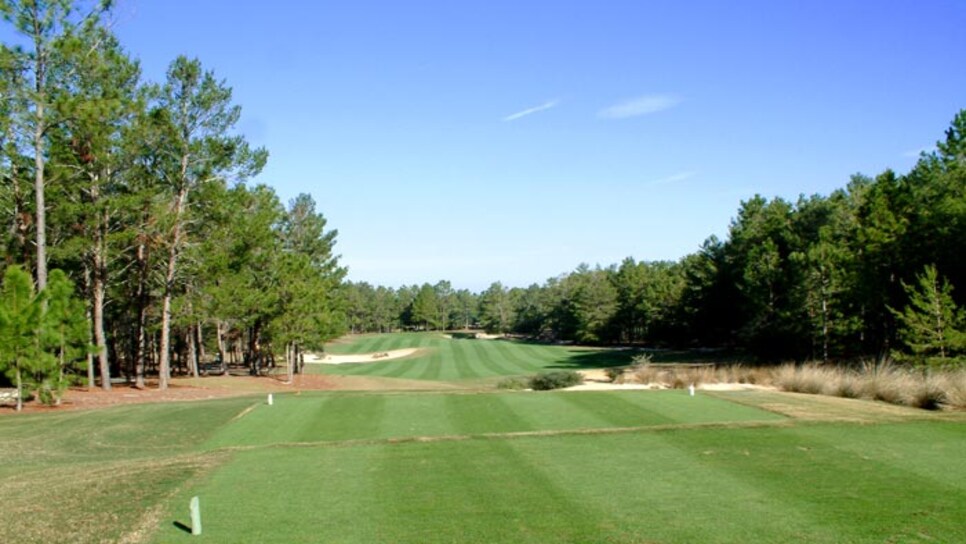 World Woods G.C.
__Pine Barrens, Broo
lle, Fla.__
by Tom Fazio, 1993
▶ "Holes like the short par-5 fourth capture the feel of Pine Valley better than any other attempt I've seen, but the course is built for resort guests, so the natural areas off the fairways are not so intimidating. It's worth getting lost on the back roads from Orlando to check it out."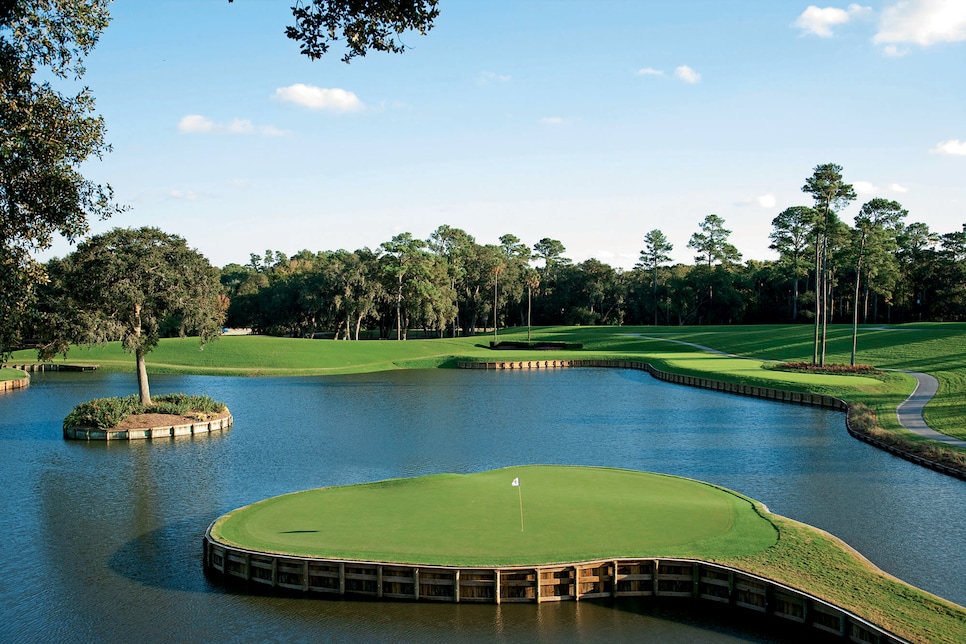 TPC Sawgrass Players
Stadium, Ponte Vedra Beach
by Pete Dye, 1980
▶ "A sentimental favorite of mine, because it was at the center of the universe just as I got to know Mr. Dye and witness firsthand as he matched wits with the tour's best. ... still a torture track that magnifies the differences between tour pros and the rest of us. ... great place to watch a tournament, but playing here when the spectator mounds are empty is a jarring reminder just how artificial the whole environment is."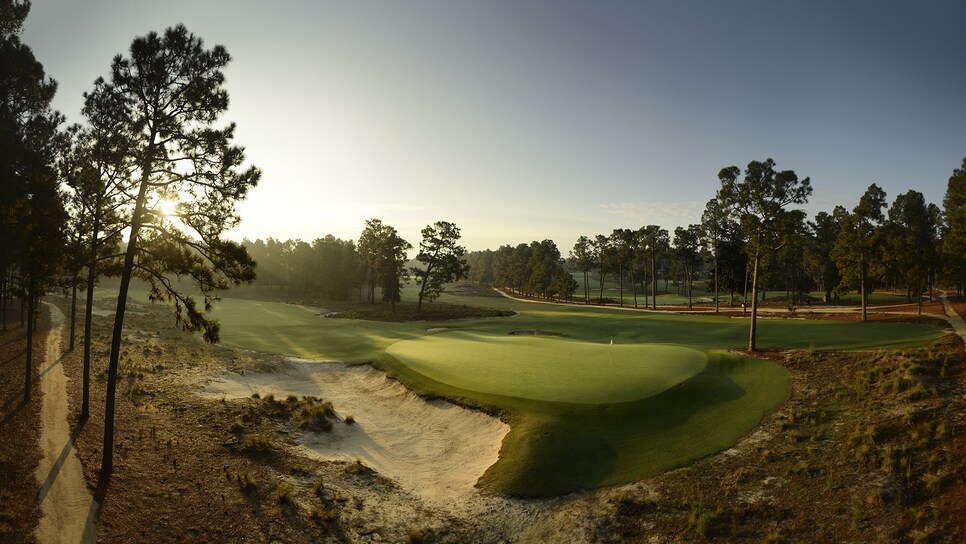 Pinehurst (N.C.) Resort No. 2
by Donald Ross 1907-'48
▶ "The restoration of Pinehurst No. 2 by [Bill] Coore and [Ben] Crenshaw is a welcome relief. Its raised, crowned greens and their surrounding chipping areas are one of a kind. ... The return to pine straw and sand in the roughs, combined with the widening of the fairways, has restored the wonderful strategy of the holes."
Note: The private Cypress Point in Pebble Beach got the only other 10 in Vol. 2.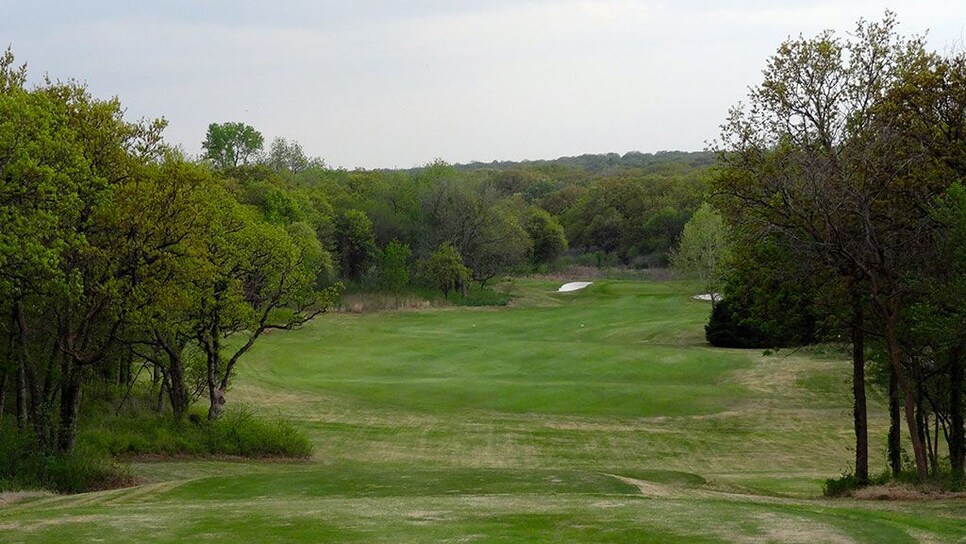 Arizona State University Karsten G. Cse.
Tempe, Ariz.
by Pete and Perry Dye, 1989
▶ "One of the least-attractive settings I've ever come across for golf. ... Surrounded by a huge power substation and high-voltage wires. ... Almost a parody of a Pete Dye layout."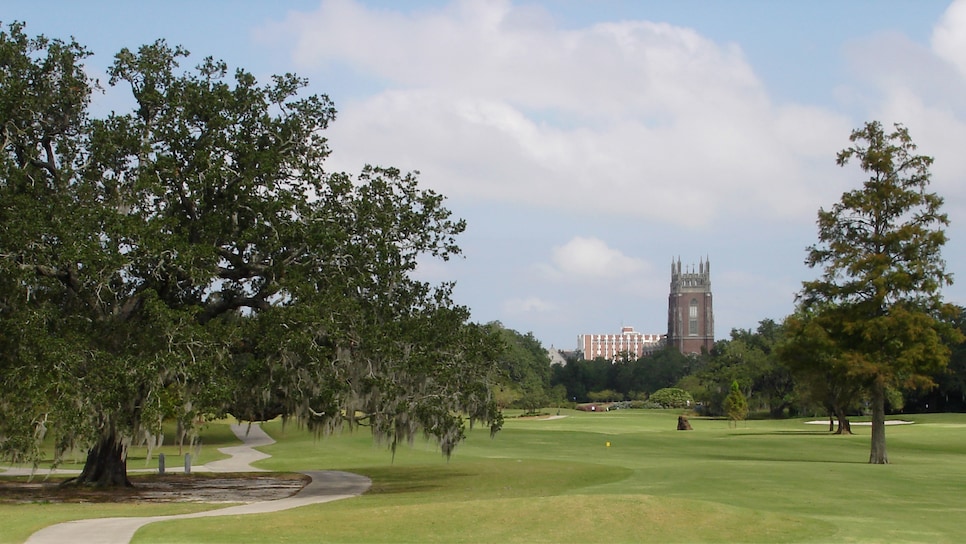 Audubon Park
New Orleans
by Denis Griffiths, 2002
▶ "One of the most refreshing trips I've made in the recent past. ... A beautifully maintained golf course teeming with community life, not only on the fairways but all around the edges. . . . The short yardage [4,200] helps to keep the maintenance budget and the green fee within reason: There are no less than a dozen par-3 holes at Audubon Park, though they will require you to pull nearly every club in your bag. ... Whatever your score, you're likely to leave Audubon Park . . . with a smile on your face. Isn't that really the point?"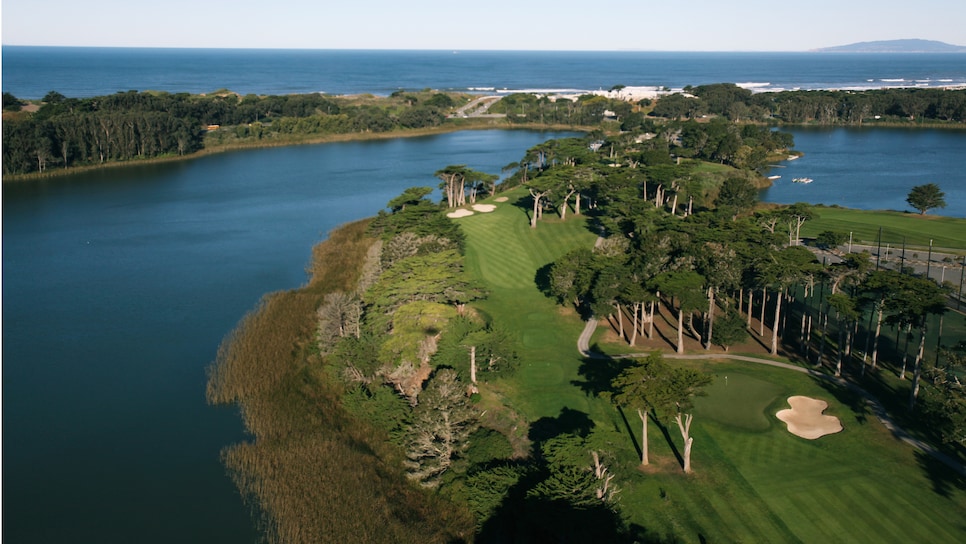 TPC Harding Park
San Francisco
by Willie Watson and Sam Whiting, 1925
▶ "In the last Confidential Guide, I wrote of Harding Park that 'restored, it would easily be the third-best course in the Bay Area,' but the PGA Tour proved me wrong. ... The renovation gives it the look of a bad face-lift, stretched taut to the point of disbelief."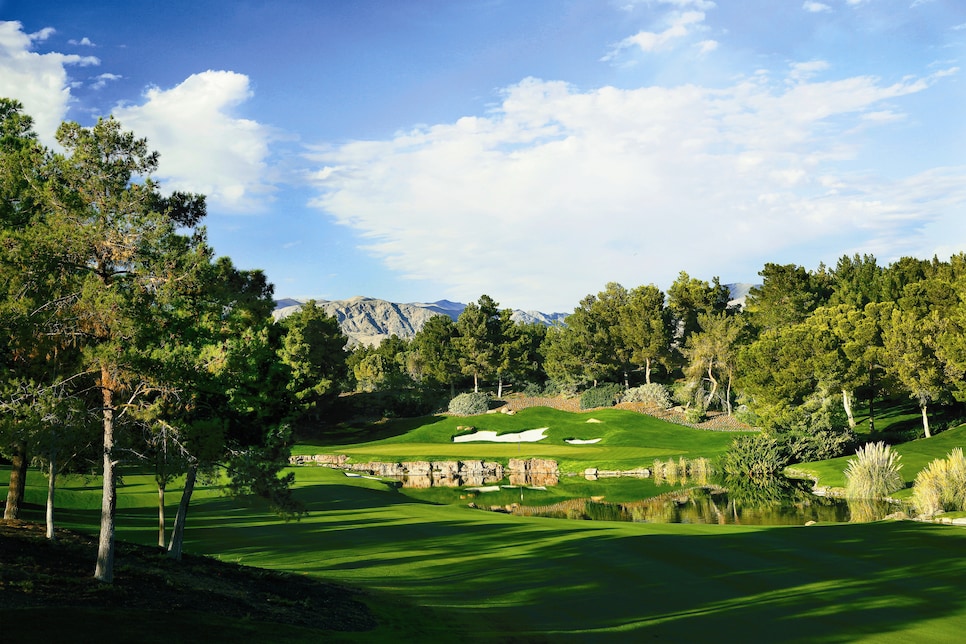 Courtesy of Shadow Creek GC
Shadow Creek
North, Las Vegas, Nev.
by Tom Fazio and Steve Wynn, 1990
▶ "I have nothing but admiration for Shadow Creek, one of the great man-made wonders of the golfing world. ... The variety of landscapes that Fazio managed to create in his four par-3 holes is astonishing. . . . Is any course worth $500 to play? ... Every golfer who can afford it should take the opportunity to see just how much golf course willpower and money can create."
Piñon Hills G. Cse.
Farmington, N.M.
by Ken Dye, 1989
▶ "If $50 is the most you ever want to pay for golf, you'll have a hard time finding a better course, but the truth is that this site should have produced an even better course."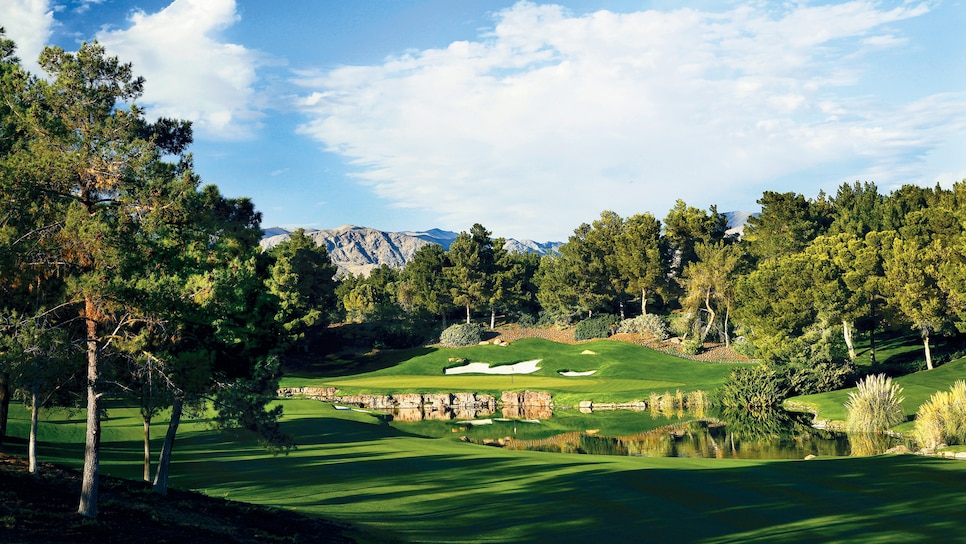 Wolf Creek G.C.
Mesquite, Nev.
by Dennis and John Rider, 2000
▶ "A truly polarizing course. It was voted the No. 1 public course in America in an online survey; the spectacular layout among steep and stark desert hills appeals to those who don't mind losing a sleeve of balls (or three). But it is the sort of golf that makes a traditionalist want to run away screaming. Beyond just being unwalkable, it is the worst experience I've ever had to drive ... like you're chained into a roller coaster."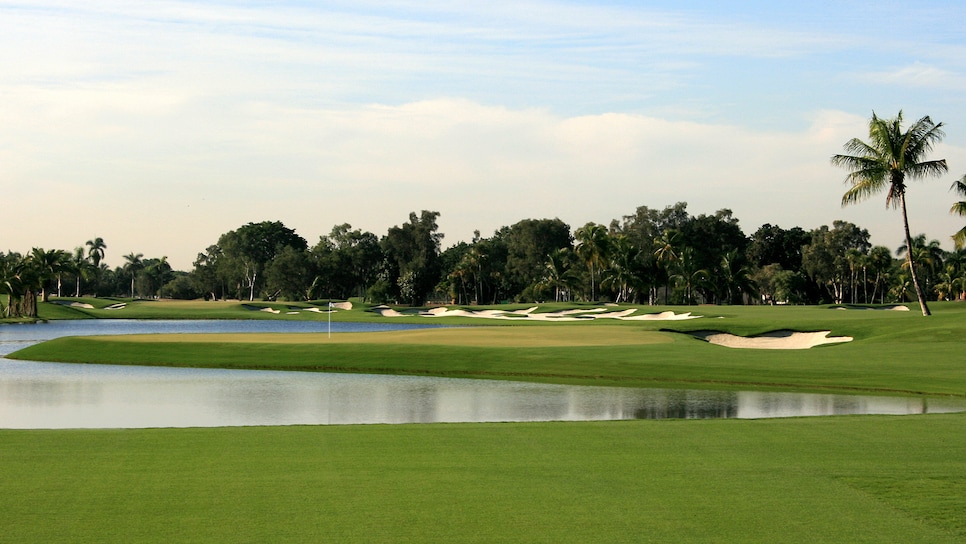 Trump National Doral Blue
Miami
by Dick Wilson, 1960, with modifications by Gil Hanse, 2014
▶ "When a course has as much water as the Blue Monster, the relationship of greens to the water hazards has to dominate the design. Trying to combine the two is fraught with problems. ... Too often at Doral there is a lake right where you'd want to play. ... You can whiz through two sleeves of balls here without hitting horrible shots; the water is that close to the edge of many greens."
Port Royal G. Cse.
Southampton, Bermuda
by Robert Trent Jones, 1970
▶ "It's a pretty long taxi ride when there is only one hole you really want to play: the par-3 16th hanging out over the Atlantic."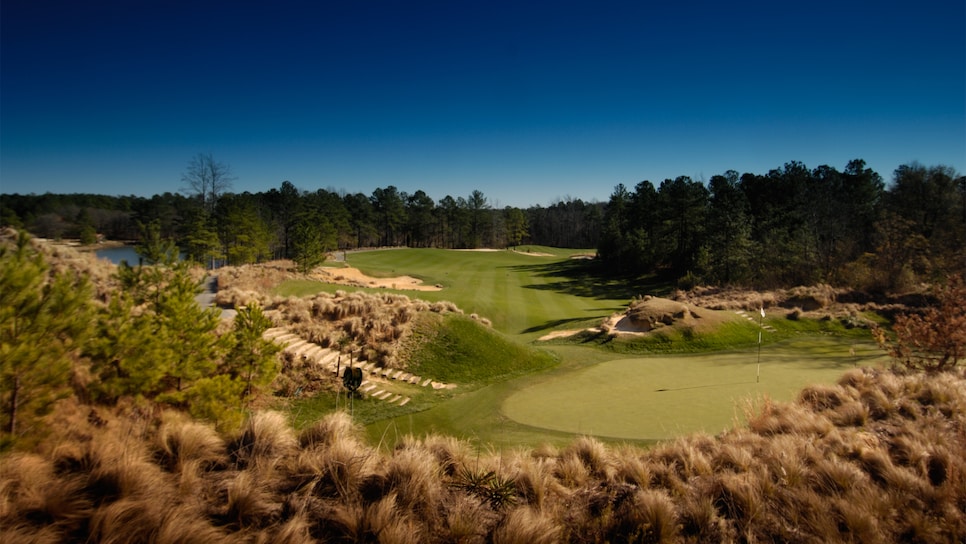 Tobacco Road
Sanford, N.C.
by Mike Strantz, 1998
▶ "One of the more audacious designs of the last few decades. ... The fun thing about Tobacco Road is just how many opportunities you get throughout the round to summon up courage and go for broke. . . . Some of the greens are outrageously shallow or outrageously skinny, but never unattractive."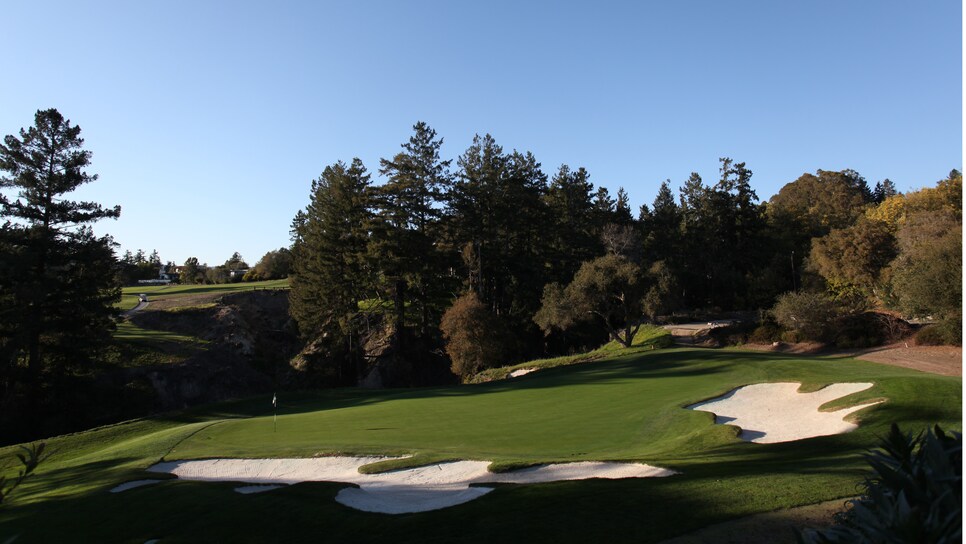 Pasatiempo G.C.
Santa Cruz, Calif.
by Alister MacKenzie, 1929. (Disclaimer: Doak has consulted with renovations.)
▶ "The front nine is good stuff, but a bit too tightly packed with homes. ... The back nine is exceptional. ... No less than five greens have more than five feet of fall from back to front, a product of the steep site and the Doctor's penchant for highly contoured greens."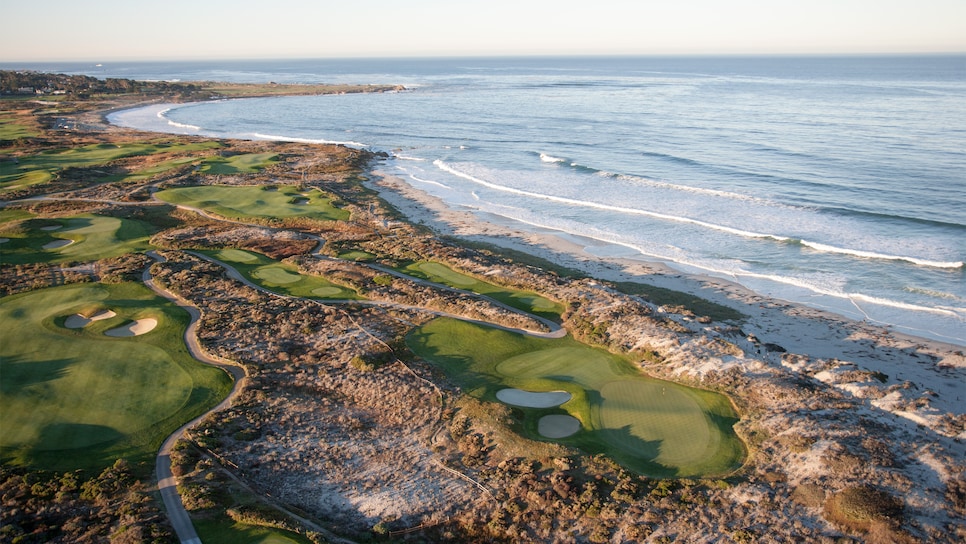 The Links At Spanish Bay
Pebble Beach
by Robert Trent Jones Jr. with Tom Watson and Sandy Tatum, 1987
▶ "I liked Spanish Bay when I first saw it, admiring the transformation of an old mining site and the audacity of the designers to try to simulate links conditions with lots of contouring in the fescue fairways. Unfortunately, The Pebble Beach Company never seemed really on board with getting the playing surface right."
Brackenridge Park G. Cse.
San Antonio
by A.W. Tillinghast, 1916
▶ "Tillie's classic West Texas muny was recently restored by designer John Colligan, who did a very good job of retaining the character."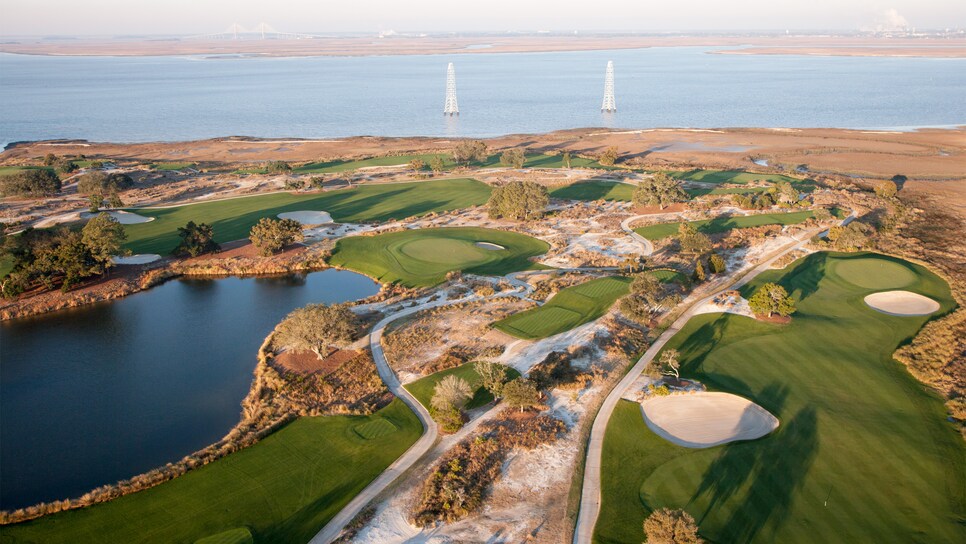 Sea Island C.
Seaside
St. Simons Island, Ga.
from separate nines by Harry S. Colt and Charles Alison, 1929, and Joe Lee, 1973; renovated by Tom Fazio, 1999
▶ "The original Seaside Nine was created by dredging and filling the tidal marshes . . . exactly the sort of big idea Tom Fazio would build today . . . so it's only fitting that it was Fazio who updated the course. ... A fine flagship for the five-star Lodge at Sea Island and its grandmother, The Cloister."
Sea Island (Ga.) C.
Plantation
St. Simons Island, Ga.
from separate nines by Walter Travis, 1927, and Dick Wilson, 1960; renovated by Rees Jones, 1998
▶ "In contrast to the Seaside Course, Plantation is confined to a much-less-dramatic site among the oaks and lagoons. ... With all its greens built on five-foot fill pads and flanked by deep bunkers on both sides, it must be torture for poor sand players."
Sand Hollow
Hurricane, Utah
by John Fought and Andy Staples, 2008
▶ "It's unusual for me to fall in love with a course at first sight, and difficult to write at length about a course I've only visited once, but it wasn't hard to be smitten with golf here. ... The red rocks and cliffs of southern Utah are a great setting."
Rustic Canyon G.C.
Moorpark, Calif.
by Gil Hanse, Geoff Shackelford and Jim Wagner, 2002
▶ "An unassuming but high-quality layout with a true minimalistic approach to design. ... The merits of the low-profile architecture might elude the bling-driven L.A. crowd, but to our eyes the course rests wonderfully on the secluded canyon's valley floor."
Hot Springs (Ark.) C.C.
Arlington
by Bill Diddel, 1932
▶ "This is my kind of course: a wild and woolly routing over a tight property. Coore and Crenshaw's rebunkering is beautifully modest, but it's Bill Diddel's greens that steal the show."
Kiawah Island (S.C.)
Ocean
by Pete Dye, 1991
▶ "Never quite feels like a links; all but a couple of the greens are slightly elevated, and there is an awful lot of water in play for such a windy locale."
PGA West Resort
TPC Stadium
La Quinta, Calif.
by Pete Dye, 1986
▶ "My dislike for the course is that it doesn't seem to be very original, because Mr. Dye was trying to achieve the same ideals here that he established for the TPC at Sawgrass. ... Strong ideals and big budgets produce similar results, and that's the problem with many modern designs."
Royal Isabela G. Links
Isabela, Puerto Rico
by David Pfaff, 2008
▶ "Full of the sort of random and severe features you'd expect from an unheralded architect who spent years building courses for Pete Dye. ... A lot of awesome sprinkled about."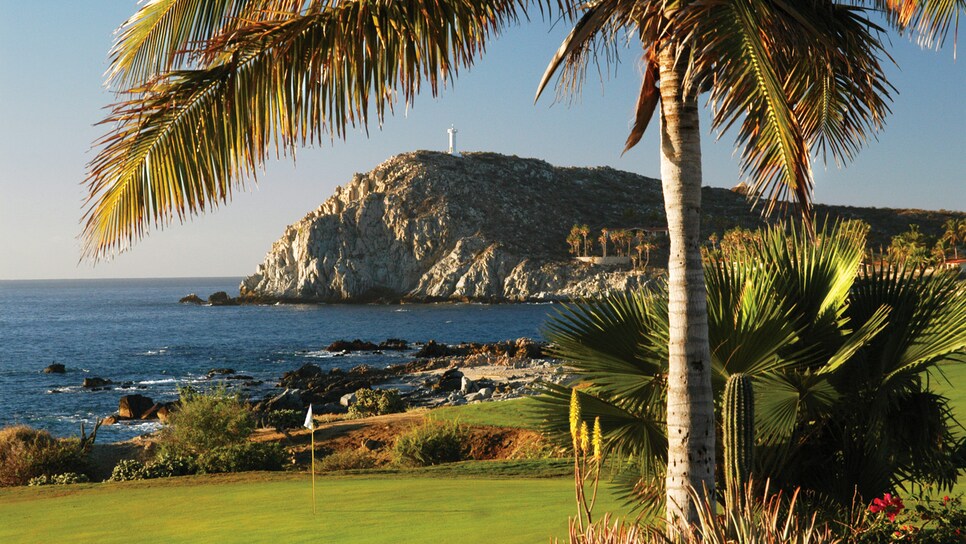 Cabo del Sol G.C. Ocean
Cabo San Lucas, Mexico
by Jack Nicklaus, 1994
▶ "Jack's Ocean Course might be my favorite of any he's built. The juxtaposition of large cacti against the brilliant blue sea is a delightful rarity for most golfers. ... Hole by hole, it kicks butt against many more famous layouts."
The Confidential Guide to Golf Courses: The Americas (Winter Destinations) is available for $65 plus postage at renaissancegolf.com