The Loop
A confident Tiger Woods isn't looking for moral victories in his return to competitive golf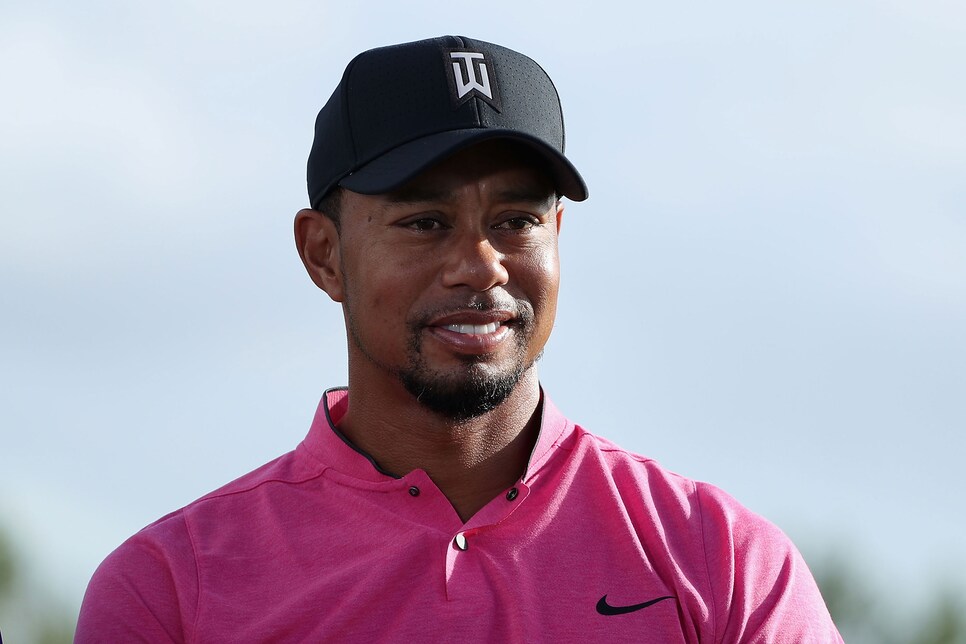 NEW PROVIDENCE, Bahamas — There was optimism and enthusiasm from Tiger Woods on Tuesday at the Hero World Challenge. He had reason to smile. "It's a lot better situation this year than last," he said. "It's nice being back out here."
A year ago, Woods, hobbled by two back surgeries in the span of two months and three procedures overall since early 2014, said he struggled to walk and wasn't sure when—of if—he'd ever play again. The vibe at the press conference in advance of his annual tournament ranged from dire to depressing as he watched from outside the ropes, as he feared he might not play again, noting that any more accomplishments in his career would be "gravy."
This time, the mood was decidedly different.
Fifteen months since his last competitive round, Woods is back. He will tee it up Thursday at noon ET alongside Patrick Reed in the opening round of the 18-man event at Albany.
"It was a tough, tough time," Woods said of the longest break of his career. "I [couldn't] even get out of bed, how am I supposed to swing a club at 120 miles an hour? That's just two different worlds."
Looking for another notable sign that Woods is excited about his return? When asked about expectations, the 14-time major champion didn't couch anything in terms of moral victories, but rather real ones.
"I'm going to try to do the same thing I always do," Woods said. "I'm entered in an event, I'm going to try to win this thing.
"I know that's a tall order," he added, "since I've been away from the game for so long and I've made a lot of different changes in my game. But the mindset's still the same. And whether physically and also equipment, practice schedules, training, all that has evolved, the mindset of competing hasn't."
Woods had originally hoped to be back in October at the PGA Tour's Safeway Open, then playing the following month in a European Tour event in Turkey. He never made either start. Despite committing to the Safeway on the Friday before tournament week, Woods withdrew from the event the following Monday, saying his game wasn't ready.
What's the difference between then and now? An extra two months, for one. The Ryder Cup two weeks prior to Safeway had energized Woods, but also forced him to miss a week of practice that proved to big a setback. Woods said that the added time allowed him to get stronger and practice and play on consecutive days.
"I knew that I could play Safeway with [only] a few shots, and I've played with less and I've won golf tournaments hitting with less shots, but I had to have everything come together," Woods said, adding that he was also unfamiliar with the changes made to Silverado, a course he hadn't played since his days in college at nearby Stanford. "As hard as it was on me to take it off and pull out of the event, it was a smart thing to do even though as a competitive athlete it killed me inside.
"But if I've waited at the time, what, 13 months, what's another couple more months? So let's be a little patient, a little easier on myself, a little smarter and let's come back when things are a little more together."
Through a few practice rounds and a couple of range sessions this week, things do look, as Woods said, together—for the most part. Though his short game wasn't sharp in a casual nine holes on Monday, he hit a handful of long drives and crisp iron shots playing alongside Justin Rose, Derek Jeter and Tino Martinez. He was also pain free.
What concerns Woods the most, he said, is trying to get a feel for distance.
"I haven't had adrenaline in my system in a while and having that surge of adrenaline through my system, how much further is this ball going to be going?" he said. "I'm concerned about that, what my body's going to be feeling, the energy, the surge of adrenaline going through my system."
It's a much different concern, and feeling, than 12 months ago.
"I've got all the clubs that I've tested and I feel pretty confident with," Woods said. "As of right now I'm ready to go."