The Loop
A composed McIlroy ready to write a new Masters story
AUGUSTA, Ga. -- There were three bursts of loud and prolonged laughter, one the result of his cell phone going off in his pocket. At least as often, broad smiles broke out around the room. Many times more than that, every head in the place was nodding. And at the end, everyone left happy, even the normally hard-hearted, stony-faced and mean-minded members of Augusta National for whom the carrying of what Rory McIlroy called "my mobile" typically merits a punishment only just short of death.
Of course, mass meetings between McIlroy and media are invariably lighthearted, interesting and informative. Even this one, two days before he tees it up in his fourth Masters and the climax of a two-week period where the final round he played 12 months ago has been the focus of attention around the golfing world, produced a reassuring display of mutual respect between player and press.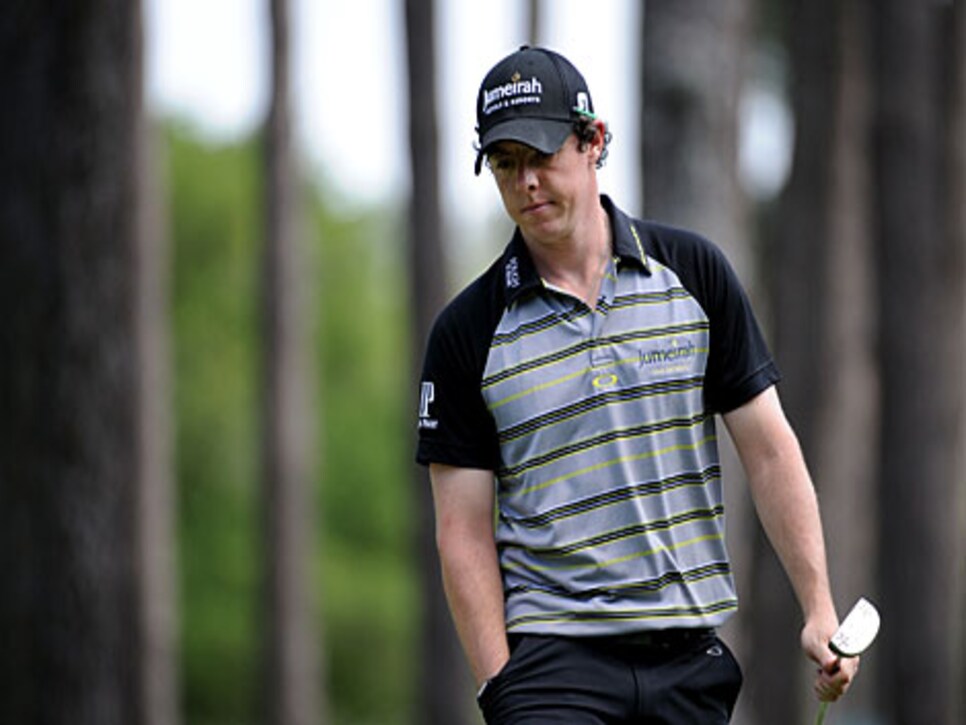 Photo by Harry How/Getty Images
Not that he had anything too startling to say, really. There were a few requisite questions on that closing 80 from a year ago: "I knew my chance to win was over by the 13th. So I had five holes to think about it. And I had a laugh with (caddie) J.P. (Fitzgerald) walking off the 18th green."
The eternal subject of Tiger Woods came up once or twice: "It's great for the game that Tiger is back playing well. He creates excitement that no one else can."
And, as per usual, those in the room who think themselves the more "thoughtful" members of the Fourth Estate delved at least superficially into the McIlroy psyche. To be fair, those questions did elicit an above-average response from the young Ulsterman. At the start of his professional career, McIlroy promised he would always be "honest and as open as I can" with the media; he has yet to let us down on that score.
"Last year I was trying to be too focused, too perfect," he revealed. "I'm more relaxed this time. I sort of have a bounce in my step and sort of a 'head-up' attitude looking round at other people. Last year I was always looking at the ground. I was very insular. My shoulders were hunched over. Instead of embracing the situation and saying, 'I've got a four-shot lead at the Masters, let's enjoy this,' I didn't let the outside world in."
Such maturity in the face of interrogation on a subject he would surely rather forget is, of course, a lesson for all professionals. One can think of at least one other prominent figure who could learn a thing or two from this likeable and well brought-up young man. (Hint: tends to wear red shirts on Sundays.)
Perhaps surprisingly given the depth of his despair and the sudden woefulness of his performance during that fateful final round last year, there have actually been many positives for the U.S. Open champion to draw on.
"I learned a lot," he insisted. "But the biggest thing was that, as a person and as a golfer, I wasn't ready to win the Masters, wasn't ready to win a major. I really needed to think about what I needed to do to improve mentally and in certain aspects of my game. And I felt like I have done that."
An important part of that puzzle was the extent of the encouragement McIlroy has received in the wake of such a traumatic experience at a time when he was unsure about his prospects of ever winning a major championship. Most notably on that front was a call from former world No. 1 Greg Norman, a man who knows a thing or two about failure at Augusta National.
"Greg called me just to talk about what had happened," said McIlroy. "It was great coming from him. He had been in the same sort of position more than once, in 1996 and 1986. I mean 1987 -- sorry I wasn't born. I'm sure he knew how I felt. And he was helpful too, giving me a couple of things I have found very useful since, especially in weeks like this where there's so much hype and so much build-up.
"I've said this before, but the key is to build a bubble around yourself and not let anyone from the outside interfere with you. That has been big for me. It really was great to get that call because Greg knew more than anyone else how I was feeling at that point."
So he sounds ready. The only question now is whether he is able.