The Loop
A cold putter once again dooms Dustin Johnson at a major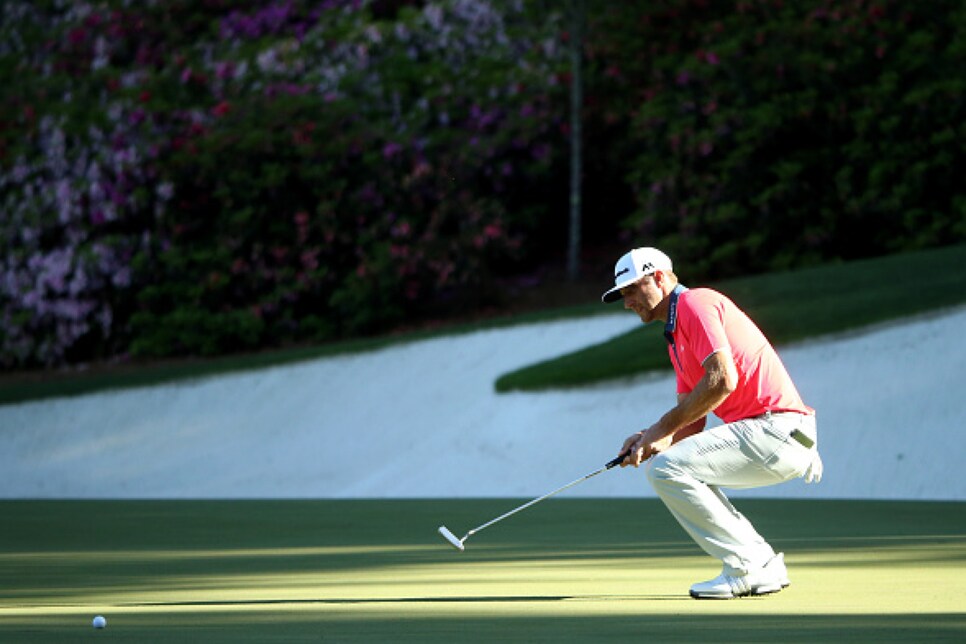 AUGUSTA, Ga. -- It wasn't as shocking as the three-jack on the 72nd hole at Chambers Bay during last year's U.S. Open, but once again, it was the putter that let Dustin Johnson down as he tried to track down his first major championship.
Johnson had eight putts from inside 20 feet for either birdie or eagle, with six of them 13 feet or closer that failed to find the hole. Among the crucial misses were a 13-footer on 13 and a 20-footer on 15, both for eagle that could have put pressure on Danny Willett. As it was, Johnson never got closer than two stokes. A 15-footer that didn't fall on 16 essentially ended his chances. When asked if there was any putt he would like to have back, Johnson, who finished T-4 after a final-round 71, simply replied, "All of them that didn't go in."
Not that Johnson can't putt. He came into the Masters ranked 19th in strokes gained/putting and from five-to-15 feet -- where seven of his misses occurred -- he connects on 47.5 percent, slightly better than the tour average from that distance. Last year at the Masters Johnson spoke of things that were missing in his life and in his game. He said his career had been, "good, but not great"-- a not-so-hidden reference to the lack of a major championship on his dossier.
That is likely to change eventually. His power game again proved to be a good match for Augusta National, as he led the field in driving distance. However, it was his second shot on 15 Sunday that served as the epitome of his talent. With 219 yards to the hole, Johnson was in need of an eagle, but blocked out after his tee ball went long and slightly left on the par 5. With an opening he said was, "about as big around as a baseball," Johnson rifled a 6-iron onto the green. "It might have been one of the better shots I've ever hit," he said.
That's because despite everything else, one thing Johnson has in large supply is resiliency. After his meltdown at Pebble Beach during the 2010 U.S. Open it was thought he was scarred, only to contend two months later at the PGA at Whistling Straits. When the grounded-club incident occurred, many felt that was the dagger, yet he came back the following year and contended in the Open Championship. Since the 2009 PGA, Johnson has 11 top-10 finishes in majors. In short, Johnson has shown a propensity to rebound.
His words after Sunday's round at the Masters seemed to indicate that will continue to be the case. "I think my game's exactly where it needs to be," he said. "I feel like I have control of my game. I'm looking forward to the year for sure. … I'm doing all the right things."
Except for making a few more putts.