The Loop
A century later, remembering Johnny McDermott's rapid rise and fall
BETHESDA, Md. -- Plenty of young, talented American golfers are in the field at the 111th U.S. Open at Congressional CC, but many of them probably haven't even heard of Johnny McDermott. As with what happened to McDermott not long after he became the first American-born golfer to win the U.S. Open, that is a shame.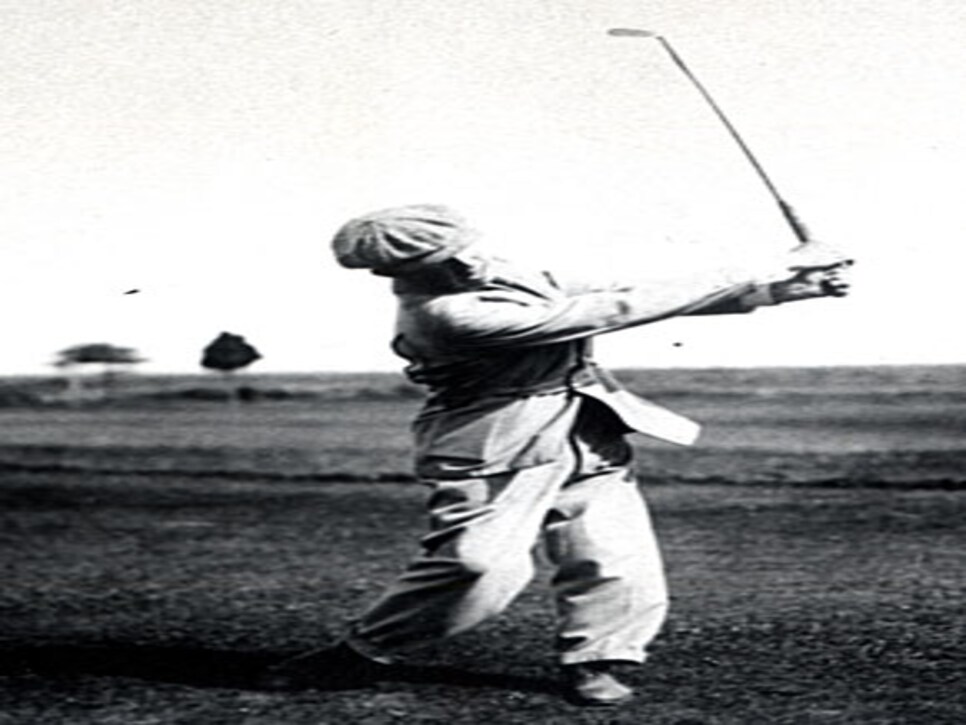 Before Francis Ouimet, Walter Hagen or Gene Sarazen, McDermott was a golf titan, a former caddie from Philadelphia who got good enough to stop 16 years of British domination in the national championship of the sport they brought across the Atlantic.
This is the centennial anniversary of McDermott's landmark U.S. Open victory in 1911 at Chicago GC, where he defeated George Simpson and Mike Brady in an 18-hole playoff. Although it was widely misreported that McDermott was 21 at the time of his historic triumph, in fact he was only 19 years, 10 months and 14 days old. A century later, he remains the youngest man to win the U.S. Open, American golf's original boy wonder.
The son of a mailman, McDermott stood only 5-foot-8 and 130 pounds but was golf-strong from hours of practice honing his wristy swing, an action A.W. Tillinghast likened to "a man flicking a fly from a horse's back." To learn to stay down through the shot, McDermott, one reporter said, "would station a caddie somewhere on the course, get his exact location fixed in his mind and then spill a peck of balls on the fairway, playing each one toward the caddie without raising his head."
His hard-earned ball-striking -- British star Ted Ray said McDermott controlled the distance of his shots with "such damned irritating consistency" - was perhaps exceeded by his confidence and single-minded determination. "Golf was McDermott's life," James Finegan wrote in A Centennial Tribute to Golf in Philadelphia. "He rarely drank, and though an excellent 'buck and wing'  dancer, he seldom dated. There is sketchy evidence that he was once engaged to a girl in Boston, but nothing came of it and he never married."
McDermott's focus showed in 1912 when he successfully defended his Open title at the CC of Buffalo, solidifying his status in the game and allowing him to earn big bucks in exhibitions. At Atlantic City CC, where he was the professional, McDermott made mashies like the one he used so well and brassies with ivory inserts. In 1913 he dominated at the Shawnee Open, which preceded the U.S. Open at The Country Club, beating Alex Smith by eight shots and routing British aces Harry Vardon and Ray by 13 and 14 strokes, respectively.
The young American was bold in victory, boasting about his big win over the Brits. He claimed his remarks were taken out of context, but they created a furor that had the USGA thinking about keeping him out of the Open. McDermott apologized publicly and was allowed to play but finished T-9 as Ouimet, the local 20-year-old amateur, captivated many with his playoff victory over Vardon and Ray.
While Ouimet was cast as the new American golf hero, McDermott began a slide into oblivion. The first inkling that something was seriously amiss with McDermott came from Atlantic City in early November 1913 not long after Ouimet's win. Whether it was a fallout from the Shawnee incident or not, Vardon and Ray had just canceled a planned exhibition with McDermott at his home club. McDermott became ill, suffering what the papers called a nervous breakdown.
"He grew worse and late last night hurry phone calls were made for several local physicians," one newspaper wrote. "His condition became precarious and upon advice of the attending doctors the former national champion was removed to the Quaker City for the most careful attention."
Another paper was more blunt. "The finest golfing machine ever developed in the country," it said, "has gone to smash."
After getting some rest, the man some of his rivals called "Chief" returned to competition in 1914, but he wasn't the same willful golfer.  He had a harrowing experience on his voyage back from Great Britain when his passenger ship was struck by a freighter. He had major financial setbacks, and there was the residual unease from his comments at Shawnee. "Friends of the former Open champion," a reporter wrote, "have been troubled about him for a long time."
In late November 1914 he resigned from his job at Atlantic City and went home to Philadelphia. Stays in mental hospitals followed. On June 23, 1916, just 24, McDermott was committed to the State Hospital for the Insane in Norristown, Pa. He was diagnosed with chronic schizophrenia, a mental illness that often strikes young adults and had just gotten its name the year McDermott won his first Open.
McDermott would spend the rest of his life in and out of mental institutions. He played a couple of tournaments in the mid-1920s and was able to play recreational golf the rest of his life until he died in 1971, shortly before his 80th birthday. Although his condition improved as he got older, McDermott often was confused, unaware of what year it was, unsure about his grand golf achievements, so brilliant and brief.
"There isn't any question," Grantland Rice wrote in 1916, "but that McDermott would have been to American golf what Vardon is to British play if John J. had not been forced out through fate just at the moment when he was coming upon the uplands of his career."
*(Photo by Golf Digest Resource Center)