The Loop
A shortened career didn't stop Sarah LeBrun Ingram from becoming a pioneer in Mid-Am golf
As the U.S. Women's Mid-Amateur Championship wraps up today in Pennsylvania, it's a special day for one of the premier women's amateur events, which celebrates its 30th playing. In that time, like many leading golf tournaments, it has seen its own Nicklaus-type dominators. Its first was Sarah LeBrun Ingram.
Twenty-two years ago to the day, Ingram, already a two-time Mid-Am winner, became the first woman to win consecutive Mid-Ams when she defeated Marla Jemsek, 2 and 1, in the final at Tacoma (Wash.) Country & Golf Club. At just 28, Ingram had won three times in four years and was poised to set records in the event that would have been hard to beat. She had already become the youngest winner in 1991 at age 25 years 3 months 26 days (Lauren Greenlief broke the record last year at nearly the youngest you can be: 25 years 0 months 25 days).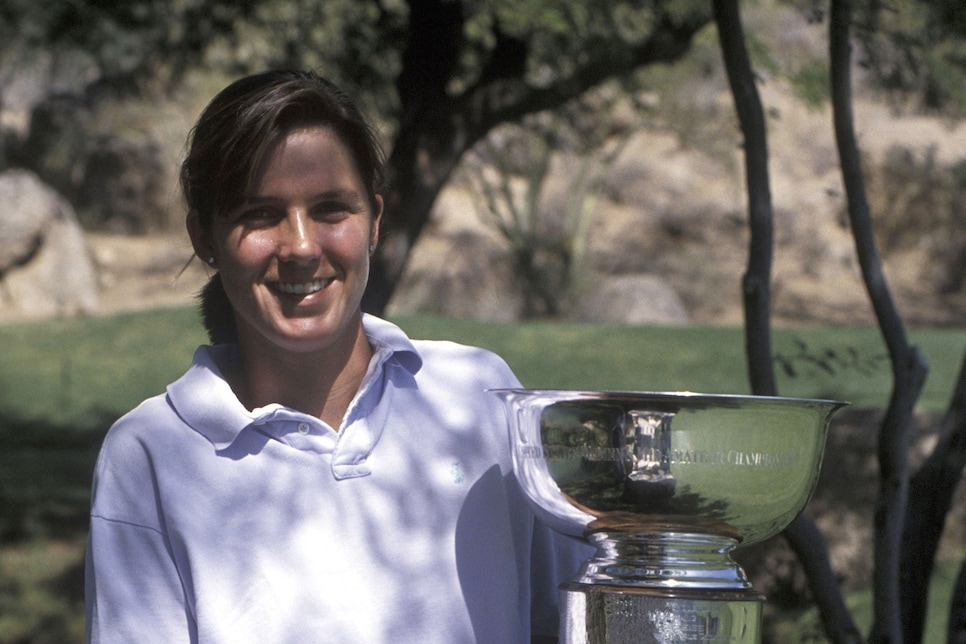 But Ingram, an All-American at Duke who played in the 1992, 1994 and 1996 Curtis Cups, developed rheumatoid arthritis at age 30. The ailment, along with the desire to raise a family and stay clear of the pro-golf lifestyle, kept her from playing elite competitive golf afterward.
Raised in Owings Mills, Md., Ingram, now 50, has lived in Nashville since her marriage in 1989. Despite not continuing a stellar golf career, the former Golf Digest No. 1-ranked women's amateur is not short on an incredible stack of titles: 1986 and 1987 Maryland State Women's Amateur, 1990 Canadian Women's Amateur, 1991 Tennessee Women's State Amateur and Western Amateur, 1992 Broadmoor, 1993 and 1994 Women's Southern Amateur, and she joined Wendy Ward and Carol Semple Thompson to win the 1994 Women's World Amateur Team Championship in France. She was also 1993 U.S. Women's Amateur runner-up and the low amateur in the 1995 U.S. Women's Open when she was seven months pregnant. Ingram has been inducted into the Tennessee Golf Hall of Fame and Tennessee State Sports Hall of Fame.
As for the U.S. Women's Mid-Amateur, Ingram winning her third title in 1994 set the standard for several years until Ellen Port in 2011 and Meghan (Bolger) Stasi in 2012 moved ahead with their fourth each. Ingram, Port and Stasi are the only three players to win consecutive titles, and Ingram's 6-and-5 victory in 1991 over Martha Lang is tied for the largest margin of victory in the final.
As the event concludes at The Kahkwa Club in Erie, Port and Stasi will remain tied with four titles after Stasi's loss in the quarterfinals Wednesday. And Margaret Shirley-Starosto's attempt to become the fifth person to make four straight finals in any USGA championship (she won in 2014) was also ended in the quarters. Finalist Julia Potter, however, can become the fifth player to win multiple U.S. Women's Mid-Amateur titles should she prevail over Shannon Johnson.