The Loop
A bogey-free round by Woods reveals progress
SYDNEY, Australia --The guy holding the sign that blared, "Tiger Woods -- the greatest golfer to walk on the planet!" was quick to make his feelings known.
"Hey Adam," he yelled from his vantage point maybe 70 yards ahead and to the right of the first tee at The Lakes, venue for this star-studded Australian Open. "Put a muzzle on that sheep of yours!"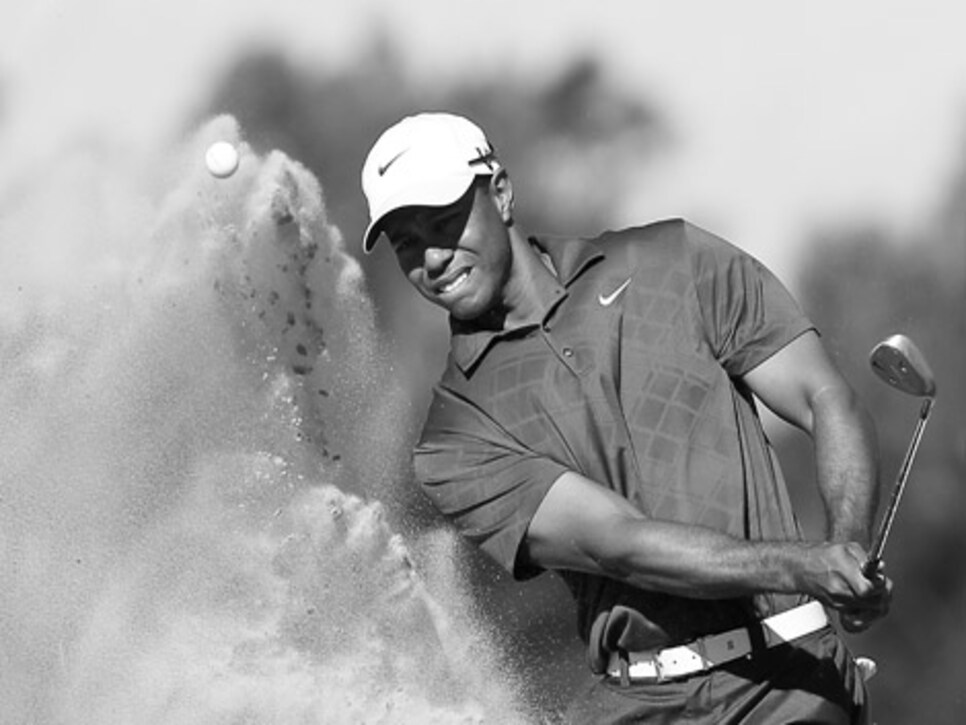 *The bogey-free round by Woods was his first since last February. Photo by Getty Images.
The ruminant mammal in question, of course, was Adam Scott's foot-in-mouth caddie, the despicable Steve Williams. Three months ago, the apparently delusional New Zealander claimed to have won "150 tournaments" and, just last week, referred to his former employer, the aforementioned Woods, as "that black (expletive)." And let's not forget the "Phil Mickelson is a prick" episode from a couple of years back. He's a beauty is Stevie, as they say in these parts.
Anyway, one group and ten minutes later, "Sign Man" didn't have much to offer as his hero walked by after striping a 3-wood tee-shot 25 yards right of the water that skirts the left side of the opening fairway. "Welcome to Australia Tiger," was the best our clearly overawed (half)wit could muster.
In truth, what followed from the world number 58 was a bit livelier. There was some good stuff -- the pitch to the first green was a thing of controlled beauty -- as well as some of the ugliness we have come to expect over the last few months. The pulled tee-shot off the third tee was enough to provoke an "oh Tiger" for the benefit of all spectators, closely followed by a few muttered four-letter expletives for those within his close proximity.
What there wasn't, on the front-nine, was a dropped shot. Woods' only deviation from strict par came at the long eighth, where he two-putted from 60 feet or so for birdie. Hang on though. Those bare statistics do not do justice to either player or hole -- or the recently re-vamped Lakes course for that matter. From the tee, Woods hit a badly pulled his 3-wood onto the adjacent and parallel second fairway. From there, he had virtually no chance of getting close to the pin with his approach, even though he was free to hit a 2-iron from a clean lie. There was no chipping out, as would have been the case on those point-missing
courses where rough and/or trees mete out their tedious sanctions.
Instead, Woods' punishment was subtle rather than penal. While he had virtually no chance of emulating the albatross two recorded by Scott a few minutes before, for Tiger the most exciting aspect of top-level golf -- the potentially sensational recovery shot -- was still possible, albeit unlikely.
It was, for the connoisseur aware of what was occurring, a moment for rejoicing. And to celebrate the spirit of Alister Mackenzie, whose design philosophy was that width is a necessary aspect of any course wishing to inspire rather than deflate. Witness two of Mackenzie's most famous creations: Augusta National and Royal Melbourne. And his favorite: the Old Course at St. Andrews. And who was the man who won on all three during his career? Seve Ballesteros, perhaps the most creative and exciting golfer of all-time.
But we digress. Possibly inspired by the fun he had on the eighth, Woods conjured up a magical flop/pitch to the short ninth to save par, then made three birdies in the next four holes. It would have been four in five but for three-putts for par on the long fourteenth. No matter. Suddenly, the badly pulled four-footer he had spilled on the sixth green was but a distant memory.
In passing, mention must be made of the time Woods took in preparation for what was surely one of the most disturbing strokes of his career. Over the ball for seemingly an eternity, the 14-time major champion perpetrated the pull to end all pulls, missing the hole by at least an inch on the left side. He is not yet the player who dominated the game so completely a decade ago.
Still, it would be wrong to be too harsh in assessing what turned out to be a bogey-free, four-under-par 68. Certainly, Woods was making some justifiably positive noises when all was over.
"I was pleased with the way I hit the ball," he said. "That's how I've been playing at home so it was nice to take it to the course at last. I stayed patient in the (increasingly blustery) conditions too. It would have been easy to get frustrated on the front nine. I only hit one really bad shot, the tee-shot at the ninth but made a great up-and-down to save par. That was important, as I knew there were three par-5s and a drivable par-4 coming home. It wasn't easy out there."
Not easy, but better. Definitely better.