Europe vs. United States
Ryder Cup tale of the tape: Comparing the European and American squads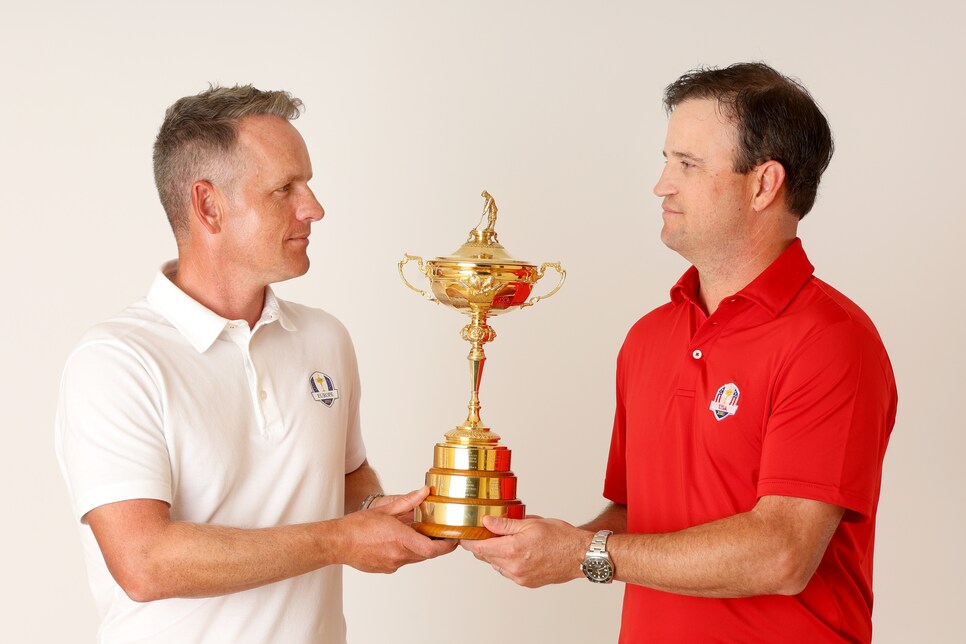 European Ryder Cup captain Luke Donald made his six captain's picks on Monday to solidify his squad that will join U.S. captain Zach Johnson's American team in Rome later this month. The 44th playing of the matches will be Sept. 29-Oct. 1 at Marco Simone Golf and Country Club.
Donald added Ludvig Aberg, Tommy Fleetwood, Nicolai Højgaard, Shane Lowry, Justin Rose and Sepp Straka to the six who had already automatically qualified—Rory McIlroy, Jon Rahm, Robert MacIntyre, Viktor Hovland, Tyrrell Hatton and Matt Fitzpatrick.
For the U.S. squad, Johnson selected Sam Burns, Rickie Fowler, Brooks Koepka, Collin Morikawa, Jordan Spieth and Justin Thomas as his captain's picks last week after the Tour Championship. Scottie Scheffler, Patrick Cantlay, Max Homa, Xander Schauffele, Brian Harman and Wyndham Clark were automatic qualifiers.
So, with the 24-men now finalized, we thought we'd dig into some of the numbers and, in boxing terms, come up with a tale of the tape, comparing both squads. Keep in mind that the U.S. is the defending champions and has won two of the last three Ryder Cups, but Europe has won seven of the last 10. The U.S. hasn't won in Europe in 30 years.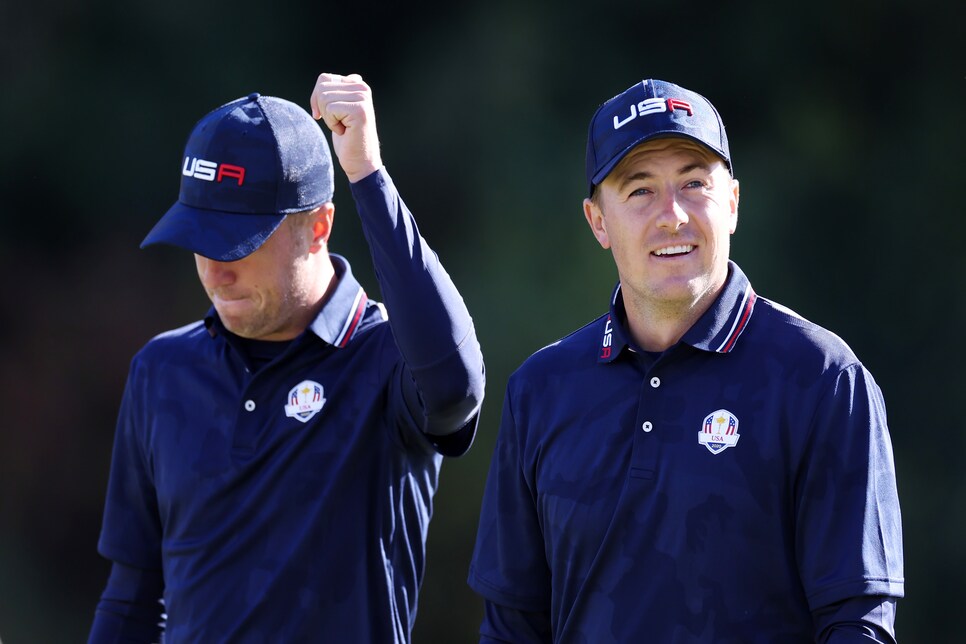 Sam Burns
Age: 27
World Rank: 20
Ryder Cup Record: Rookie
Patrick Cantlay
Age: 31
World Rank: 5
Ryder Cup Record: 3-0-1 (one appearance)
Wyndham Clark
Age: 29
World Rank: 10
Ryder Cup Record: rookie
Rickie Fowler
Age: 34
World Rank: 26
Ryder Cup Record: 3-7-5 (four appearances)
Brian Harman
Age: 36
World Rank: 9
Ryder Cup Record: rookie
Max Homa
Age: 32
World Rank: 7
Ryder Cup Record: rookie
Brooks Koepka
Age: 33
World Rank: 15
Ryder Cup Record: 6-5-1 (three appearances)
Collin Morikawa
Age: 26
World Rank: 19
Ryder Cup Record: 3-0-1 (one appearance)
Xander Schauffele
Age: 29
World Rank: 6
Ryder Cup Record: 3-1-0 (one appearance)
Scottie Scheffler
Age: 27
World Rank: 1
Ryder Cup Record: 2-0-1 (one appearance)
Jordan Spieth
Age: 30
World Rank: 12
Ryder Cup Record: 8-7-3 (four appearances)
Justin Thomas
Age: 30
World Rank: 25
Ryder Cup Record: 6-2-1 (two appearances)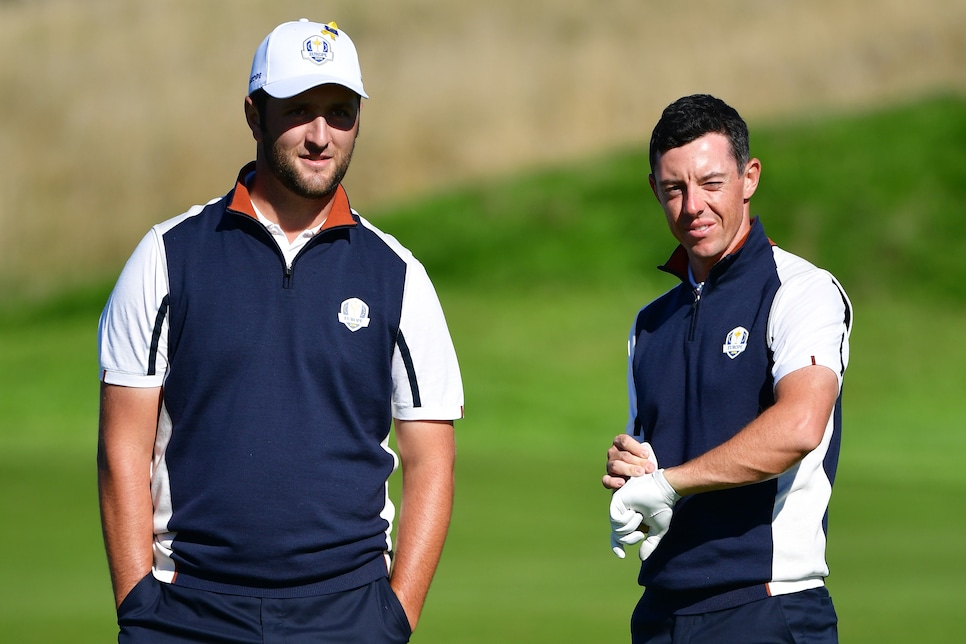 Ludvig Aberg
Age: 23
World Rank: 90
Ryder Cup Record: rookie
Matt Fitzpatrick
Age: 29
World Rank: 8
Ryder Cup Record: 0-5-0 (two appearances)
Tommy Fleetwood
Age: 32
World Rank: 14
Ryder Cup Record: 4-2-2 (two appearances)
Tyrrell Hatton
Age: 31
World Rank: 13
Ryder Cup Record: 2-4-1 (two appearances)
Nicolai Højgaard
Age: 22
World Rank: 78
Ryder Cup Record: rookie
Viktor Hovland
Age: 25
World Rank: 4
Ryder Cup Record: 0-3-2 (one appearance)
Shane Lowry
Age: 36
World Rank: 37
Ryder Cup Record: 1-2-0 (one appearance)
Robert MacIntyre
Age: 27
World Rank: 54
Ryder Cup Record: rookie
Rory McIlroy
Age: 34
World Rank: 2
Ryder Cup Record: 12-12-4 (six appearances)
Jon Rahm
Age: 28
World Rank: 3
Ryder Cup Record: 4-3-1 (two appearances)
Justin Rose
Age: 43
World Rank: 34
Ryder Cup Record: 13-8-2 (five appearances)
Sepp Straka
Age: 30
World Rank: 23
Ryder Cup Record: rookie
United States
Average Age: 30.33
Average World Rank: 12.916
Total Ryder Cups Played: 17
Combined Ryder Cup Record: 34-22-13
Majors Won: 15
Europe
Average Age: 30
Average World Rank: 30
Total Ryder Cups Played: 21
Combined Ryder Cup Record: 36-39-12
Majors Won: 9