Presidents Cup
Presidents Cup 2022: Sebastian Munoz has a wild new approach to mental toughness: ice-bath plunges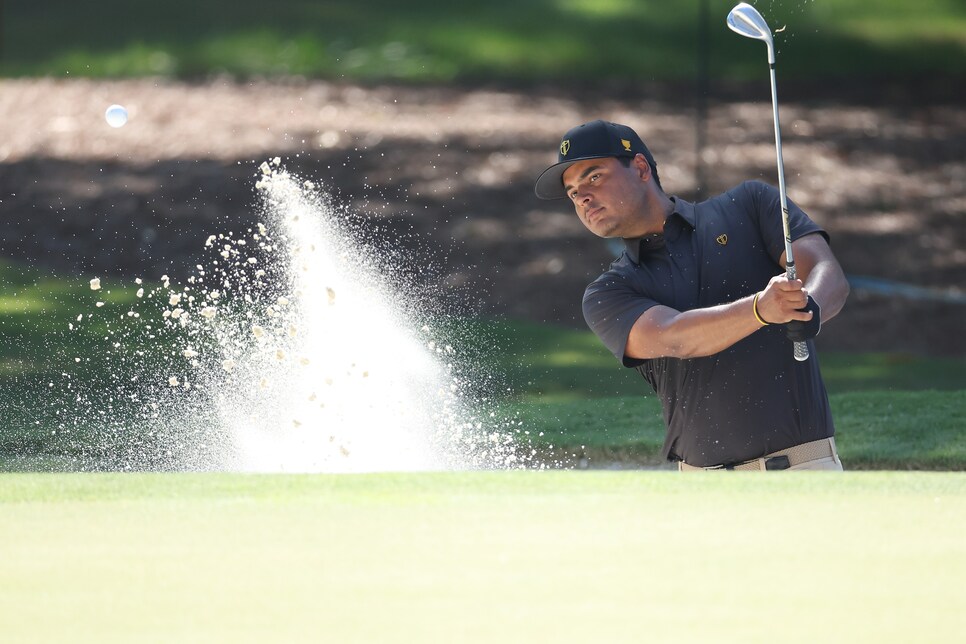 Sebastian Munoz ofthe International \team plays from a greenside bunker during a practice round prior to the 2022 Presidents Cup.
Warren Little
CHARLOTTE — In the midst of the first International players' press conferences Tuesday at the Presidents Cup, Colombian Sebastian Munoz tossed out a fascinating detail when asked how he prepared mentally for a match-play event like this one.
"I've been training my mind a little bit," he said, "trying to take some ice plunges and trying to get in uncomfortable situations and being able to hold in there, just to be able to push, just to be able to know that I'm not as fragile as I may think."
That's right—Munoz subjects himself to full body submersions in icy cold water on a regular basis.
"It's kind of like a new hobby I picked up in the last month or so," he said. "Instagram was showing it enough that I decided to give it a try."
Beyond Instagram, the impetus for Munoz to try the ice plunges came from an episode of the Joe Rogan podcast, when Rogan interviewed the neuroscientist Dr. Andrew Huberman. When Munoz started the process, he couldn't put his foot in for more than 45 seconds, but now he can last five minutes with his whole body resting in 45-degree water.
"You're kind of able to push your limits little by little until you get more comfortable with the situation," he said.
Munoz, 29, went so far as to purchase a cold-water plunge tub, which saves him from having to use actual ice and allows him to adjust the temperature exactly where he wants it.
"By staying there 12 minutes a week, you increase your dopamine by 250 percent," he said, "so it makes you happier. And I agree with it. I find it to be the toughest thing to do in the morning, and after that, the day becomes easy."
In a feature published earlier this year, the New York Times investigated the idea that cold water plunges can improve mental and physical health. The technique was developed by Wim Hof, a fitness instructor and athlete, and has also been featured in Netflix. While it's novel in the realm of mental health, cold water therapy has been used since at least Greek times for physical ailments. While no studies have yet shown that this therapy by itself can improve mental health, early research has indicated that there may be psychological benefits, including mood improvement, and anecdotal data suggests it may help with depression and anxiety. However, there are also associated risks, as the Times reported:
The initial shock of being plunged into icy water can cause arrhythmias and heart attacks. The risk of arrhythmias is increased when people put their faces underwater while experiencing this initial "cold shock." The combination activates opposing branches of the nervous system, which send conflicting signals to the heart. Cold shock also triggers the gasp reflex, followed by hyperventilation. If your airway is underwater, this can lead to drowning. Adding to the risk of drowning is the fact that swimming in frigid water quickly leads to exhaustion.
More research is needed—nobody is quite sure why it works, if it does—but there's every chance that Munoz, with this eccentric new practice, may be on to something.