Internationals analysis
Presidents Cup 2022: Internationals lost, but they have stars in the making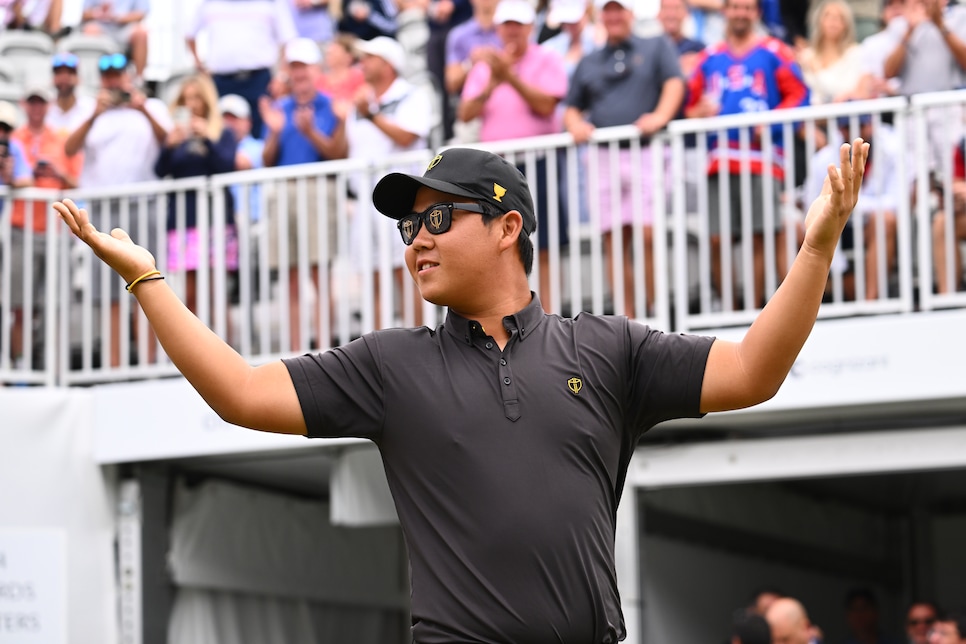 Tom Kim of South Korea asks the crowd for more noise as he arrives on the first tee before Sunday's singles round.
Chris Condon
CHARLOTTE — The 14th edition of the Presidents Cup turned out far more competitive than most golf fans thought it would be. Despite missing star LIV Golf recruits Cameron Smith and Joaquin Niemann, who were banned by the PGA Tour, the Cup was not officially over until 5:25 p.m. ET on Sunday, with the U.S. eventually finishing with a 17½-12½ victory.
With eight rookies on Trevor Immelman's International team, some feared the U.S. would secure an unassailable lead going into the Sunday singles, especially after taking an 8-2 lead after two days. But the Internationals' ability to hang in there was largely due to a Herculean contribution from the four South Korean members of the team at Quail Hollow.
Sungjae Im, Si Woo Kim, K.H. Lee and emerging star Tom Kim were involved in 9½ of the International team's 12½ points. Of those, 5 points were solely contributed by Koreans—three Sunday singles victories and two team matches that were won by all-Korean pairings.
The outpouring of emotion from Si Woo Kim—after draining a 10-foot birdie putt to defeat Justin Thomas 1 up on Sunday—showed how much his International teammates meant to him, and the prestige the Presidents Cup holds among Koreans. Kim said he'd never faced as much pressure or emotion in his career, even more than winning the 2017 Players Championship.
"It was like my heart is so much full," Kim said on why he was so emotional after downing Thomas. "I couldn't even putt on the last hole [because of emotion] until my caddie told me keep breathing and keep being positive and just try my [putting] stroke. I think that helped."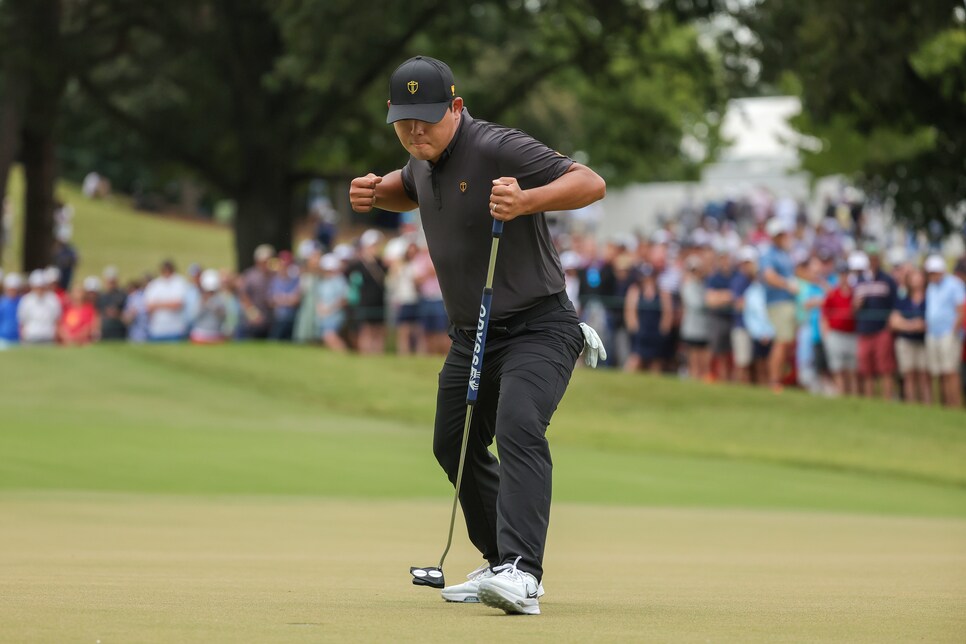 Si Woo Kim reacts to making a birdie putt that earned him a singles victory over Justin Thomas.
Stacy Revere
Kim credited this namesake, Tom Kim, as a source of inspiration. The 20-year-old phenom contributed 2 points at Quail Hollow, one of which came via a birdie putt he holed on the 18th on Saturday to defeat Patrick Cantlay and Xander Schauffele in four-ball. Kim also boasts a ton of charisma, both in the team room and on the course. He spent the week encouraging the Charlotte crowds to go wild during his swings.
"Tom Kim gave me, like, good energy [Saturday] and [the] belief that I can do it [beat Thomas in singles]," Si Woo Kim said.
The 2022 Cup proved there is now a reliable base of young Koreans to draw from to complement the Australians, South Africans, Japanese, Canadians and South Americans that the Internationals typically field. In addition to Tom Kim, Im is 24, Si Woo Kim is 27 and Lee is 31.
The quartet's idol, eight-time PGA Tour winner and three-time International, K.J. Choi, predicted Koreans will only become a bigger force within the team. "The future is very exciting," Choi said Sunday night. "These four guys have great games, physically and mentally."
Adam Scott also noticed a changing of the guard at Quail Hollow that may strengthen future International sides. The Australian, whose 10th Cup appearance is a team record, played with his countryman Cameron Davis in Saturday's four-ball session when Davis drained a birdie on the 18th to defeat Billy Horshel and Sam Burns 1 up.
Scott predicted many of the International rookies, including Davis, will go onto great things on the PGA Tour using the lessons they learned under Presidents Cup pressure. He said he had never seen a hungrier group of Internationals since making his own Cup debut in 2003.
"We had a young team, but I think they're quick learners, and they got it," Scott said. "I really hope they'll reflect and then they'll be driven to make the next team, because if we can get some repeat offenders in here for the next few years, the international team looks really strong and it'll be a lot of fun for everybody watching this."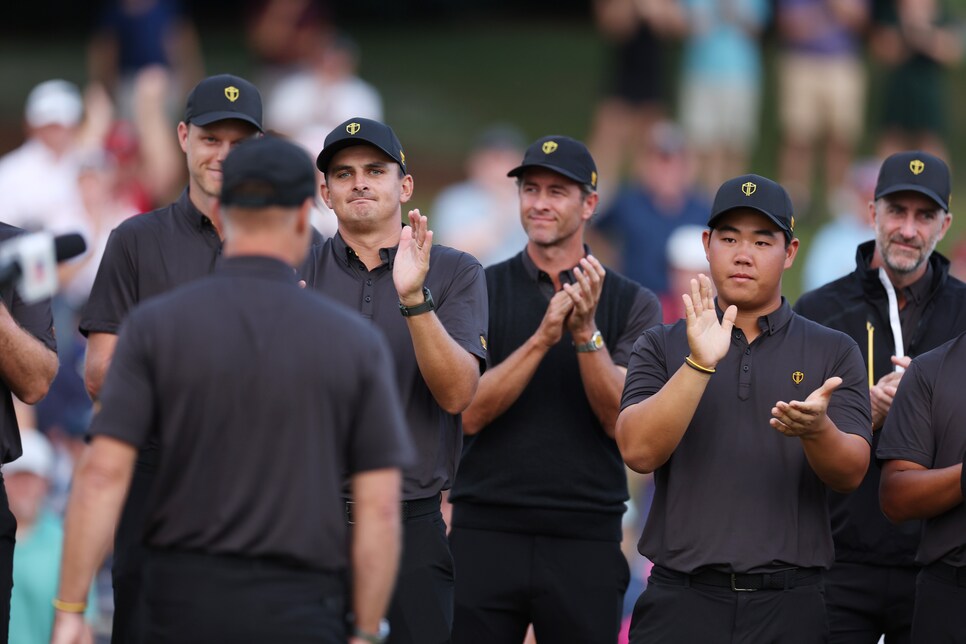 Members of the International team applaud captain Trevor Immelman.
Rob Carr
So, where to from here? Immelman said the International team was getting closer to the Americans' successful team structures, which sees them arrive at Presidents Cups and Ryder Cups with systems that were put in place years prior. That includes continuity among captains, assistant captains, and formidable pairings such as Cantlay with Schauffele and Jordan Spieth with Thomas.
The 42-year-old South African said his countryman, Ernie Els, had set the International team up for future success with the rebrand he implemented leading into the 2019 Cup at Royal Melbourne. Among Els' changes were a new shield, the use of analytics to determine pairings, and putting an end to players having their nationalities on their bags. Els was steadfast in trying to create a unified identity.
"Yes, we are [closer to an American-style system]," Immelman said. "That's why you'll see a lot of similarities [to their teams]. The captains who are here, minus Ernie and [adding] Camilo [Villegas], we have a system that we like and a plan and a strategy. This was an important week for us just to just lay a couple more bricks in this house that we're trying to build. We're here for the long run in this event. At some point, we're going to win."
Immelman stopped short of revealing what he learned at Quail Hollow that would be suggested to Mike Weir, his Canadian assistant and likely captain when the Cup heads to Montreal in 2024.
"We need the dust to settle a little more," Immelman said. "I need to speak to the other captains, players, and have some open, honest conversations."
Immelman added with a grin, "Follow us on social media. You'll find out."