Players Championship
Players 2023: David Lingmerth will try to draw on long-ago battle with Tiger Woods at Sawgrass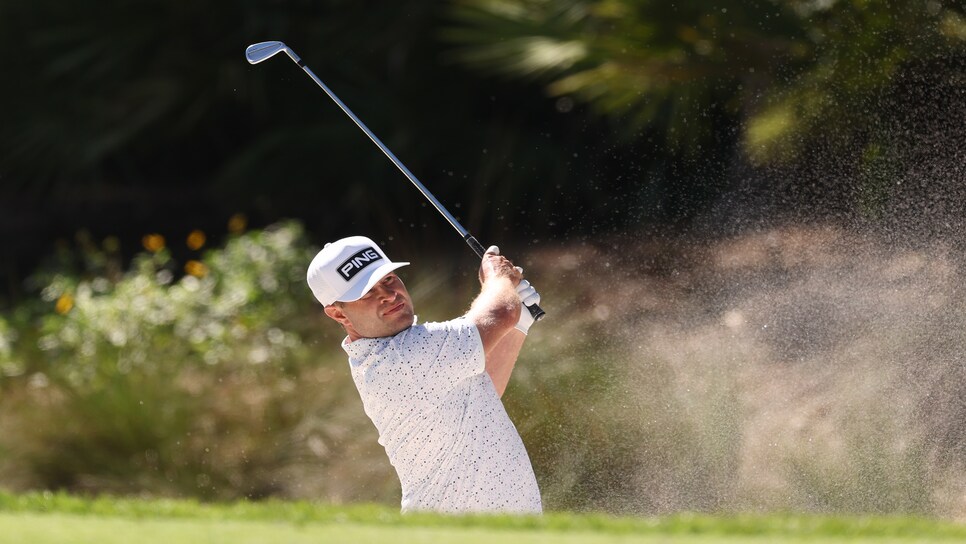 David Lingmerth plays a second shot from a fairway bunker on the 10th hole during the third round of the Players Championship.
Richard Heathcote
PONTE VEDRA BEACH — David Lingmerth has had some good memories at the Players Championship since moving to this host city in 2012. Some involve him playing in the tournament, like when he finished joint second to Tiger Woods in his debut in 2013. And some were made when he wasn't even in the field, like one year when the Swede casually attended a Tuesday afternoon concert that the PGA Tour put on for its flagship tournament.
On Saturday, Lingmerth, competing in his first Players since 2018, was close to the lead at TPC Sawgrass at 10 under par before rinsing a tee shot at the 18th. He made double bogey and a 68 left him, at 14 under, six shots behind 54-hole leader Scottie Scheffler (65). Australian Min Woo Lee's 66 put him at 12 under and in the final group with Scheffler.
It's been a decade since Lingmerth went toe-to-toe with Woods in the Players. Lingmerth was tied for the lead after 54 holes and played in the final group that Sunday with Sergio Garcia. He shot 72 and tied Jeff Maggert and Kevin Streelman for second as Woods went on to win by two shots.
"[I remember] the atmosphere, battling with Tiger … I was there until the very end," Lingmerth said. "I had a shot. I'm sure most people were happy to see Tiger win, but I was fighting until the very end to try to force him at least into a playoff. I'm proud of the way I fought that time and hopefully I can keep fighting again tomorrow and make it interesting again."
A lot has happened in the past decade, both in Lingmerth's career and in the game of golf. The Players tournament purse in 2013 was $9.5 million; now it's $25 million. Back then, there were World Golf Championships. Now, there are "designated" events.
In between his debut Players and now, Lingmerth, 35, recorded his only PGA Tour win to date, the 2015 Memorial Tournament. He was in contention at the 2016 U.S. Open at Oakmont that Dustin Johnson won. He's also lost his PGA Tour card several times. The most recent relegation was last year, when Lingmerth played the Korn Ferry Tour Finals, and secured a return to the PGA Tour by winning the Nationwide Children's Hospital Championship in Ohio. That victory came after a series of injuries in the five years leading up to it.
"I mean, roller-coaster. [That's] one word that sums it up," he said. "There's been some really great moments, and then there's been some really tough moments in the last few years. Thankfully, in the last year or so been able to make some progress and golf is a lot more fun again. It's been a long road. I felt like I was close to the peak of the mountain for a while as it relates to my abilities, and I went all the way back down to the bottom, it felt like. I didn't know how to play golf at all was kind of my feeling. Then I steadily climbed my way back up."
That climb has yielded three top-10 results already this PGA Tour season, including a T-10 at the recent Honda Classic. But Lingmerth, the nephew of former Cleveland Browns kicker, Goran Lingmerth, said he won't' settle for mediocrity on Sunday, despite being six shots behind World No. 2 Scheffler.
"For a while there, when it was really tough, I definitely didn't feel like I could win golf tournaments," Lingmerth said. "I had other smaller goals for certain weeks. But at this point I feel like I'm back enough on track to where we are here to try to make a run at it, we're trying to win. It's nothing else, really."