Masters 2022
Masters 2022: Lee Westwood looks at maybe his last days at Augusta, with no regrets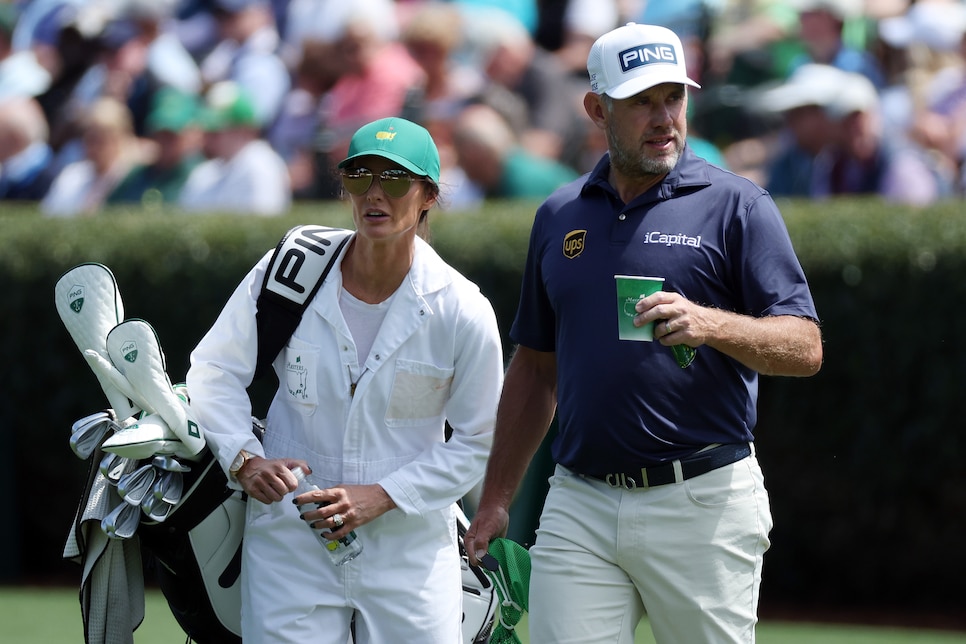 Lee Westwood with his caddie and wife Helen Storey during Monday's practice day.
Gregory Shamus
AUGUSTA, Ga.—At the age of almost 49—his birthday falls on the 24th of this month—Lee Westwood will this week compete in his 21st Masters Tournament. The Englishman, a former World No. 1, has played 72 rounds at Augusta National and is 32 over par for the journey. Six times he has finished in the top-10; twice he has been runner-up, in 2010 and 2016. In 1999, he led walking down the 10th fairway on the final day, only to fall back into a tie for sixth. On only four occasions has he missed the halfway cut. It's a formidable record, missing only a victory.
Still, all good things must end. It's a rule. So, chances are, this might be Westwood's last appearance in golf's youngest major. He is, after all, at an age where, even in the modern era, drives are getting shorter and courses are getting longer.
"I'm not going to lie, this course is starting to feel really long," he says with a smile. "There would come a time when it wouldn't be enjoyable for me to play in the Masters. I'm not there yet, but I can see it coming. I'm hitting 5-iron into the last green to a back flag. Most guys will be going in with 8-irons. That may not sound like much, but I guarantee that, come Sunday night, I'll be aching. I'll be flat-out this week."
Experience is going to be the 15th club in the Westwood bag his wife Helen will carry this week. That's important anywhere. But perhaps nowhere other than at the Old Course is it more important than at Augusta National. Westwood is hoping so anyway.
"There are benefits to having been here so often," he says. "I know how, when things change, you have to play differently. The best preparation for this event is not practice rounds; it's having played here before. You see that because there have been so many multiple winners here. There is a lot of strategy out there. And you learn that by playing competitively.
"Besides, I'm starting to swing well," he continues. "My driving feels good, as does my short game. The rain today will make a difference to how the course plays. For those who haven't played it before, any practice on Sunday or Monday is now irrelevant. After playing for, say, 10 yards of release, we'll see balls pitching and stopping dead. Which is not all bad. This course tends to play easier when it is soft and trickier when it is firm."
Westwood's long tenure at Augusta won't be much help on one hole though. The par-4 11th has been altered in a more dramatic fashion than is the norm at Augusta National.
"They've pushed the tee left and taken a load of trees out down the right," notes Westwood. "It's a less demanding tee shot and a more demanding second shot. There's no bail-out on the right side anymore. Which makes me smile. If you were to ask me which holes at Augusta need to be made harder, I'm not sure the 11th would have been high on the list."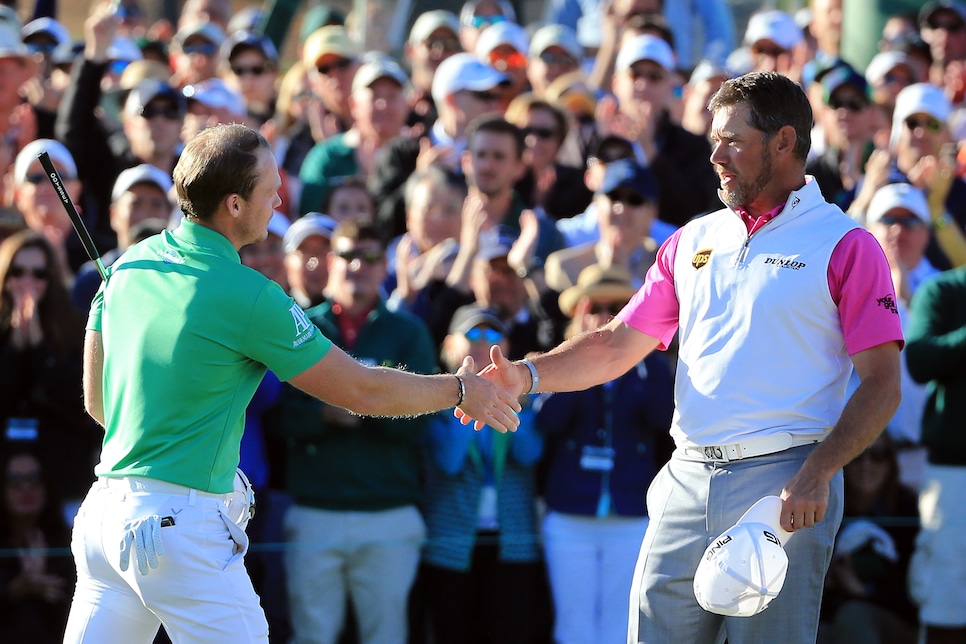 Lee Westwood shakes hands with Danny Willett after Willett won the 2016 Masters.
David Cannon
Elsewhere, however, memories will abound. But no regrets. Westwood is not one for whom near-misses are a source of chagrin. While the winning of a major remains the only significant gap in his CV, he remains philosophical about what might have been.
"I can't say things linger with me particularly," he claims. "When Phil [Mickelson] won in 2010, I shot 71 on the last day with the lead. That would have won a few Masters. And when Danny [Willett] won n 2016, I three-putted the 16th when he made birdie. But I had chipped-in for eagle on the previous hole. Then, when Jordan [Spieth] made a mess of the 12th, we sort of stumbled into contention. So, I'm not someone who has regrets about anything. They are pointless. All you can do is what you feel right at the time and stick with it."
Speaking of which, Westwood is one player who has been mentioned multiple times in connection with the Saudi-backed LIV Golf Invitational circuit. Asked if he will be teeing up in the first event at the Centurion Club north of London in the week before the U.S. Open, Westwood's smile is enigmatic.
"It's an exciting prospect, one I will have to consider," he says. "My future plans are not to play as many tournaments. My days of playing enough to go for a FedEx Cup are gone. I'm not going to tee up 25-30 times. I'll play maybe 20-22. I'll be selective."
In the meantime, he has a Masters to play in. And it is one Westwood intends to enjoy.
"I still feel lucky every time I come here," he says. "There are so many good players miss this tournament. So it's always nice to be involved. I love coming here. This is my favorite course and my favorite place to play golf. It offers different challenges every day. You never stop learning here. I can still land in spots and think, 'I've never been here before.' Only two or three yards can make a huge difference in how the next shot plays. That's Augusta. It just creeps up on you."
A bit like age really. But if this is to be Westwood's last visit to Augusta National he's had a decent run.